Almost half way to Sacramento.
Today they'll reach Visalia and none-other than Lawrence Lessig has joined them. (If you don't know about Lawrence I recommend this Ted video).
They just sent me this photo during the stretch to Visalia. Lessig in purple shirt.
Here they are on Day 17 on the way to Tulare.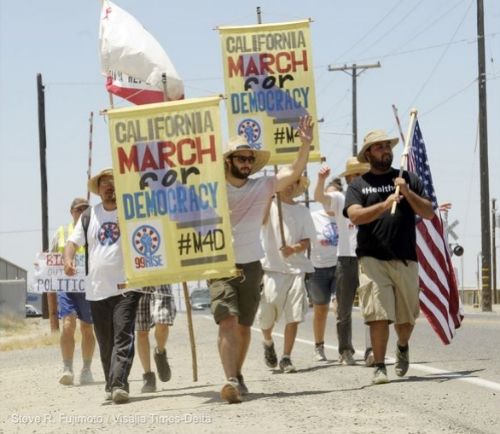 Here is my interview with Kai Newkirk;

The United Farm Workers have been instrumental in the logistics for the march through the San Joaquin valley. The March for Democracy was inspired by Cesar Chavez original march to Sacramento
Previous diaries;
March for Democracy Day 3 and 4
March for Democracy - Day 9 - Interview with Kai Newkirk
The March for Democracy arrives in Bakersfield and Dolores Huerta joins them
By OPOL; Something big is brewing in California
By Words in Action; If You Don't Like Money in Politics
March Stops