I Got The News Today (IGTNT) is one of the oldest continuous series on Daily Kos. It is a way for our community to pay respect to those who have died as a result of war.
The beautiful logo was created by Timroff
Once again, we gather together to pay tribute to another who was lost to war.
Captain Jason B. Jones
was originally from a small town in eastern Pennsylvania. He graduated from West Point, and eventually became the leader of a team of Green Berets.
Army Captain Jason B. Jones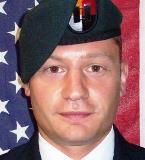 Jason B. Jones was from Orwigsburg, which is in Pennsylvania's Schuylkill County. According to ReadingEagle.com news, his mother has a theory about why he always seemed to want to be in the military:
As a boy, Army Capt. Jason B. Jones used to watch Tom Cruise portray an elite jet fighter pilot in the movie "Top Gun" and dream of a career in the military.

"When he was about 7 years old, I had the movie 'Top Gun' in the house," Jason's mother, Suzy Jones of Orwigsburg, recalled Wednesday. "I put it in so I could clean the house. He would sit there and watch that and I tried to get him away from it, so I think it was then" he took an interest in the military.

News of the 29-year-old's death in Afghanistan on Monday has devastated the Orwigsburg community where Jason grew up and graduated from Blue Mountain High School in 2003.
Jones attended Blue Mountain High School in Schuylkill Haven. While there, he co-captained the basketball team. His coach, Blue Mountain High's guidance counselor, Burt Werdt, is quoted by
StandardSpeaker.com
as saying:
"Truly Blue Mountain's finest," Burt said. "Athletically, academically, morally, he was the complete package."

"Everyone loved him," he continued. "He was a great student and everyone just loved his personality. He would do everything for anyone. He had the biggest heart. I can't say enough about him. We are just so proud of him."

Jones was also an accomplished soccer player. He was nominated for the First Team All American Soccer in the Easter Region and First Team All State Soccer in 2002. He earned eight varsity letters in high school while graduating with honors.
After high school, Jones went on to West Point Military Academy in New York. He was the captain of his Sandhurst Military Skills Team, and earned a Master of the Sword Physical Fitness Award. He earned a degree in nuclear engineering, and finished sixth in his class in 2007. He was commissioned as a second lieutenant in the Army in August of that year. Upon completion of Basic Infantry Officer Course and Ranger School, he was assigned to 2nd Battalion, 505th Parachute Infantry Regiment.
Jones continued his military career and received various degrees and awards, including the Bronze Star for his deployment in Iraq from 2008 to 2009 and the Iron Panther Award as part of the 82nd Airborne Division. While in Iraq, he served as a platoon leader, company executive officer and battalion air operations officer.
Just a month after joining the Green Berets in May of 2013, Jason married Dr. Amy Weniger on June 15th of 2013, in a ceremony at West Point. He was assigned to Company C, 1st Battalion, 3rd Special Forces Group (Airborne) at Fort Bragg, which is based in North Carolina. Jason and Amy lived in Chapel Hill near Fort Bragg.
Captain Jones was the commander of a 12-man Special Forces A-Team with the Army Special Forces, also known as the Green Berets. He deployed with his team to Afghanistan in April of this year.
Two months after his deployment, Jones was in Jalalabad, Afghanistan and was wounded by small-arms fire. He died, in the Nangarhar Province of Afghanistan, on June 2nd from his injuries. He was 29 years old and hadn't even been married for one year at the time.
Captain Jason B. Jones is survived by his wife, his parents, and a sister.
A memorial service is expected to be held Saturday, with interment at West Point in New York, which is set for early next week. There are also plans to add Jason's name to the memorial outside his old high school. His name would join those of four other Blue Mountain High School graduates lost to war.
Rest in eternal peace Captain Jason Jones.

~+~+~+~+~+~+~+~+~+~+~+~+~ ~+~+~+~+~+~+~+~+~+~+~+~+~
Helping our troops:
If you wish to assist our military and their families, consider contributing to Fisher House. Donating to Netroots for the Troops provides care packages that make a real difference in a military person's life. To assist the animal companions of our deployed military, information is available here. Also, you could visit:

When our veterans come back home, they need jobs. Look at the programs of Hire Heroes USA and Welcome Back Veterans to see if you can help out.
About the IGTNT series:
"I Got the News Today" is a diary series intended to honor, respect, and remember the fallen, and to remind us that each casualty has family and friends who received the terrible news that their loved one has died. US service members whose names have been released by the US Department of Defense will usually be diarized two days after the official announcement on the DoD website. This allows the IGTNT team to cover each person more fully, but still in a timely manner. Click the IGTNT tag below to see previous diaries in the series, which was begun by i dunno, and is maintained by i dunno, Sandy on Signal, Monkeybiz, Noweasels, Blue Jersey Mom, Chacounne, twilight falling, SisTwo, Spam Nunn, True Blue Majority, CalNM, Wide Awake in Kentucky, maggiejean, Jax Dem, The Fat Lady Sings, Ekaterin, & Joy of Fishes. These diaries are heartbreaking to write, but show our community's respect for those who have died.
Please bear in mind that these diaries are read by friends and family of the service members mentioned here. May all of our remembrances be full of compassion rather than politics.