I was just reading Isara's well-written and depressing rec-lister on the state of our gun-crazed land and wanted to clear up a small error in the diary that is surprisingly widespread on both sides of the gun-control debate: the role of guns in the "Old West."
Firearms, both long guns and handguns, were indeed ubiquitous in the plains and high country of western America in the 19th century, and into the 20th. Men and women journeying there would have been foolish not to rely on the security of a steel companion, what with (rather understandably) angry natives and deadly predators, particularly the newly-arrived, pale, two-legged sort.
However, in town, attitudes toward possession and use of guns was quite different, indeed often hostile.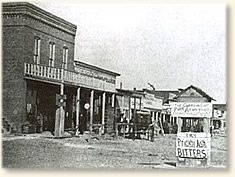 This pleasant burg is Dodge City, Kansas, circa 1878, perhaps the wildest cow town where ever trail met rail. The sign, prominently displayed on the main street, read (above the advertisement for bitters), "The Carrying of Firearms Strictly Prohibited." In fact, when Dodge got itself up a municipal government, it's very first law was a gun control ordinance.
A hand riding into Wichita, another notorious trail-end town, would have been met with a similar announcement in 1873, demanding, "Leave Your Revolvers At Police Headquarters, and Get a Check." Just like your hat and coat in a swanky Broadway nightclub of another era.
Other towns of similar, violent repute had similar restrictions. Here are the laws that Mssrs. Earp and Doc Holliday were enforcing on the open-carry-happy Clantons in a little place called Tombstone:

Ordinance No.9:

"To Provide against Carrying of Deadly Weapons" (effective April 19, 1881).

Section 1. It is hereby declared unlawful to carry in the hand or upon the person or otherwise any deadly weapon within the limits of said city of Tombstone, without first obtaining a permit in writing.

Section 2: This prohibition does not extend to persons immediately leaving or entering the city, who, with good faith, and within reasonable time are proceeding to deposit, or take from the place of deposit such deadly weapon.

Section 3: All fire-arms of every description, and bowie knives and dirks, are included within the prohibition of this ordinance.

Ordinance No.7, Section 1 (effective April 12, 1881):

It shall be the duty of all policemen to arrest all parties found in the public streets within the city limits, engaged in brawling, quarreling, etc., and all persons who be shall found in any disorderly act whereby a breach of the peace might be occasioned.
In the wide and wild territory of Wyoming, site of a full-blown
corporate war
on cowboy and settler alike, the story was similar:
gun laws
were often the earliest laws on the books.
Cheyenne Sept. 30, 1887 (88 days after the spot to build the town was selected):

"It shall be the duty of the Police officers to arrest any person found in the act of violating this ordinance except in the cases of strangers and non-residents of this city who shall be first informed of this ordinance and allowed thirty minutes to comply herewith and should they refuse or neglect to do so within that time they shall be held answerable to the penalties hereof."
Worland May 9, 1906 (the ninth law passed by the town council):
"It shall be unlawful for any person in the Town of Worland to bear upon his person, concealed or openly, any fire arm or other deadly weapon within the limits of said town."
Lusk 1898. Casper 1897. The list goes on.
Why were these municipalities, so intimate with the need for firearms in a hostile country, so adamant that those arms not be permitted in the public square?
Because they were also intimately familiar with stupid, flawed human beings, the stresses to which said humans are subject and the need to separate those humans from machines which are too powerful and deadly to be allowed to tempt said humans in need of help settling every day beefs.
They knew guns. They knew people. And they knew that, to build and maintain a civilized society where families and businesses can grow and prosper, it's probably a good idea to limit access to these wondrous and terrible machines.
Why this idea seems so hard to apply to our own, remarkably more secure, time and place is a mystery to many students of the actual "Wild West."