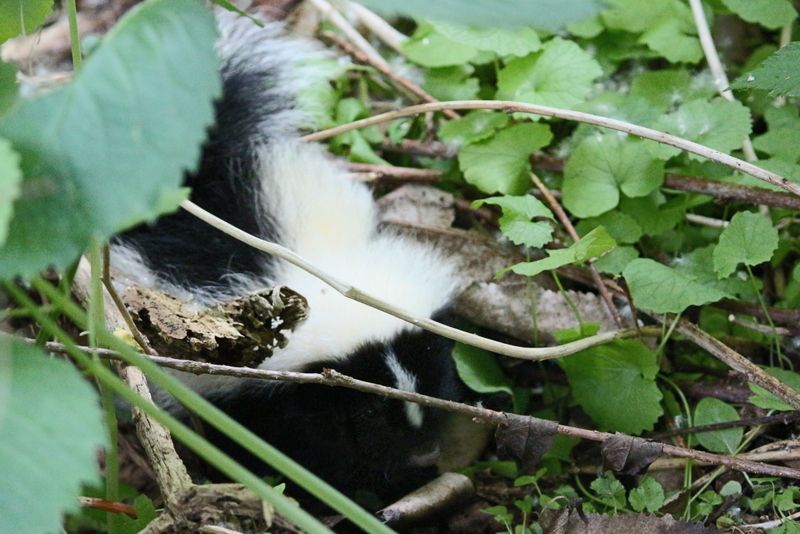 The Daily Bucket is a regular feature of the Backyard Science group. It is a place to note any observations you have made of the world around you. Rain, sun, wind...insects, birds, flowers...meteorites, rocks...seasonal changes...all are worthy additions to the bucket. Please let us know what is going on around you in a comment. Include, as close as is comfortable for you, where you are located. Each note is a record that we can refer to in the future as we try to understand the patterns that are quietly unwinding around us.
A small visitor appeared Wednesday evening to entertain us. Join me below the Ring of Stink for a brief photo diary!
Some of you may recall a few weeks ago I posted about an adult skunk wandering around acting weird. Turns out it was probably a mother skunk out hunting for her kits. They DO come out in the day, especially moms with babies, to forage. We were saddened by her death, though we weren't sure (still aren't really) that it was a she or that she had kits. However, whether it was that skunk or another one, we definitely have kits at chez Gardener!
Wednesday night I was happily employed transplanting hellebores from an overgrown patch to a newly weeded and mulched area when the Darling Spouse starts shouting for me. Come quick! Bring a net!
Uh, wut?
So, off I go, slipping down a wooded slope in entirely inappropriate sandals and hoping he hasn't cornered a badger. And what to my wondering eyes should appear but a miniature skunk with laid back ears! I have never in my life seen anything so cute.
Please note the gloved hand holding the critter's tail. Hubby is a braver man than I and, yes, he got nailed but not a direct hit or he'd still be sleeping in the garage. Damn, that stuff is foul! If you've only smelled that light, a-skunk-is-in-the-area-somewhere scent, you have no idea how bad a real shot of the stuff is.
Hubby ran off to get the camera to document the grand event, then ran off again to get the camera card, leaving me with Flower. One thing skunks do when threatened is do a fake charge and stomp their feet. I discovered that if I "stomped" my fingertips gently on a trunk, Flower would stomp back. We traded stomps for a bit and he/she seemed to be more at ease.
Even though it was still fairly early, it was dark in the woods and I was having a lot of trouble getting any good shots so we bid Flower adieu and wandered back to the yard. We stood their and looked over the few shots that were any good when suddenly Flower came bolting out of the woods and waddled across the lawn. Then the real paparazzi flurry started. Here are some of the shots I got.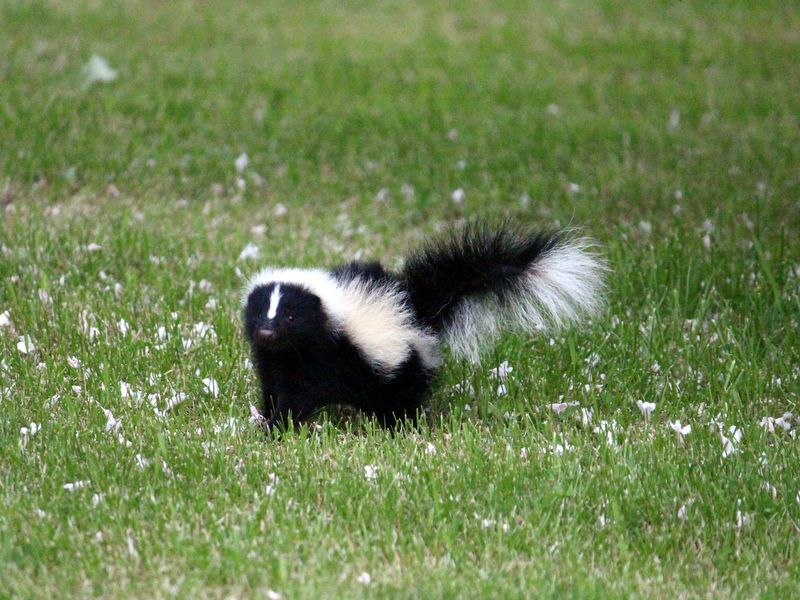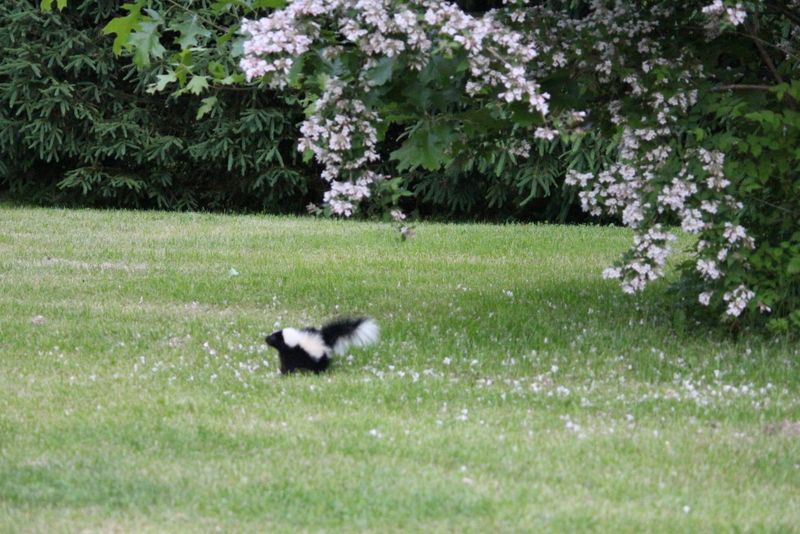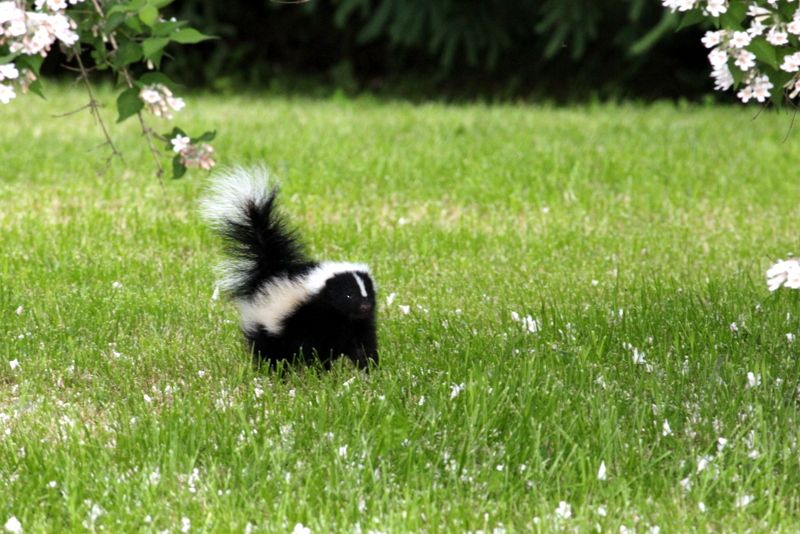 What made this even more interesting is the next day, Hubby spotted 2 little skunks wandering the yard! It seems we're being overrun! Not that I mind. Skunks are bug eating machines and generally very placid animals. If you don't bother them, they won't bother you. I say this with the obvious caveat that a sick animal is unpredictable and you should keep your distance from any wild animal, especially if it's acting weird.
Uh, do as I say, not as I did. But, honestly, who could resist that little puff of fur?
"Spotlight on Green News & Views" will be posted every Saturday and Wednesday at 1:00 pm Pacific Time on the Daily Kos front page. Be sure to recommend and comment in the diary.