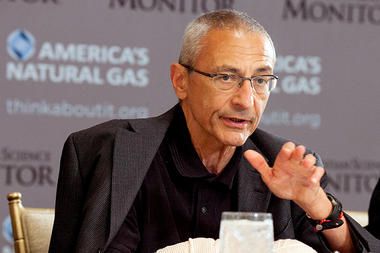 David J. Unger of The Christian Science Monitor scores a great interview with President Obama'a White House counselor, and writes Obama's clean-energy push, new EPA rule will prevail, predicts Podesta, who says 'We're committed to getting this done," describing the new EPA proposal to reduce carbon emissions from power plants by 30% from 2005 base levels by 2030, that were announced Monday. Coal burning power plants emit the most carbon so they receive the most attention.
Republicans and fossil fuel industry lobbyists reacted with alarm citing the controversial Chamber of Commerce study, claiming that new regulations for the power sector could cost "tens of billions of dollars and and hundreds of thousands of jobs each year." I reviewed two Paul Krugman articles refuted his study which Podesta also dismisses as flawed, and based on assumptions that have nothing to do with the actual rules, which Krugman. Krugman refutes three GOP talking points in battle over EPA's proposed reduction of carbon emissions.
Coming back to the Christian Science Monitor article:
"We're committed to getting this done," John Podesta, counselor to President Obama, said Friday at a Monitor-hosted breakfast in Washington. "I'm quite confident we'll get our job done. I'm also quite confident we'll resist any [attempts to overturn the carbon limits]." ... Those are "fantasy job loss numbers" based on "a set of assumptions that have zero to do with the rule that was put on the table," said Podesta, ...

Podesta says the EPA's analysis of the exact and actual rules they propose predicts they would reduce electricity bills by 8% and "create climate and health benefits with $55 billion to $93 billion by 2030. And, while he admits there may be,
[...] "job losses in some sectors, a boost in clean energy construction and efficiency gains would create a net positive jobs impact. ... Every time that an environmental regulation has been put forward, polluters say: 'massive job losses, lights going off, electricity system crashing, bills going through the roof,' " Podesta said. "They're wrong before, they're wrong now."

"We're very much about trying to build a strong and powerful and good economy," Podesta said Friday, "but that will come through investments in cleaner energy systems, not in reliance on the systems that we've had in place, which are now increasingly burdening our economy through these losses in agriculture, in forestry, in extreme weather losses, in storm surges, in sea-level rise."


David Unger
also cites an
ABC News - Washington Post
poll done prior to the EPA announcement finding that 70% of Americans see global warming, and more than 60% would support regulations to reduce it, even if it cost them $20 month more in energy costs.
These are our high level Democratic talking points. If nothing else, every Democratic should read this article on John Podesta and the Paul Krugman's refutation of the controversial Chamber of Commerce study. They are short, take a few minutes each, are easy to understand, and should keep us on track in any conversation about the EPA regulations as our first significant steps towards confronting our challenges with climate change and global warming.
I am greatly encouraged that the facts, and logic for our side is so compelling, easily presented, and already accepted by a significant majority of Americans. The much ballyhooed attack from Republicans and the fossil fuel industry seems to be flimsy and easy to counter.
We are going to win this one, and if the Republicans and fossil fuel industry tries to seriously fight us on this reasonable and necessary first step they will lose. This is clear enough, I suspect they may change their tune once they study this more carefully.
The science, economics, environmental health, and politics are all on our side, we are doing the right thing, and shows Democrats has having the courage of our convictions and being willing to stand up for what is right for our country, and the world, and face down the Republicans on another issue they are going to lose on in the end - and the middle, and now I'm convinced probably even in the beginning.