Sometimes, it is hard to know if a Republican is telling the truth. I've had this video for some time, but no matter who have contacted in regards to it, I can't find anyone who will absolutely confirm or deny Tim Huelskamp's story.
In this video, Tim Huelskamp appears in front of an Emporia Town Hall on March 20 this year. He makes a bold pronouncement: Benghazi continues to be a scandal because of a conspiracy in which Republican leadership and Democratic leadership operate in a bi-partisan manner to block the public from the truth. Tim also asserts that when the Libya intervention occurred, he and his sons were at a Monster Truck rally praying and he learned of it from the PA announcer - which as we all know should never happen because as he points out he must be consulted first before any military action occurs.

Huelskamp is famous for saying some crazy things. In this short clip though he covers some incredible ground. He asserts that we have never had people in embassies die before, that we are all seeing a vast, multiparty conspiracy that he demands accountability for and more.
A great rebuttal of some of his charges comes from a diary in the community spotlight today: http://www.dailykos.com/...
This isn't the first time (and won't be the last) that Tim Huelskamp goes off the reservation with his conspiratorial ideas.
In his debate with Rachel Maddow following the State of the Union, Huelskamp asserted that maybe an ambassador didn't die, but that we definitely didn't know what happened. He also contended that executive orders aren't legal because the president has no authority to issue them (?)..
http://happynicetimepeople.com/...
Huelskamp is famous for saying the crazy thing. Maybe it's time that Western Kansas had a chance for Change. I took Friday to meet with Jim Sherow, a professor in the department I started at, Kansas State University's History (oh, how many nights I spent in Eisenhower hall).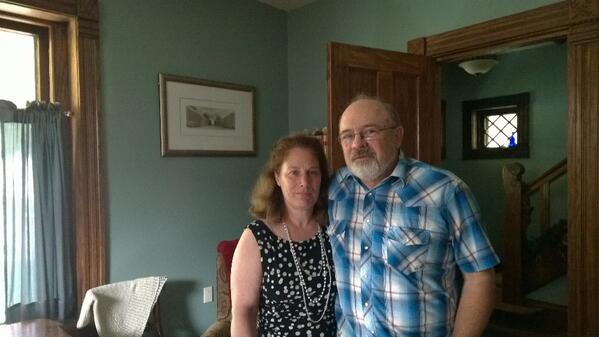 Sherow is a fourth generation Democrat in Kansas, and let me say this right up front: he speaks to progressive and state issues in a way that has been absent from the Big 1 in a while. People have a tendency to write off the Big 1 because they say: There are too many Republicans. You can't win here.
Let me say that the Big 1 is a district that can be deceptive. Within district 1 you have numerous Democrats who register as Republicans in order to have a say in the primary.. traditionally important when no democrat runs. The district is full of Republicans who are unhappy with the fact that Huelskamp makes them seem like a laughingstock.. he's actually facing a challenger from the LEFT in his own primary (his challenger has no shot, but may damage Huelskamp).
I should also add this about Jim Sherow.. Sherow isn't your typical Democrat tilting at windmills in the big one. Jim Sherow had no problem telling me: "I'm not in this to make a point, I'm in it to win - to do something positive for our state".
Jim's track record is impressive on it's own. A popular mayor in Manhattan, Kansas (Home of KSU), a professor, a retired military (USAF) staff sergeant, a double masters degree holder in Education & History, and a published author on the issues of water management in the plains - something critically important right now.
http://www.supportsherow.com/...
Tim Huelskamp needs to go. For many democrats, having Huelskamp serve in office is a fancy - it provides fundraising fodder in other states by pointing out the nutty Republican in congress. For Kansans, though, being represented by someone so filled with conspiracy theories and wild hatred of government doesn't help any of them in any way.
It is time for a change.
This year, I (and several others) will be announcing many events that I encourage Kansas Kossacks to attend. We will have these events in many districts, but the first one that we are announcing will be held in Hays, KS on August 9 from 12PM-4PM (or whenever) in Municipal Park. Food, drinks, watermelon and more will be provided and Jim Sherow has graciously agreed to attend with us and talk to all who wish to attend.
I'm currently working with members in Hays to expand this event as we have booked the city park, and we will be encouraging other candidates to attend.
If you're a Kansan in other areas of the state, don't worry. I'm working with others on open events in Hutchinson, Wyandotte County, Crawford County, Manhattan, Salina, Gardner, Fort Scott (and probably many more).
These events aren't just for Kossacks, but I'm ask Kossacks to attend (if possible). Changing Kansas is difficult. Very difficult. I'm done talking about it. I'm committed to taking a swing at it.
So, if you're interested and you're in the Big 1 in Kansas, those western counties, feel free to PM, email or contact me in any way. If you have time to put in just a little bit every week, now is the time to get your voice out.
We have a long time until November. But we have a lot of ground to cover, a lot of minds to change, and a lot of people to register.