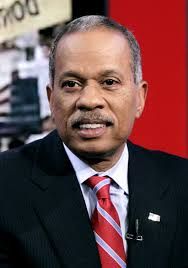 Andrew Kirell of Mediate reports that during a Fox News Sunday weekly panel Juan Williams Blasts Bergdahl Critics: 'America Should Be Loving' Him, while defending the President's decision to swap five Gitmo prisoners to free U.S. Army Sgt. Bowe Bergdahl.

Asked by host Chris Wallace to "defend" the swap, Williams pointed out that it's not "a matter of defending," but is instead a "matter of us as Americans not getting lost in the troubling optics of the White House ceremony." Despite reports that bring negative light upon the deal and the American soldier himself, Williams suggested it's important to remember a few guiding thoughts [emphasis added in bold]:

The clear principle is we don't leave soldiers behind. And at the moment, I think what's necessary here, I'm reminded this sunday morning of the story of the prodigal son. You don't make judgments as you have the opportunity to bring that child back. America should be loving this child at this moment. Obviously we don't know why he left. We think he's a troubled person. We think he may have lost a sense of America's mission. All true. But the idea is we don't leave people in the enemy's hands. The enemy saw him as an American soldier. That young man suffered; he was caged, Chris. His parents suffered.

And yet people want to argue about the father's beard. They want to say they shouldn't have a parade. Let the military decide. The military's best position, not us sitting here on this panel, and not all the political people on the Republican side who have flip-flopped; flip-flopped, Chris, in the most craven way. Unbelievable.

Secretary of State John Kerry was also interviewed on CNN saying we will have plenty of time to determine the details of Bergdahl's departure from his unit.
I agree. Right now the two principles we should keep in mind are "leave no soldier behind," and the "rule of law," where people are presumed innocent until proven guilty - even in the military.
I was shocked by another CNN panel where a right-wing former general was arguing that Bergdahl was definitely guilty of desertion. Not yet is isn't. There has been no trial, no evidence, and we have not even heard Bergdahl's explanation.
Please keep in mind, he may not even know himself exactly what happened.
Let me offer to two examples, that might provide alternative explanations we can not rule out until some investigation of facts, with rules of evidence, due process, and maybe even expert testimony by doctors.
The last times I've had to work in tropical areas in South East Asia, Africa, or Latin America I've had to take a new malaria medication, because malaria has evolved resistance to the older medications.
I was fairly concerned when my docor told me the potential side effects of this new medication include severe psychological disturbances including suicide, and even psychosis in about 1% of patients taking it. (Hoffman - La Rouche claims 1 in 10,000, however, other studies suggest 1 out of 140).
Psychiatric side effects can include anxiety, feelings of mistrust towards others (paranoia), seeing or hearing things that are not there (hallucinations), depression, restlessness, confusion, and behavior that is unusual.[10] These psychiatric problems may last for years after the patient stops taking the drug.[11] Mefloquine has been found to act as an agonist at 5-HT2A and 5-HT2C receptors, which are the targets of psychedelic drugs such as LSD, and it has been suggested this may be partly responsible for the neuropsychiatric side effects.[12]

The Dark Side Of Lariam
How Dangerous Is It?
Their research confirmed the hunch. Not one in 10,000, but closer to one in a 140 suffered disabling side effects.
I do not know if Bergdahl was taking this medication, or if other soldiers in Afghanistan are in resistant malaria zones, but I do remember reading years ago that when rates of suicide, and other increasing cases of bizarre solder behavior started to increase after the start of these wars, widespread use of Larium, and these possible side-effect was mentioned in one DOD report as a possible hypothesis. My point is this is just one example of the reasons we should not jump to conclusions, and make the assumption that the only possible explanation is desertion.
We also know rates of PTSD have been problematic,and we've also read of morale and discipline problems in that unit, leading to a possibility that Bergdahl may have developed ongoing psychological problems that were not noticed and handled properly by leadership.
Until such time as the doctors, psychiatrists, Bergdahl, and the military has had time to evaluate the evidence and come to some conclusions, possibly in the form of trial and conviction, if appropriate, we should give him and his family the benefit of the doubt.
This retired general on CNN today who said there is no doubt that Bergdahl was guilty of of desertion, which he also added that during war is a capital crime, should apologize because until an investigation, indictments and trial this is simply not true - Bergdahl has not yet been found guilty of anything as far as we know.
For such as high ranking former military officer, to leap to unsupported conclusions, without proper evidence, and demean Bergdahl's service and reputation, without due process is a disservice to all of those who serve their country in the military with honor, and their families as well.
Not only would it appear that this former general's unsupported allegations in this case are slanderous, but they are unwise in the predictable consequences of his irresponsible statements.
Consider the parents and families of other solders, or young men considering enlisting in the services who now have to wonder if their sons or daughters should develop psychological trouble, through no fault of their own, perhaps one of the !% who have troublesome side-effects of malaria or some other medication, there will not get proper care, have their due process rights tossed aside by their own military leadership, and potentially be shot for treason, if they should wander off into the jungle in a psychotic fugue or confusion?
We should all chill out and give Bergdahl and his family the benefit of he doubt, and respect they deserve until the facts are known and determined in the proper ways.
How sad that after five years in captivity Bergdahl has to return to be tortured and abused by Americans too ignorant to respect our own constitutional rights of due process.
I shutter to think of the psychological impact this episode will have on any future American prisoner's of war who may have to suffer doubly in captivity dreading the treatment and suspicions they may face if they should ever escape and return home to such a cruel and hostile homeland.
Law abiding and wiser military officers should rise to this injustice and reassure soldiers, their loved ones, and our nation of their personal commitment not abandon their duty to protect our soldier's dignity, health, and constitutional rights from being savaged by the hysteria of right-wing political opportunists too eager to exploit Bergdahl's uncertain circumstances to take a swipe and tear down a President they hate more than they love our legal traditions that someone is innocent until proven guilty in a court of law, under the rules of due process.