As you can see by Itzl's concerned look, this group is for us to check in at to let people know we are alive, doing OK, and not affected by such things as heat, blizzards, floods, wild fires, hurricanes, tornadoes, power outages, or other such things that could keep us off DKos. It's also so we can find other Kossacks nearby for in-person checks when other methods of communication fail - a buddy system. Members come here to check in. If you're not here, or anywhere else on DKos, and there are adverse conditions in your area (floods, heatwaves, hurricanes, etc.), we and your buddy are going to check up on you. If you are going to be away from your computer for a day or a week, let us know here. We care!
IAN is a great group to join, and a good place to learn to write diaries. Drop one of us a PM to be added to the Itzl Alert Network anytime! We all share the publishing duties, and we welcome everyone who reads IAN to write diaries for the group! Every member is an editor, so anyone can take a turn when they have something to say, photos and music to share, a cause to promote or news!
OK, we do have a diary schedule. But, when you are ready to write that diary, either post in thread or send FloridaSNMOM a Kosmail with the date. If you need someone to fill in, ditto. FloridaSNMOM is here on and off through the day usually from around 9:30 or 10 am eastern to around 11 pm eastern.
Monday:
BadKitties
Tuesday:
ejoanna
Wednesday:
Caedy
Thursday:
art ah zen
Friday:
FloridaSNMOM
Saturday:
broths
Sunday:
loggersbrat
There are several things that I collect. I don't know you all that well yet, so I couldn't possibly divulge the whole list. So I'll start out with something fairly innocuous, but at the same time, inexplicable. I mean, I can't explain why I collect the kind of glassware in the photo above. It's called Libbey Frosted Leaf glassware. Maybe 10 years ago I saw some tumblers of this 1950s-1960s vintage at a thrift store and bought them.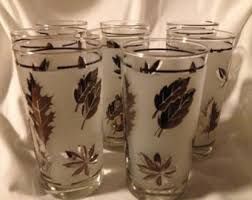 Over the years, I added a few more pieces:
They don't seem to be "my style", which is modern and fairly simple. This glassware is too, well, ornate. Yet I have amassed a collection of tumblers, bowls, dessert cups, etc.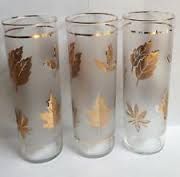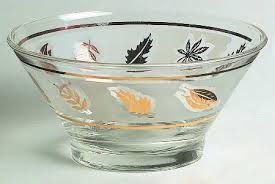 So why collect them? Do they transport me back to some innocent and pleasant childhood memory of my parents' generation's more gracious middle-class entertaining? As ornate as this glassware is, it is also classified as "mid-century" and I do love that period of design and architecture.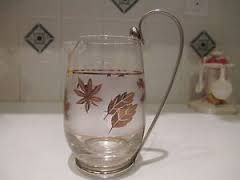 I. Really. Have. No. Definite. Idea. I just love this stuff.

I do know I have to be cautious. I used to just occasionally find Libbey glass in small, funky thrift shops. Now, of course, there is the dreaded EBay. So far I have resisted that temptation.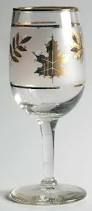 And recently I realized that this glassware also was manufactured in SILVER!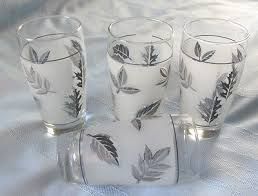 As the pootie peeps would say: uh-ohs. . .
So who among you will fess up to the collecting thing? And what do you collect? I already have had a few hints in the IAN diaries in the last month or so, from some of your Diaries and comments. Now I want more details! It's not just me out there collecting inexplicable categories of Stuff, is it?