Image Credit: Panasonic
A specter is haunting the traditional U.S. electrical utility companies and that specter is the coming boom in solar power storage systems. Solar power systems with storage are already competitive with utility generation rates in Hawaii and California, with New York and Arizona not far behind.
"The bank expects 20% of US electricity consumers will be able to have access to solar with energy storage that will be as cheap or cheaper than utility power within 4 years." The downward trends in prices of renewable energy represent such a threat to the traditional utility industry that Barclay's has seen fit to down grade the U.S. utility industries bond rating even before taking into account the new E.P.A. regulations to reduce the carbon emissions of power plants by 30%.
John Johnston of The 9 Billion covers this under reported story Home Solar Power With Power Storage To Disrupt Utilities: Barclays.

Well before this week's news of the Obama Administration's plan to begin reducing fossil fuel-based power plant emissions by 30%, big British bank Barclays saw fit to downgrade the whole electricity-generating sector of the US high grade corporate bond market. It sees that the traditional utility sector faces big challenges from fast-growing renewable energy, and the market is not yet pricing in those challenges, Australia's ABC has reported.

Barclays has calculated that it will not be government regulation that will phase down coal-fired power plants first, but rather the advance of renewable technologies and the continued decline in costs of those technologies. The Barclays credit team believes that, over the next few years, the "confluence of declining cost trends in distributed solar photovoltaic (PV) power generation and residential-scale power storage is likely to disrupt the status quo".

Barclays notes that the cost of home solar power with a storage option is already cost competitive with traditional utilities in Hawaii, and California, Arizona and New York won't be far behind. The bank expects 20% of US electricity consumers will be able to have access to solar with energy storage that will be as cheap or cheaper than utility power within 4 years.
The economic attractiveness of combining solar energy with breakthrough batter storage systems will be an even bigger deal in Germany which has identified solar-energy- storage-battery systems as a critical new national economic goal for Germany to commit to taking a leading international competitive advantage in.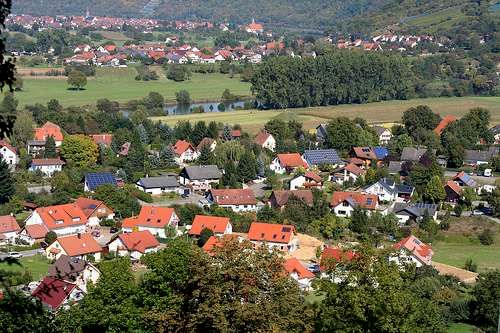 Cleantechnica, where I'm finding an increasing number of excellent leading edge renewable energy articles, reports Solar Energy Storage System Market In Germany Approaching A Boom, due to a number of factors coming together.
The recent surge of solar energy in Germany has already lead to 15 GW of generating capaciy, - a new record. (I think this may be the amount added because else where they report total renewable generation in TW.)

"Many solar installations will have paid for themselves in the next couple of years and some will soon reach the end of their 20-year feed-in tariff contract," Rothacher, an advisor for international companies planning to invest in Germany, continues.

"With modern and cheaper battery technology now available, these owners are able to store excess power during the day instead of feeding it into the grid at low prices and buying it back at night when it is more expensive. This helps to reduce grid fluctuations and with feed-in tariffs set to fall this summer, it makes even more economic sense."

EuPD, a leading market research firm, currently expects sales of solar energy storage systems in Germany to rise significantly in the next few years — up to 100,000 units a year in 2018, up from the 6,000 that sold in 2013.

According to recent figures from Germany, renewable energy has grown more than nuclear has declined over the last 12-13 years, as well as over the last five years (since the Fukushima accident). "Since 2014 is still a work in progress, we will have to restrict the analysis to the development between 2009 and 2013. For this particular time frame we get a score of 134.9 TWh for nuclear in 2009, which means a decline of 37.6 TWh until 2013… [and] 38.2 TWh of growth for wind and solar from 2009 to 2013. So the nuclear decline lost again, failing to beat the growth of renewable even when ruling out biomass for some reason (another 17.1 TWh growth in those four years)."

Several German politicians see an opportunity for Germany to become a leader of battery manufacturing once again. What a contrast with our politicians, too many of whom seem intent of passing ALEC guided legislation to hold back emerging trends towards renewable energy, in order to protect increasingly obsolete fossil fuel burning power plants, especially coal burning plants.
Here comes the sun.