You are only coming through in waves.
Your lips move but I can't hear what you're saying
When I was a child I caught a fleeting glimpse
Out of the corner of my eye
I turned to look but it was gone
I cannot put my finger on it now
The child is grown
The dream is gone
Roger Waters, Comfortably Numb

In the next thirty to forty years, the digital transformation of human society will be more or less complete. There won't be anyone alive (save a few primitive tribal folks in South America or Borneo) who remembers what the world was like without a cellphone, smartphone, laptop, tablet, phablet, "Cloud", Google Drive, I-Tunes, I-Pad, I-Phone, I-Watch, or any of the hundreds of products still not invented, all touted to enrich our lives and magnify the quality of our experiences in so many ways. The spectacle of an entire generation of young people passively communicating through ubiquitous electronic screens is already a reality after a mere decade or so. Apparently it is now accepted truth that for anything to possess significance it must be manifested on a screen.
And, much as it does today, all this cutting edge technology will provide future generations with a convenient distraction from the desperate realities they will be facing--stagnated futures, diminished opportunities and magnified inequality. Picture a downwardly mobile late 30-something young couple drowning in student-loan debt, the underemployed husband busily tapping his I-Pad "9" in their rented apartment, his wife cradling their four-month old in one arm and texting the day care with her free hand, while a holographic image embedded in the wall tells them in soft, reassuring tones that "the powerful play goes on, and you may contribute a verse," (or some similar trope), and you will see the world of 2025.
Music has been a constant, important part of my life since I was about ten years old. Like many others (I assume), my teenage years, college age-years and twenties were intertwined with the music I was listening to at that time. One of the things I notice as I look back through my five decades of life is that up until the late 1990's all of them came with a musical soundtrack. Every year brought new music into my life, from the radio, from friends, from visits to the record store. Some of the music I loved, some I hated, but all of it shared the quality of being known to everyone. The music that filled our lives in the 60's, 70's and 80's was a widely-shared experience on a huge scale. If you liked Rock, whatever type, you knew these bands and their work. If you liked Disco, you knew these artists. If you liked New Wave there were a few groups and songs that everyone would know.
The soundtrack ended for me in 2000, and for a while I thought that was simply a personal reaction to the unrelenting Horror of living through the Bush years. Looking back, I see that it's more than that. Something really has been lost. I think music, as a cultural force, is dead. I think maybe it's been dead for over a decade and I'm just now noticing it.
Of course you can still listen to music. More music than ever, in fact. You can download, play and distribute whatever songs, whatever extended improvisational piece, whatever composition you want--in fact, pretty much anything that's been written and performed is available on the web. Independent musicians are creating startling new music all of the time, many with their own "niche" fan base. But the idea of a rock band exerting the widespread influence of a Led Zeppelin, a band as popular but creatively quirky as a Jethro Tull, or as singularly un-commercial but still hugely popular as a Yes or Genesis is really impossible to conceive of today. A dominant rock artist such as Elton John, David Bowie, or Rod Stewart simply does not exist today. There are no more Joni Mitchells. There are no more Bob Dylans. There are no more Neil Youngs. A few of these bands and individuals have loyal followings who will continue to purchase their music (the Beatles will never go out of style) , but after a while the artists from the 60's, 70's and 80's will simply stop producing material.
I used to believe "classic rock" was something that would evolve over the years, as newer songs became "classic." But after a while it became pretty obvious that there were no "new" classic rock songs being added to the mix. One or two a year, at the most, and often by the same old artists that occupied the classic rock pantheon. Then it dwindled to none in the mid 2000's. No new "classics."
So what happened? Now that the migration to digital is more or less complete, where are the "superstars?" Where are the bands that the record companies used to permit to grow artistically, mature, take us through the stages of life, let us see the world through their eyes while they supplied a cultural narrative, as they grew older along with us? By and large they don't exist.
And that's a tragedy. It means future generations are deprived of a unifying cultural force. It means that music cannot fill in the gaps of our collective knowledge as a society with an overarching theme. It means we have no universal voice articulating our sensibilities. We cannot vent our outrage, we cannot protest, we cannot even celebrate together. Or rather, we can vent, protest and celebrate all we want, but the medium doesn't allow anyone to hear us. There is no more "sound" for this generation akin to the "sound" of the 60's or of the 70's or of the 80's. Today we are reduced to squirreling away in our "likes" and "dislikes," our little "niches." It means instead of bringing us together, as it once did, music now serves to keep us apart. We program our satellite radio to play what we already know, effectively shutting out the "unexpected" quality that used to accompany the "release" of new music. Nothing new, nothing unexpected. Who does that serve?
(Never mind, I already know the answer).
There really are no new "albums" anymore. The "album" format, which survived through the Compact Disc, has been supplanted by individually downloadable tunes, all generally sold through I-tunes which dominates the market. The "album" permitted a musical artist to tell a coherent story, weaving multiple emotions and themes together. Think Pink Floyd, "Animals." Bob Dylan's "Blood On the Tracks." Dividing "albums" into individual pieces effectively undermines that. What impetus does any artist have to create a thematic work when it is going to be dissected and parceled out as individual pieces? If it can't be marketed as a thematic whole, and the artist can't make any money by creating it, what happens to the creative process? It remains in the artist's basement, brilliant, shiny, beautiful, with pretty much no one actually hearing it.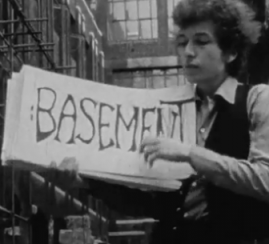 But the worst killer of all was the transformation to digital in the first place. Where you used to be able to walk into a "record store" (something else that no longer exists) and actually, physically peruse whatever new offerings were available from a huge panoply of separate artists, now you are fed choices by a computer program through Amazon.com which decides what you "may like." That's no way to discover new music.
And if this is what happened to rock, imagine what happened to Jazz and Classical, two genres with limited audiences to begin with. I love Jazz. But without a record store the idea of searching for new Jazz recordings is off-putting. I don't want to have to sit in front of a screen and select something that has been "recommended" for me. Amazon doesn't "know" me, and I don't want them controlling my choices or decisions. How can a Jazz musician make any money with his art today? The digital medium has effectively rendered live performance the only way for such musicians to make a living. What does that do to his/her art?
The sales of music have plummeted since music became a digital commodity.

For the first time, record sales aren't enough to make an artist's career, and they certainly aren't enough to ensure success. The old music industry clung desperately to sales to survive, but that model is long gone.

Even superstars have it tough. Pitbull — despite having 50 million Facebook fans and nearly 170 million YouTube plays — has sold less than 10 million albums in his entire career. This is the reality of the new music industry, which is built off of liquid attention, not record sales.
The article linked above is from Elite Daily: The Voice of Generation Y, and it unintentionally paints a fairly depressing picture of what music has become in the digital age:

The old music industry had a banner metric of artist success: album sales. For years, album sales have been declining and the growth of singles and streaming services have accelerated the trend.

As we've transitioned into a digital music economy, new measures of success have emerged. A new generation of artists has hit the scene and they thrive on attention rather than units of music they sell.

The attention has become just as valuable as our likelihood to purchase, as it leads to festival and performance attendance, merchandising sales and other sources of revenue. However, we still won't buy your music.
So music that used to inspire a generation has now become, because of its transformation into a digital medium, a vehicle for merchandising and "festival-attendance"--festivals for the purpose, of course, selling more merchandise, through
branding:
Over a billion dollars will be spent for the opportunity to build customer relationships and brand equity with digital natives. In contrast, the top 10 highest-earning electronic artists last year cumulatively made just over $240 million  —  less than 20 percent of what brands will spend in 2014 to capture Millennials' attention.

What brands understand is that music is an important part of Millennials' identity. It's more than entertainment for us. The music we listen to can be as important as how we dress and influences who our friends are.

Going to festivals and shows is an expression of identity. Brands know that if they can identify with a DJ like Skrillex and his dedicated fan base, they'll have more than just the consumer's brief attention. The brand will become part of the fans' lifestyle.
This is music, corporatized to death. When music has been reduced to a commodity solely to facilitate corporate "branding," an art form has been lost. Seeing a Pink Floyd, Neil Young or Aerosmith show in the 70's, the last thing I was concerned about was my "brand" or "merchandise." And while I may have acquired a couple T-shirts, I don't recall being overtly coddled or manipulated into making "lifestyle choices" in tandem with my musical preferences. The
Elite Daily
article treats this as a positive thing, and goes on to tout what it calls a "New Age of Musical Discovery" as disparate forms of music have become available to all, and the act of creating music itself has become a matter of pushing a few buttons:
All that's required to make a modern record is a computer and a piece of affordable recording software. One of the most powerful professional DAWs (a digital audio workstation, used to produce music) is Logic Pro from Apple, which costs only $200.

Inside the DAW are virtual instruments like pianos, synthesizers and drums, as well as all the necessary tools to edit and produce audio.
Most pop music dominating the radio today is, in fact, created by "affordable recording software," involves little musical talent or effort, and is largely a matter of a computer selecting what it recognizes as 'audience-friendly" riffs, synthesizing an attractive teenager's voice to perfection (no matter what it sounds like otherwise), and passing that vocalist off as a "Superstar." An analysis of how the digital medium has replaced actual musical talent and ability is beyond the scope of this Diary, but my point is that if the market is geared to rewarding such a dumbed down level of "creativity," what possible hope is there for true talent to break through?
This all seems very sad to me, and it seems to have happened with little fanfare or notice. If music is merely a diffuse, corporate commodity it has little chance of becoming an effective vehicle for social expression, which is what it is intended for in the first place. It has even less of a chance to become a vehicle for social change, which is what it once stood for (try to imagine someone recording "Blowin' In The Wind" or "Subterranean Homesick Blues" today). If an artist cannot sell his work but must rely on "branding" dictated by corporations, then the art itself must be compromised. And if the very nature of the medium in which it is presented prevents it from reaching its intended audience, effectively marginalizing its impact as a cultural art form, then we may want to rethink how that medium affects other aspects of our lives as well. Because, for me at least, the trade-off wasn't worth it.