this is the Saturday Morning Home Repair Blog where the Dailykos community gets together to talk about all things construction and repair. Our genial and expert staff stand ready to aid you on your every problem
OK riffing off of last month's diary, I pivoted to the front wall, replaced the upper front windows, pulled off the stanky old porch roof and ripped the 5' square window out.
Whew! I wanted to get more done for you guys but couldn't because golf. I started from this position after last month's diary:


Here's what the old windows looked like. They were set in there loose, not nailed in at all.I mean loose like flopping around. Someone has completely cut the fins off in order to get them in. That means someone worked real hard to do it wrong, a condition I see frequently on this house.


OK now this photo is to show you the way the wall is not framed. This was a complete hack job they did to get this weird little diamond shaped window in. (seen in the top photo) I chucked it ,it was useless. You're looking at 5 layers of sheathing or siding and sideways stringers. No studs at all. 2 stories high. The OSB sheathing I'm putting on will make it 6 layers and the Hardiplank makes it SEVEN FREAKING LAYERS OF SIDING!! No insulation. The siding is literally what's holding this wall up.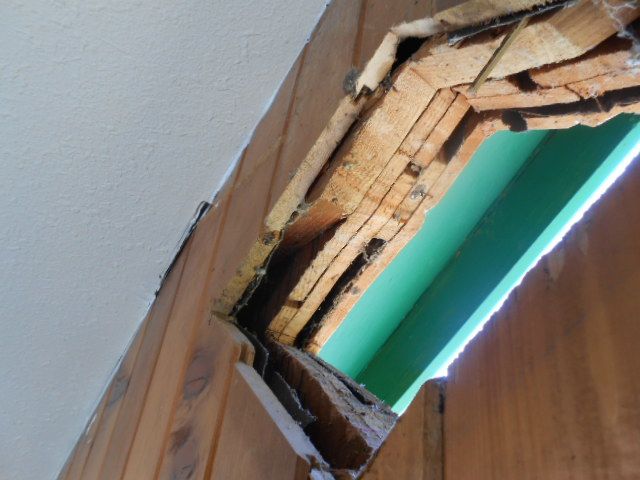 I left the porch roof on as long as I could so I could work off of it, rather than a ladder.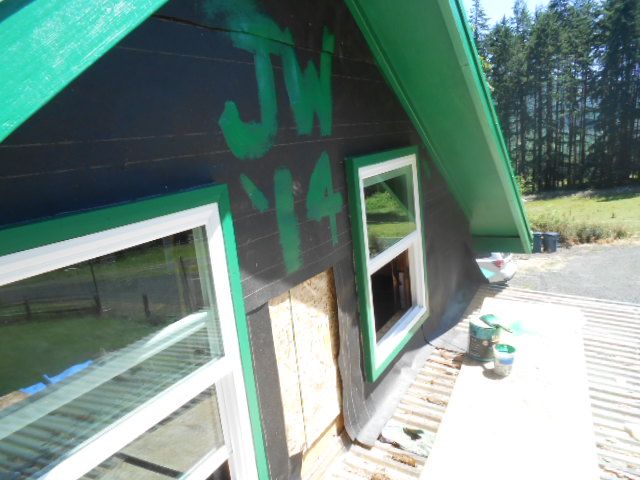 then it was time to take the porch roof down. I picked it up with the tractor, pulled the legs off and then lowered it down. It came right off the house. I dragged it to another area . I'm going to make a greenhouse out of it.
Its cool to have your own tractor. I'm going to use it to get the new window in.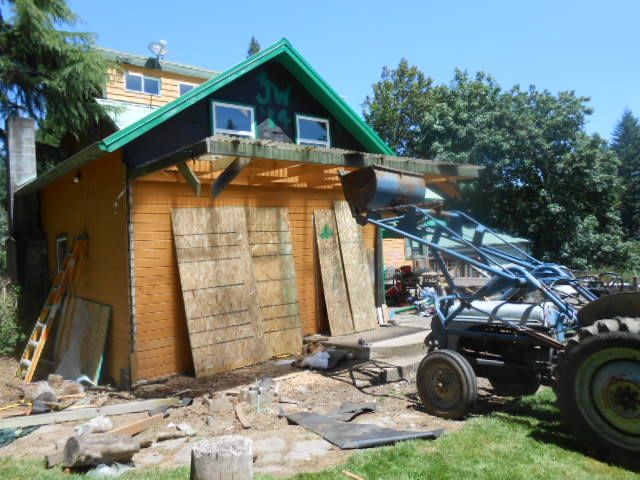 This is what it looked like after the porch roof came off. I was going to leave it at that for the day but my helper told me she would be unavailable for the weekend (dog stuff) so I had to take out the old 5' square window out today (Friday)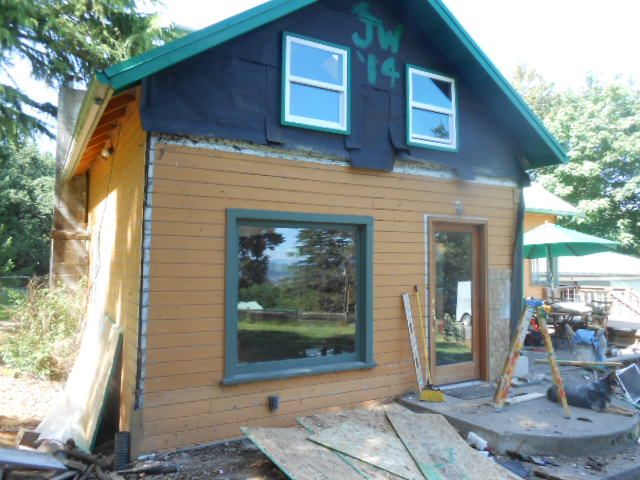 This is what it looks like as of now. Tommorrow (Saturday) I will finish reframing the window and putting the OSB sheathing tomorrow and maybe get the window in when my helper gets back Saturday night. You can see the new window off on the left.Then its the Hardiplank on Sunday. After that I pivot to the other wall, the wall on the left in these last 2 pictures. The siding's already painted.
then I'm coming back and putting a really nice porch in front, one of those pseudo Victorian ones. A nice porch to sit on

OK, that's what I'm working on--what are you working on?
UPDATE
Got ll the plywood on and the window in.
Whew! Out to dinner!!