A few days ago, House Speaker Ray Merrick went on the record in speaking about allowing concealed carry inside of the state capital building.

"I'm uncomfortable with people being here for other reasons," Merrick said in response to a question about the possibility that allowing concealed weapons might make some visitors uncomfortable. "A lot of red shirts in here that I'm uncomfortable with," he said.
http://www.kansas.com/...
This comment obviously sparked quite a bit of Twitter controversy, as the Red Shirts he was most likely talking about would be represented by the Red Shirt campaign orchestrated by Kansas Teachers Union (KNEA).
These events were covered here in the Kansas & Missouri group as they happened, so it wasn't too surprising to see a Kansas Republican remember with some concern listing his distrust for red shirts.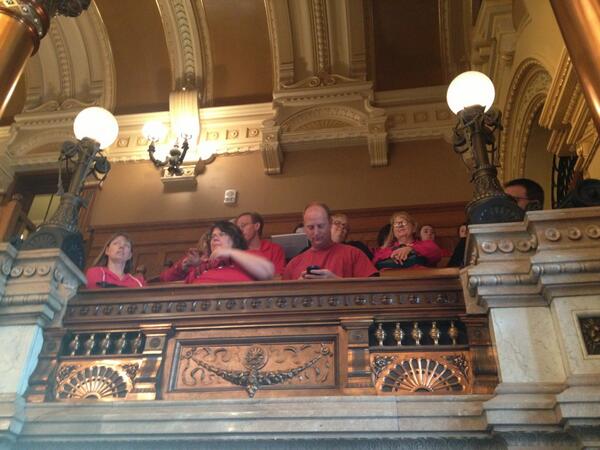 (please see earlier articles, such as: http://www.dailykos.com/...)
In the last 24 hours, though, the Speaker has had his aids working to dull the misstep, telling the press that he was really talking about the British Red Coats.
Merrick's office has attempted to quell the outrage. Rachel Whitten, Merrick's spokeswoman, said in an e-mail Friday morning that the comment was in reference to the Revolutionary War.

"It was a term of art that Ray used flippantly in reference to the British army during the Revolutionary War about being able to protect yourself and knowing who your enemy is," Whitten said.

British soldiers during the Revolution were referred to as Redcoats rather than Red Shirts. In a subsequent phone conversation, Whitten said Merrick misspoke.

"He misspoke," she said. "When we walked back to the (House) chamber, he said, 'They're going to think I meant teachers but I was talking about the Revolutionary War.' "

House Member Merrick's quick realization that this would be associated with teachers should come as no surprise. While Merrick made great use of ducking around teachers using the back exits of the capital, he was present enough on that weekend to be keenly aware of the choices by the teachers union.
Still, more concerning here is Merrick's association with history. Whitten begins by noting that this was a flippant, off handed remark about protecting yourself from your enemies or being able to identify them. This being Red Coats of the revolutionary war of course.
There are several problems with this statement, first of which is that Kansas was not one of the first states and at no point battled British Red Coats.
But besides the laughable aside, Whitten gets much closer to home when she points out that the statement was really about identifying your enemy. Make no mistake about it, the Kansas Republican leadership have keenly defined their enemy.
Merrick clearly implies there is some level of fear in other people being around the capital. These unnamed other people cannot be British Red Coats, unless he is afraid of ghosts or assumes an oncoming attack of the British which would take our military by such unbelievable surprise they would advance to Kansas before caught.
It seems to me that the folks that scare House Speaker most might be History & Geography teachers.