Todays Canadian Supreme Court decision gives full title to Yinka Dene of their land. Not all First Nations, just the 6 bands in the Yinka Dene Alliance. This probably means the Northern Gateway Pipeline proposal to the Pacific Ocean is Dead. Yes Enbridge can route around the Yinka Dene lands, only to greatly added cost, and more permitting.
Yes permits. I'll refer you to a recent comment by Observerinvancouver
This is definitely an amazingly wonderful (5+ / 0-)

court decision and sure won't help Enbridge but they were pretty close to flatlining any way.

Here is a link to a June 20/14 column in the Vancouver Sun by Vaughan Palmer (pretty much the pre-eminent political columnist in B.C.):

http://www.vancouversun.com/...

He explains the bureaucratic hurdles Enbridge was facing after the federal government gave conditional approval but before this decision today.

"The province of B.C. would be responsible for issuing approximately 60 permits and authorizations," according to the background paper accompanying the press release issued in Ottawa Tuesday.

"Those would be under more than a dozen pieces of provincial legislation, including "the Forest Act, Forest and Range Practices Act, Forest Practices Code Act, Weed Control Act, Land Act, Agricultural Land Commission Act, Fisheries Act, Fisheries Protection Act, Water Act, Environmental Management Act, Wildlife Act, Heritage Conservation Act, Transportation Act, and Industrial Roads Act."

Each comes with its own permitting and regulatory processes, many extensive and none automatic, as Environment Minister Mary Polak noted in reacting to the news out of Ottawa.

But wait! There's more. Enbridge was looking at years and maybe decades of obstruction with no certainty whatsoever that they'd jump the hurdles successfully. Heh.
Which brings me to the Keystone XL, which if you haven't noticed has been locked in purgatory for 5 years.
The Keystone XL Pipeline.
The Tar Sands Partners shelved 2 pipeline proposals to the East Coast in 2008 because of the bad economy, but resurrected both recently, even though the economy hasn't improved. Why? It may be they knew the southern and western routes (KXL & Northern Gateway) were in trouble. These 2 pipelines represent about a million barrels a day and the 2 eastern routes would equal that.
In April of 2013 I wrote on this page:

The 3 Front Battle:
Hundreds of years ago Generals thought of their opponents forces as the left flank, the center, and the right flank. The Tar Sands campaign holds similar to this tenet, they have a western flank, a center, and an eastern flank.

The Tar Sands Partners have met great resistance in the west and more recently have faced increasing pressure in their center, they now have dusted off the Portland proposal and appear to be maneuvering to the east. Throw in Energy East: Are they yielding the western front, or even the Central front? And retreating to the east to regroup?
Prescient?
Getting Tar Sands oil to the Pacific:

Its now clear the Enbridge pipeline proposal is not going thru Yinka Dene land, that idea is DOA. A reroute around the Yinka Dene land may be forthcoming, but the additional length would add significant cost . A reroute to the north doesn't seem practical (See map to right, yellow dashed line), and I have found no indication that Enbridge is considering this route. What Enbridge does appear to be looking at, is bypassing the Yinka Dene Alliance lands with a southern route that utilizes the oldest Tar Sands pipeline opened in 1953, the Trans Mountain/Morgan Kinder. This pipeline is in the process of being doubled up, this would add an additional 500k BPD to the existing 300k BPD capacity that is delivered to Burnaby near Vancouver. The plan is to branch off the Morgan Kinder and head north to Kittimat. While this route avoids the Yinka Dene lands, it goes thru the First Nations lands, and for more than a few years has met great resistance. If the Tar Sands Partners fail to add west bound pipeline capacity, this greatly hampers their ability to get oil to the Asian markets in any significant quantity.
Some here at DK used to complain about protesting the KXL because even if "you win", they'll just build another pipeline and or ship by rail car. Horse hockey. The tar sands partners have been trying to build multiple pipelines to the Pacific and the Atlantic for years. They gave up trying to build natural gas pipelines to power the tar sands years ago.
Not a good track record. But focusing attention on the Keystone KL as a political tool may be paying off in spades, as we near the end game in the battle to stop the tar sands expansion. Now todays court decision has yet to play out, ramifications are not clear, but the only place left for a new pipeline is the Canadian Atlantic coast, specifically New Brunswick.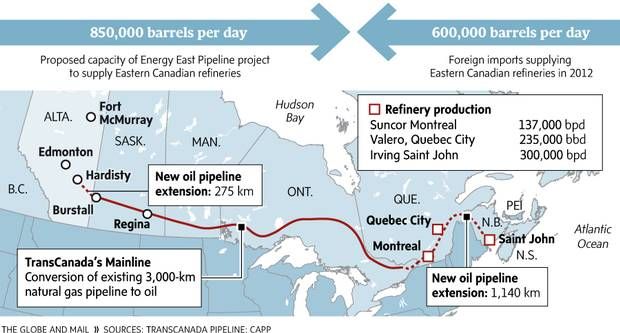 Ultimately I feel the chances for stopping tar sands production from expanding is improving each week. If you've read Sun Tzu you'll understand that when 2 of 3 fronts collapse, its time to regroup. As labor costs for skilled labor to work in the tar sands increases, this means another nail in the coffin.
Put it in the books, this turkey is all but done.
3:39 PM PT: 2 important rec list reads on today's court decision in Canada:
By Lefty Coaster

http://www.dailykos.com/...
By Gwennedd

http://www.dailykos.com/...
My own "Fighting the tar sands: Who are the Yinka Dene?"

http://www.dailykos.com/...