Some beautiful soul made @TimHowardGK the Secretary of Defense on Wikipedia. #accurate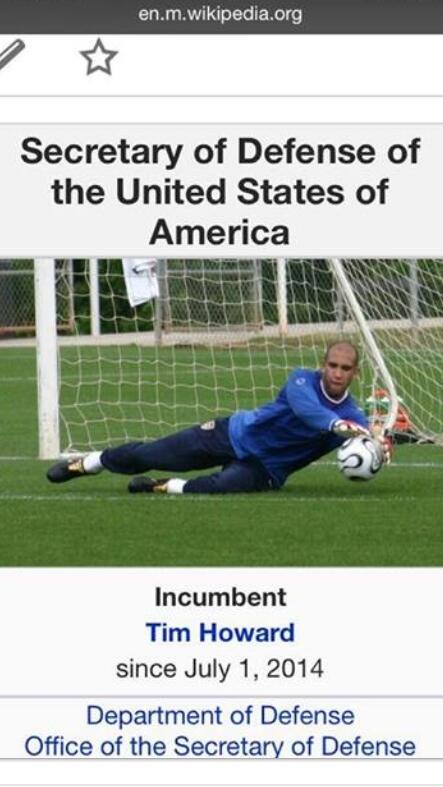 — @JadeReindl
Nate Silver
:
After losing 2-1 to Belgium on Tuesday, the U.S. men's national team will be left to contemplate its future; after years of steady improvement, there are hints U.S. men's soccer has hit a plateau. But one American left the tournament with a strong argument for his international quality: Goalkeeper Tim Howard.

Howard was FIFA's Man of the Match despite conceding Belgium's two goals — both in extra time. The award is deserved. In fact, Howard's game probably was the best by a goalkeeper in the World Cup to date.
Benjamin Morris
:
By now I've studied nearly every aspect of Messi's game, down to a touch-by-touch level: his shooting and scoring production; where he shoots from; how often he sets up his own shots; what kind of kicks he uses to make those shots; his ability to take on defenders; how accurate his passes are; the kind of passes he makes; how often he creates scoring chances; how often those chances lead to goals; even how his defensive playmaking compares to other high-volume shooters.

And that's just the stuff that made it into this article. I arrived at a conclusion that I wasn't really expecting or prepared for: Lionel Messi is impossible.
More politics and policy below the fold.
A majority of Americans support the Affordable Care Act's contraception mandate, according to a Kaiser Family Foundation poll. That's true whether or not the survey mentions specifically the possibility of exempting for-profit corporations with religious exemptions, although support declines somewhat with that caveat.

But it's the breakdown of those numbers by age that should alarm conservatives. Younger people are much more likely to support the mandate than older people are, as you can see in the graph above. As Americans get older, it's likely the conservative position will become less and less popular.

The pattern should be familiar. It's the problem that conservatives face more generally: The base of the GOP, the party that champions conservative value, consists disproportionately of older voters who are shrinking as a portion of the electorate.
Amanda Cox
:
For a slightly more nuanced look, we've moved to two dimensions. In the accompanying chart, the distance between a pair of justices represents roughly how often they disagreed this term. It's impossible to get all 36 of the distances exactly right — you'd need more than four dimensions to do that — so we've also included curvy lines showing the exact distance between some of the pairs. The justices are placed so all 36 lines are as straight as possible. This includes the lines connecting the liberal and conservative wings, which we haven't shown.
Damon Linker
:
If I owned and ran a business, I would gladly conform to the ACA's contraception mandate and provide coverage for my female employees. That's undoubtedly the liberal position.

But it's also a liberal position to accept that not everyone agrees with the liberal position on every issue — and that those who dissent remain our neighbors and fellow citizens. This is their country, too. Until liberals begin taking that vision of tolerant generosity to heart, they will fall short of what liberalism at its best demands and requires.
Ho-hum. Yeah, I like respecting everyone involved. Good idea. I also like basing SCOTUS decisions on facts and science, not "this is the outcome I want" decided by five older males of a single religion. And the outcome they wanted was to
make it harder to obtain contraception
. Let's see
how that plays with the public
.
Supreme Court experts have been looking for the right word to describe the term's record ­number of agree-not-to-disagree unanimous decisions: Faux-nimity? Un-unanimous?

The number of rulings without dissent skyrocketed to rates not seen since the 1940s, and the court's percentage of closely divided decisions dropped to a modern low.

Such cases can mask deeper conflicts, and those were on display in the term's finale this week. The decisions announced Monday showed that stark divisions — conservative opposed to liberal; Republican appointees on one side, Democratic ones on the other; even women vs. men — exist on the court beneath a frequent veneer of 9-to-0 comity.

"The court is still deeply divided on fundamental issues," said Steven R. Shapiro, legal director of the American Civil Liberties Union.
Ben Hubbard
:
As Syria's civil war raged, a Kuwaiti Islamist, Ghanim al-Mteiri, funneled cash from wealthy donors in the Persian Gulf to Syria's affiliate of Al Qaeda in hopes that it would overthrow the government and lay the foundations of an Islamic state.

So Mr. Mteiri watched in dismay as another, even more violent jihadist organization, the Islamic State in Iraq and Syria, seized a chunk of Syria, stormed into Iraq and not only declared itself an Islamic state, but also demanded that all Muslims swear allegiance to its leader, Abu Bakr al-Baghdadi.

For the first time since its emergence more than two decades ago, the Qaeda of Osama bin Laden finds itself facing a rival jihadist organization with the resources and influence to threaten its status as the flagship movement of violent extremism. For the moment, Al Qaeda has lost ground, but the question remains: Will this new group, which now calls itself simply the Islamic State, endure?
Juan Cole
:
The Debacle of the Caliphates: Why al-Baghdadi's Grandiosity doesn't Matter
Must read history lesson of the day.
Want a long read? Sam Tanenhaus gives a sympathetic look at reformicons Yuval Levin and Ramesh Punnuru.
Can the G.O.P. Be a Party of Ideas?