I post a weekly diary of historical notes, arts & science items, foreign news (often receiving little notice in the US) and whimsical pieces from the outside world that I often feature in "Cheers & Jeers". For example .....
OK, you've been warned - here is this week's tomfoolery material that I posted.
CHEERS to Bill and Michael in PWM, commonmass (along with Geoffrey the Cat) plus our Wyoming-based friend Irish Patti and ...... well, each of you at Cheers and Jeers. Have a fabulous holiday weekend.
ART NOTES - works by the French illustrator Gustave Doré in an exhibition entitled Master of Imagination are at the National Gallery of Canada in Ottawa through September 14th.
ALTHOUGH FEW PEOPLE use more than a couple (of the hundreds) of typefaces that come installed on their computers, fonts are quite a competitive business.
HAIL and FAREWELL to the TV actor Bob Hastings - who played the subservient Lt. Carpenter (photo left) to the mercurial Capt. Binghamton (photo right) who has died at the age of 89. In one McHale's Navy TV promo, Hastings (as Carpenter) enters a room to find Capt. Binghamton about to throw a dart at a board with a photograph pinned to it. "Carpenter, you birdbrain: why do you always have to interrupt me, just when I've got McHale zeroed-in?!?"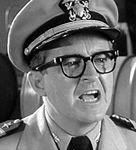 HE's BAAAACK - a follow-up documentary has been produced by your-friend-and-mine, Dinesh D'Souza - who seeks to minimize harm done to Native Americans, African-Americans and that the US took half of Mexico in the Mexican War - and which ends with him going to jail under a liberal plot. (Hey, we can only hope).
SADLY it appears that Japanese prime minister Shinzo Abe seems open to the idea of watering-down a 1993 government apology given to so-called comfort women - the herding of thousands of women across Asia into Japanese-army brothels - to placate his nationalistic base.
THURSDAY's CHILD is Pixel the Cat - who just may be the world's shortest cat.
TV NOTES - in World Cup semi-final action this week: it will be host nation Brazil vs. Germany this Tuesday (4:00 PM Eastern on ESPN) - a re-match of the 2002 World Cup championship game .... and then on Wednesday, it will be the Netherlands vs. Argentina (also 4:00 PM Eastern on ESPN) - a re-match of the 1978 World Cup championship game.
The losing teams in these two upcoming matches will play next Saturday for the bronze medal game (4:00 PM Eastern on ESPN). And finally: the two semi-final game-winning teams will play a week from today (Sunday, 3:00 PM on ABC) for the championship.
FRIDAY's CHILD is Sumo the Cat - a nearly 32-lb. Australian kitteh who is now fed less than two cups of low- calorie dry cat food per day at the SPCA.
HISTORY NOTES - one of the four copies of Britain's legendary Magna Carta document is on tour in the US (at Boston's Museum of Fine Arts for the summer) leading up to next year's 800th anniversary. And next year, copies of both the Declaration of Independence as well as the Bill of Rights will be on display at the British Museum in London.
BRAIN TEASER - try this Quiz of the Week's News from the BBC.
DIRECT DESCENDANTS? - the poet W.H. Auden and a young Ron Howard.
...... and finally, for a song of the week .............................. someone whom I only knew as a TV character from my youth, yet learned to love as a singer was Eartha Kitt - who seemed to have the same persona wherever she went. The All-Music Guide's William Ruhlmann felt that impaired her singing career (especially when R&B and rock music became dominant later in the 1950's) yet it enabled her to always have a stage to perform on - not for nothing did Orson Welles declare her to be "the most exciting woman in the world". And yet, she always spoke of being shy; in no small part due to the hardships of her youth.
Born as Eartha Keith in South Carolina back in 1927, she was the daughter of a black sharecropper mother and a white man ... and found herself ostracized working in cotton fields, called yella gal by the family she lived with. At age eight she was sent to live with her Aunt Marnie Kitt in Harlem, which brought better material things (piano and dance lessons) yet beatings, also. She had to work in a factory in her early teens and - years later - became a homeless advocate (through Unicef) due to often having to sleep without a roof over her head.
And then a friend dared her to audition for the Katherine Dunham Dance Troupe, which she aced and became an international touring member (in dance and song) before age twenty. She was spotted by a Paris nightclub owner and became a featured singer at his club. Visiting Americans in the post-World War II era also took noted, and Orson Welles cast her as Helen of Troy in his production of Dr. Faust.
Her having spent time in Europe enabled her to speak four languages (and sing in seven) which garnered her singing spots at New York's Village Vanguard as well as a Broadway role in New Faces of 1952 - which helped start the careers of Paul Lynde, Alice Ghostley and Mel Brooks, among others.
She then began an RCA recording career, with hit songs such as I Want to be Evil, "Monotonous" and C'est Si Bon (from her days in Paris). She earned a Grammy nomination for Folk Tales of the Tribes of Africa and was able for the rest of her career to be a cabaret performer of the first magnitude, with a breathy chanteuse air about her.
Her best known song can be heard each December: as Santa Baby - which was co-written by Joan Javits (niece of the soon-to-be US Senator Jacob Javits) - was one of the first successful Christmas novelty songs.
When he recording career began to ebb, she returned to Broadway, and appeared in "The Mark of the Hawk" (with Sidney Poitier) and "St. Louis Blues" with Nat King Cole. She also made her mark in television, and received an Emmy nomination for a 1965 appearance on "I, Spy".
I, like many who were very young in the mid-60's, came to know her first as Catwoman in the final season (1967) of the old Batman TV series - and in doing so, she achieved something nearly impossible in television. It's different in film where, for example, actors who have portrayed James Bond over the decades can be appreciated by fans of different eras: those films come out infrequently, and one had to visit theaters in the early era of the series.
By contrast: TV shows come into our home, run weekly and we feel a connection to TV characters. Thus, when different actors have portrayed the same character in an ongoing show: whoever first played the part defined the role in the public's mind. And so you'd be hard-pressed to find people singing the praises of subsequent actors, no matter how talented.
One exception would be Catwoman: Julie Newmar defined the role as its first performer, and would be many people's favorite. Yet you would find many who prefer Eartha Kitt's subsequent portrayal (photo center, below) with her rolling 'meowwwww' that stayed in people's minds. Years later, she told NPR's Scott Simon that people always asked her to make that sound (and she always obliged).
Yet her career took a dramatic turn in 1968 at a White House luncheon. She was asked by Lady Bird Johnson about the Vietnam War. She replied: "You send the best of this country off to be shot and maimed. No wonder the kids rebel and take pot." The remark reportedly caused Mrs. Johnson to burst into tears and Eartha Kitt became blacklisted, resulting in her leaving for Europe for the next decade to resume her cabaret singing.
President Jimmy Carter invited her to the White House in 1978, and that same year she received a Tony nomination for her role in Timbuktu - a re-make of "Kismet" adapted for black performers. And while for the most part she remained true to her soul/jazz and Great American Songbook stylings, she did have a 1984 semi-disco hit Where is My Man - her highest chart success in nearly thirty years.
She continued with her varied career into the 21st Century, with another Tony nomination in 2000 for The Wild Party and earned two Daytime Emmy Awards for her role in the children's animated series The Emperor's New School. She stayed in shape for life, even writing a book on her fitness regimen and still performed (after being diagnosed with colon cancer in 2006)at New York's famed Café Carlyle (with a 2006 live album still showing she had her chops). Eartha Kitt died the day after Christmas in 2008 at the age of 81.
Her legacy appears to be solid, with three autobiographies: the last one entitled I'm Still Here: Confessions of a Sex Kitten published in 1989. She earned a star on the Hollywood Walk of Fame in 1960, and was cited by both Diana Ross as well as Janet Jackson as an influence. She has an excellent compilation album of her hits and she was a longtime supporter of LGBT rights - before it became commonplace.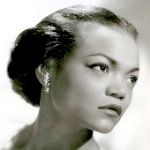 Of all of her musical works, it is her rendition of the 1930 Cole Porter song Love for Sale - which garnered some protest in its day - that is my favorite. And below you can listen to it.
Love for sale
Appetizing young love for sale
Love that's fresh and still unspoiled
Love that's only slightly soiled
Love for sale

Who will buy?
Who would like to sample my supply?
Who's prepared to pay the price,
For a trip to paradise?
Love for sale

If you want the thrill of love
I've been through the mill of love
Old love, new love
Every love but true love
Love for sale