From the GREAT STATE OF MAINE…
ONE Itty Bitty Teeny Tiny Week 'til Netroots Nation!
Last update on the 9th annual convention. Deep breath and…..

Detroit-bound: Joe Cool.
√
A short list of VIPs
who say the convention won't be the same if you don't show up: Sen. Elizabeth Warren (MA), Rev. William Barber, Gov. Howard Dean, Sen. Chris Murphy (CT), Sen. Debbie Stabenow (MI), Kos, Elon James White, Rep. John Conyers (MI), Rep. Keith Ellison (MN), Rep. Raul Grijalva (AZ), Sandra Fluke, Rep. Alan Lowenthal (CA), Rep. Gary Peters (MI), Rep. Mark Pocan (WI), Rep. Mark Takano (CA), next governor of Michigan Mark Schauer...and a first-timer who goes by the name
Joe BFD Biden.
√ Chris Savage is Michigan's rock star blogger---beloved by the left, feared by the right, respected by all. His stomping grounds at eclectablog are a daily must-read, and if he has to pay for a single drink at Natroots Nation I'll be disappointed in us all. Recently I asked him whet he's looking forward to at NN14:

He's eclectacool!
To say that I'm excited to have Netroots Nation coming to Detroit this year would be an understatement. It's going to be a tremendous thrill to show the netroots community that, while there is plenty of ruin porn in Detroit to gawk and point at, there is also heart and spirit and grit and determination in great abundance. Few cities have the rich history of Detroit, the birthplace of the modern labor movement. Detroit was the crucible in which the partnership between labor and the progressive movement was formed so it's the perfect venue for this year's conference.

When you come to the D, put aside your preconceived notions about what the city is about and allow the reality of the Motor City to reveal itself to you. I think that, like so many of us here in Michigan, you'll see a city ready to rise from the ashes and be great once again.
√
Last Last Last call
to join the Daily Kos/C&J Meet 'n Greet 'n Eat at
Vicente's Cuban Cuisine
on Wednesday, July 16 starting at
5pm
. RSVP via kosmail
by clicking here
. Just below the fold is more info with directions--thanks, navajo!
√ Nice news article by Alan Stamm of Deadline Detroit on our "giant family reunion of the left."

Left to right: Cool, cool, cool, cool, cool,
and cranky blogger with a kiddie pool.
√
Panels, training sessions
and special events can be viewed at the
NN website
or via Vicki's handy printer-friendly format
here
. The AFT union has the list of the---caution: bad pun ahead---
AFTer parties
.
√ The Detroit 10-day forecast via The Weather Channel is pretty nice, with partly sunny skies and temps in the upper-70s. You can thank the gays, feminists and pagans for that.
√ For the eighth year in a row the Anarchy 101 workshop has been cancelled due to lack of organization.
√ Dress code for the ladies is provided courtesy of Forbes Style File. Men are encouraged to wear a tank top with tie and pinstripe cutoffs accented with saddle shoes. More unhelpful suggestions at the Netroots Nation Fashion Facebook page.

√
Yes, there will be livestreaming
of some events. You can access them at the Netroots Nation site once things get underway next Thursday.
√ Register to join the NN14 fun here, get hotel info here, and follow #NN14 via Twitter here.
Safe travels to folks making the trek. We shail into hishtory....
Cheers and Jeers starts below the fold... [Swoosh!!] RIGHTNOW! [Gong!!]
More info on the Kossack/C&J meet 'n greet in Detroit:
Wednesday, July 16th
Annual Cheers & Jeers Dinner to Kick-Off NN14, Kossacks Only
TIME: 5:00 PM
LOCATION: Vicente's Cuban Cuisine
1250 Library St • Detroit
A 0.6 mile walk from the host hotel, the Marriott
The blue dots represent the walking on foot route. The grey lines are the People Mover routes.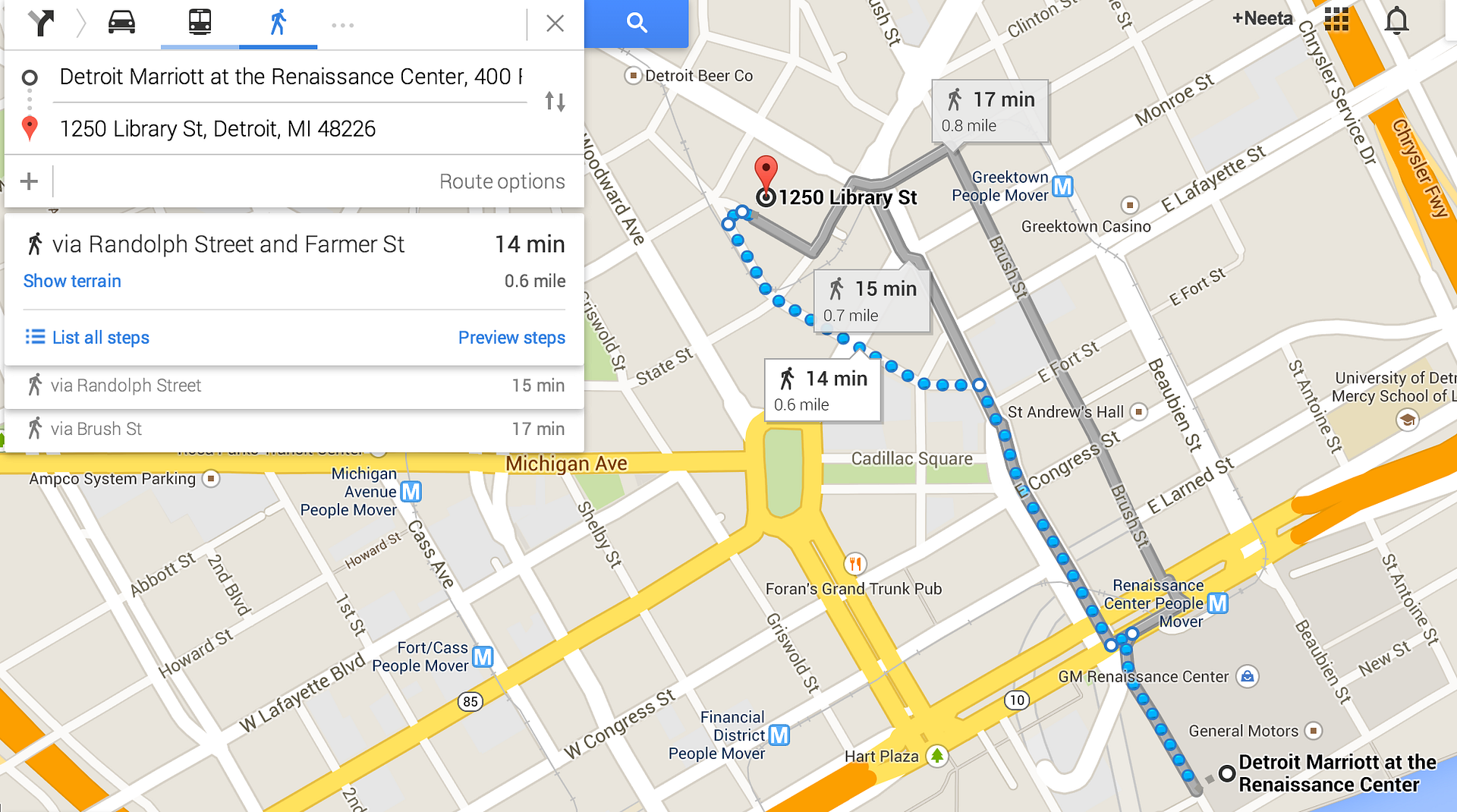 ORGANIZER: Send navajo a kosmail to RSVP.
Now, on with C&J...
-
Cheers and Jeers for Thursday, July 10, 2014

Note: Because of that damn blogger conference, C&J will be off next week. Back on Tuesday, July 22. During our absence, feel free to drop by the Abbreviated Pundit Roundup and give 'em an earful, and then listen to KagroX on Daily Kos Radio as he conquers the world with airwaves. (Benevolently, we hope.)
-
7 days!!!
By the Numbers:
Days 'til National Ice Cream Day:
10
Days 'til the
Delaware State Fair
:
7
Increase in consumer borrowing in May, a sign of confidence in the economy and employment picture:
$19.6 billion
(Source: Federal Reserve)
Percent of Republicans and Democrats, respectively, who think their own party stinks like a dead fish:
25%, 13%
(Source: AP-GFK poll)
Number of TCBY stores open ten years ago and today, respectively:
1,413 / 355
Number of Popsicle sticks that are sold every year with Popsicles attached to them:
2 billion
Percent chance that Popsicle sticks are made of birch:
100%
(Source: Popsicle)
World Cup Soccer
Argentina 0 (4) Holland 0 (2)
(No I don't get all the parentheses either.)
(Neither do I. Can we play Jarts now PLEASE???)
-
Your Thursday Molly Ivins Moment:

The trouble with piling lies on top of lies is that we can't even agree on facts anymore. I read the right-wing commentators, and it's not that we're not on the same page — we're not even in the same library. They read the Downing Street memos and convince themselves they don't mean what they say. I really don't understand: Is it that hard to admit you're wrong when you're wrong? Is it that hard to admit that the invasion of Iraq has been a disaster? Isn't it self-evident?

If you support someone politically, you are not required to believe they are perfect.
---July, 2005
-
Puppy Pic of the Day: Darth Fido
-
CHEERS to appealing to a higher power. The waiting for a marriage-equality ruling by a federal appeals court to get kicked upstairs is now a reality, thanks to Utah's Attorney General:

The state opted to appeal the decision to the U.S. Supreme Court rather than request a review from the entire 10th U.S. Circuit Court of Appeals in Denver. That option is now off the table, no matter what the high court decides.

Plaintiff Moudi Sbeity called the decision to take the case to the high court "wonderful news. … We are one step closer toward having our families recognized in our home state," Sbeity said. "It's definitely a case our Supreme Court needs to hear. The faster we can move on this, the better for all of us."
Don't hold your breath waiting for a decision. It could take awhile. Scalia needs his beauty sleep.
Greg Abbott's bold vision for Texas.
-
JEERS
to Iraqin' in the free world. If I understand this correctly, Texas Attorney General Greg Abbott, the Republican who hopes to replace Rick Perry as governor, is now
hiding his state's chemical weapons of mass destruction from the public
. Wow, that's all the justification we needed to invade an entire country a dozen years ago. I guess Halliburton and Koch Industries decided it was time to profit off of war again, but a little closer to home this time. (Paging Colin Powell---your vial of baby powder is needed at the United Nations. We'll also need wickerbaskets to hold the sweets and flowers when we're greeted as Texas liberators. And Bush, you stay out of it---we want to win this time.)
CHEERS to stopping just short of crazy. You may have heard that former vice presidential candidate Sarah Palin, torch and pitchfork in hand, is calling for President Obama's impeachment on completely bogus charges that wouldn't hold up under scrutiny in a million years. Sensing the damage such a reckless move could do to the GOP's image, Speaker of the House John Boehner---a real voice of reason in D.C.---says impeachment is silly. Good for him! And in other news, John Boehner still plans to sue President Obama on completely bogus charges that wouldn't hold up under scrutiny in a million years. Like a grownup.
P.S. Meanwhile Iowa senate candidate Joni Ernst didn't want to impeach Obama before she wanted to impeach Obama before she didn't want to impeach Obama. So, yeah, vote for her because what we need in government is less uncertainty.
CHEERS to the 44th state. On July 10, 1890, Wyoming---the "Equality State"---joined the union. I've always felt a mysterious connection to Wyoming. This might explain it:

Wyoming is home to Yellowstone National Park, the Grand Teton, and Dick Cheney. Oh well...two outta three ain't bad.
JEERS to a Ford that really needs to be recalled. Yes, folks, Canada's #1 embarrassment these days (since Ted Cruz renounced his citizenship), Toronto Mayor Rob Ford, apparently lied when he said his stint in rehab went awesome, eh:

Confusion runs rampant
among ordinary Canadians.
Mayor Rob Ford pushed and scuffled with fellow rehab residents and was so verbally abusive that he was kicked out of his group therapy program, according to people who have knowledge of his two month stay at GreeneStone. These accounts of what one person referred to as "destructive behaviour" stands in stark contrast to Ford's recent public statements that he had a healthy experience and takes his recovery seriously.
And now that he's done being an asshole in private, it's back to being an asshole in public:
Yesterday the Toronto City Council delivered a standing ovation to WorldPride organizers and the openly gay councilwoman considered to have been key in creating the most successful event in its history. Ford pointedly remained seated and did not applaud.
Seems like now it's just a question of which obituary will be published first: the one for his political career or the one for him.
-
Flashback---Five years ago in C&J:
CHEERS to today's edition of Politicians Say the Darndest Things. John McCain, gobbledygooking on Meet the Press, puts his brain on autopilot:

David Gregory: You think [Sarah Palin] is qualified to seek the highest office in the land?
John McCain: I know she's qualified. I know she's qualified.
David Gregory: She is qualified?
John McCain: Sure. Absolutely.
David Gregory: No doubt about it?
John McCain: No doubt about it. She has all the right instincts, all the right principles. She was a...she was a...a mayor, she's a governor. She understands the challenges that families face.
I don't know what scares me more...that Palin had a credible shot at being vice president, or that McCain had a credible shot at being president. Since both scenarios are unfathomably chilling, I'll just stick with my usual tried-and-true nightmare: playing naked Twister with Mitch McConnell.
-
And just one more…
CHEERS to today's handy craft project from Hobby Lobby. It is my sincerely-held religious belief that watching this lady make IUDs with pipe cleaners is something you should watch:
Be sure to share it with all your friends. And join us tomorrow when we show you how to make a chastity belt out of cardboard, string and a bear trap.
Have a sunshine day. Floor's open...What are you cheering and jeering about today?
-

Today's Shameless C&J Testimonial:

Glenn Beck Has A Message From God: Bill in Portland Maine Will Save The World
---Right Wing Watch
-