Yesterday, the World Health Organization announced a new total death count of 538 out of 888 total cases of Ebola in Western Africa. This post provides brief paragraphs from, and links to, four articles intended to bring you up to date on some recent developments in the outbreak, which many experts are now predicting will continue to spread for several more months, at least.
E.J. Nathaniel Daygbor of All Africa reports the sad news that 12 health workers, including a doctor have died from Ebola they apparently contracted from their patients despite precautions, in his article, Liberia: Health Workers Flee Ebola. Perhaps, almost as sad, the Liberian Ministry of Health has proposed an emergency budget of "US $1.5 million to combat the epidemic or the population of the country could be in serious danger."
Yes, you are reading this correctly, this is $1.5 million, not billion, no digits are missing. This is an indicator of how poor Liberia is, and how unprepared their government and health infrastructure are to combat an Ebola outbreak of this magnitude. Please note, I do not mention this as a criticism of the government, or thier health systems, but in sympathy, and to call for greater regional and international aid. My impression from one table is that around four of the countries in Western Africa appear to be among the ten poorest countries in the world.
One Liberian Senator also called for a state of emergency so that troops could be posted with the health workers. The Senator did not specify if the troops would be their to prevent health workers from abandoning their posts, to prevent crowds from attacking health workers, or to force travelers to cooperate with the blood tests to identify those who might be carrying the deadly virus. The situation is so grim, the true answer is probably all of the above.
Health workers in Liberia are said to be fleeing and returning from their areas of assignment due to the increasing number of Ebola patients. Some are said to have died from treating patients infected by the deadly virus.

Speaking in plenary yesterday at the Capitol Building, Senate's Committee Chairman on Health, Dr. Peter Coleman disclosed that there were 12 cases of health workers infected by the Ebola Virus- ten of whom have already died; and as a result, trained and professional health workers were leaving their areas of assignment at clinics and hospitals for fear of being infected.

Maryland County Senator H. Dan Morais called on the administration to decide on a national state of emergency- an action that would enable officers of the Armed Forces of Liberia along with health workers to be posted from the Red-light via Gardnerville to the Gabriel Tucker Bridge for inspection and testing to determine carriers of the virus.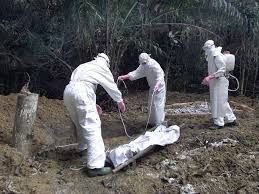 Fear among health workers escalated after Dr. Sam Mokoro, of Uganda died of Ebola he apparently contracted from patients he was treating in the Redemption Hospital in New Kru Town in Monrovia, despite taking the recommended precautions for health workers. A nurse from that same hospital died the month before after treating Ebola patients.
Liberia has reported 49 deaths out of 90 confirmed cases as of the end of June.
ChannelsTV of Africa reports Ebola Deaths Surge In Sierra Leone, Liberia – WHO

The latest figures released on Friday by the World Health Organization (WHO) brought the total in West Africa's first outbreak of the deadly viral disease to 888 cases including 539 deaths since February, the United Nations agency said.

"The epidemic trend in Liberia and Sierra Leone remains precarious with high numbers of new cases and deaths being reported," the WHO said.

The Economic Community of West African States (ECOWAS) set up an Ebola solidarity fund at a summit in the capital of Ghana on Thursday in a bid to back a regional approach to the epidemic. Nigeria committed $3.5 million to affected states.
Linda Poon of NPR writes Ebola 101: The Facts Behind A Frightening Virus
With 844 cases so far, it's the largest and deadliest outbreak since the virus was discovered in 1976. And it doesn't show signs of slowing down. On Tuesday, the World Health Organization reported 50 new cases in Liberia and Sierra Leone. Despite the current crisis, however, the likelihood of the virus's spreading beyond Africa is very low. ...
So far in this outbreak, there have been 518 deaths. That puts the current mortality rate at about 60 percent. This improvement is most likely because health workers are better at giving supportive care to patients, like nutrition and fluids, which may help their immune systems fight the virus. Health workers also track down those infected, or likely infected, more quickly. So supportive care can start earlier.
What's fueling the current outbreak? A few things. The virus has struck densely populated cities, such as Conakry, Guinea, and Monrovia, Liberia. Cases have cropped up in 60 hot spots across a large swath of land.
Terrence McCoy of The Washington Post reports How deforestation shares the blame for the Ebola epidemic.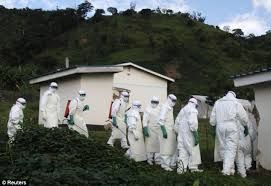 The commonality between numerous outbreaks of Ebola, scientists say, is growing human activity and deforestation in previously untouched forests, bringing humans into closer contact with rare disease strains viral enough to precipitate an epidemic.
"The increase in Ebola outbreaks since 1994 is frequently associated with drastic changes in forest ecosystems in tropical Africa," wrote researchers in a 2012 study in the Onderstepoort Journal of Veterinary Research. "Extensive deforestation and human activities in the depth of the forests may have promoted direct or indirect contact between humans and a natural reservoir of the virus."
Such a conclusion is particularly troublesome for West Africa, which has never before experienced an Ebola outbreak like this one, and is reported to have one of the world's highest rates of regional deforestation. The Guinea Rainforest has been ravaged by deforestation and has shrunk to less than one-fifth of its original size. In Liberia, more than half of the forests have been sold off to logging companies, according to the Guardian. And Sierra Leone is "seriously threatened" by deforestation, according to Chatham House's Illegal Logging Portal.
What does that mean for Ebola? Quite a lot. For one, it may bring people and wildlife into closer contact than before. And it also means a lot more bats, thought to carry Ebola, may pervade some communities.
The World Health Organization has faced some criticism for minimizing this outbreak in early months. So when the take the proactive step of calling an 11 nation conference of all the nations of Western Africa around Guinea, Sierra Leona, and Liberia to propose and initiate a coordinated regional response in advance of the spread of Ebola to those countries they deserve praise for learning and for a more aggressive response.
Our prayers and best wishes go out to all the victims, their family and loved ones, and all the people of Western Africa. We hope health care workers can bring this outbreak under control as soon as possible.
3:56 PM PT: Changed title upon suggestion of brianmkennedy and Catte Nappe. Airline suspension of flights was due to drop in demand, not quarantine. One of the impacts of this Ebola outbreak is economic disruption, especially to tourism. A few weeks ago, I reported some international hotels in Conakry, capital of Guinea having vacancy rates over 80%.
I agree that the title left the wrong impression, so changed it. Thanks.
4:17 PM PT: Rodney D. Sieh of Allfrica reports Liberia: 'Weak Passenger Demand' - Delta Explains Why It Quits On Liberia


"Due to weak passenger demand, Delta confirms that effective this fall it will suspend its service between Monrovia to New York-JFK via Accra, Ghana. The last eastbound service from New York will be on August 30, 2014 and the last westbound service will depart Monrovia on August 31, 2014. Delta is working to re-accommodate passengers impacted by this decision. Delta is grateful to the Liberian Government for its support since Delta began service in 2010. Delta continues to operate daily nonstop service between Accra, Ghana and New York-JFK."

Aviation sources told FrontPageAfrica this week that Delta has been enjoying relatively encouraging load factor on its New York ROB axis. Flight records obtained by FrontPageAfrica shows that from December 2013 to June 2014, Delta recorded a total of 11, 464 arriving passengers to Liberia and 11,082 passengers departing.

A highly-placed government source suggested that the pullout could be driven by "political" consideration amid the Ebola epidemic, fear-gripped by the increase in the death toll in Washington." Delta made its first landing on Liberian soil on Sunday, September 5, 2010, after the airline received approval for local boarding and traffic rights for its service between Accra's Kotoko International Airport and Roberts International Airport in Monrovia.
4:34 PM PT: http://www.bbc.com/...



Medecins Sans Frontieres said its teams in eastern Sierra Leone were "racing against time to stop the spread of the disease".

"We're under massive time pressure: the longer it takes to find and follow up with people who have come in contact with sick people, the more difficult it will be to control the outbreak," MSF emergency co-ordinator Anja Wolz said in a statement.

"We still have no idea how many villages are affected. I'm afraid we've only seen the tip of the iceberg."

The disease creates fear within communities and sick people are often stigmatised so experts believe the key to stopping the spread of the virus is to make sure affected communities understand it better.

"Families can be driven out of their villages, and sick people can be cast out to die on their own," said Ms Wolz.