As many of you probably have, I received another e-mail last night asking me to comment on FCC Proceeding 14-28, Protecting and Promoting the Open Internet.
I'm glad to see these e-mails and I've commented, written Tom Wheeler, called the FCC, and written all of my Congressmen (and they are men) about this issue.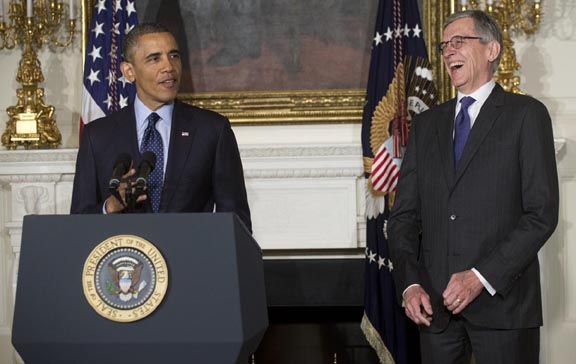 I really hope this isn't the case, but I have a feeling that something else is going on with this "feedback period" that doesn't really have anything to do with feedback.
Why?
Because unfortunately, I believe the incentives are structured in such a way that people like Tom Wheeler have more to gain by selling off the Internet than they do to lose.

You see Tom Wheeler is a former industry lobbyist. How, you ask, did an industry lobbyist get appointed to head the agency responsible for regulating the industry?
Well, he helped raise a lot of money for the 2008 and 2012 Obama campaigns. In 2008, he raised between $200-500,000 and in 2012, he bundled at least a half a million. Wheeler personally donated $28,500 to the Obama Victory Fund in 2008.
In February 2012, he hosted a fundraiser for Barack Obama that you too could attend if you could afford the lowest priced ticket of $5,000.
Does Tom Wheeler do this out of the goodness of his heart?
Perhaps … But it sure looks like Tom Wheeler bought himself a regulatory agency. Rather cheap too. It doesn't look like it cost him much more than a couple million.
So let's look at Tom Wheeler's negotiating position as head of the FCC. What does he stand to lose or gain from this decision?
If he rules in favor of the Comcasts and Verizons of the world, he is pretty much guaranteed a nice cushy million dollar a year lobbying post for some industry group upon leaving the FCC. If the FCC rules in favor of net neutrality and the people of the United States, he merely does his job.
In other words, Tom Wheeler's negotiating position is strong. The broadband service provider industry will both reward and protect Tom Wheeler if he rules in their favor. On the surface, the incentives seem to favor a decision in their favor.
The current FCC proposal (passed for consideration 3-2 in May) considers pay-for-priority service to be against FCC rules until a company proves it has a legitimate reason for prioritizing traffic (at which point the company can prioritize all it wants).
This is, I believe, the loophole the service providers of the world (Comcast, TWC, Verizon, etc) desire because they know that if they spread enough money around they will eventually, one way or another, win "legitimate reasons."
This is what Tom Wheeler would have lobbied for if he were in his previous lobbying position as President of the National Cable Television Association (NCTA).
The problem
There's a problem though. It's called a mid-term election in November. Now this doesn't matter much to Tom Wheeler, but it matters a lot to the people who put Tom Wheeler in charge of the FCC, the Democratic Party.
Tom Wheeler's dilemma is that Democrats could feel the blowback.
Here's where the FCC comment period comes in. I really hope I'm wrong on this, but the FCC comment period seems designed to make people feel like they have a say in this decision. It also seems designed to shift the heat onto Tom Wheeler and the FCC.
Why?
Because, once again, Tom Wheeler has little incentive to care what people think. He's not up for election in November. But he doesn't want Democrats to get hit by the oncoming bus. If the FCC takes the heat, Democrats don't. Or at least this is one possibility.
I don't think Millennials are going to be so forgiving, however. From conversations I've had, I think this could be a tipping point that shifts Millennials even further away from politics at a time when conventional wisdom says that Democrats win when people vote.
To date, more than 640,000 comments have been received on #netneutrality. That's the most comments ever on an FCC proposal. People, especially the Internet generation, are going to remember who caused this "cable company f*ckery."
Now I could (and really hope) I'm wrong
I could be wrong about the feedback period. I like both of the proposals on the table.
One, the FCC is asking for feedback on whether "fast lanes" should be banned altogether.
And two, the FCC is asking for feedback on whether broadband should be regulated more like a utility, whether broadband should be classified as a "common carrier."
Please use the feedback period to comment on these proposed changes. Either, I believe, are better than the proposal passed in May. You can comment here through July 15th.
I sincerely hope the "feedback period" is legitimate but my fear is that it's setup to simply shift responsibility away from the Democratic Party and onto the FCC.
My question to you, fellow Democrats
Without the appointment of Tom Wheeler in 2013, however, would we even be having this conversation?
Is the $1 million (or let's even say he's helped raise as much as $10 million for various Democrats) worth it if you lose the Millennials? Was it worth the massive amount of damage he's about to inflict on your party?
Because that could very well happen if you f*ck up the Internet.
I understand your situation. Really, I do. With the Citizens United decision, the floodgates have opened on corporate campaign donations and you need more money than ever to win elections. Or at least you think you do.
You seem to have populist leanings (or perhaps it's more of a populist tradition), but appointments like Tom Wheeler undermine your populist claims.
If you really want to be a populist party, however, I think the money hurts you more than helps you.
If you stopped taking the money, you might not appear as much on the radio and TV, but you could stand for something.
You could once again fight for democracy without the fear of offending the U.S. Chamber of Commerce and the Tom Wheeler special interest business groups of the world. You could build a movement that stood for something other than "we're not Republicans."
What's holding you back right now is the money.
I think you've got a decision to make. The decision is whether you want to be a party of principle that stands for something or a party that takes the money and then tries to message standing for something. A tactic that seems to be turning more and more people away from politics.
I fight for you, Democrats. And I try to convince other to fight for you. But you make it really hard when you appoint industry hacks like Tom Wheeler to regulatory positions.
Maybe it's time to start thinking differently and be honest with ourselves, we're not going to win the money war.
So maybe it's time we start asking the question, how much is the money helping or hurting us?
Is the $1 million Tom Wheeler raised for Democrats enough to cover the damage he's considering inflicting on Democrats? Does taking the money really help us as much as we think it does?
The Occupy movement almost upended the country with a budget of thousands of dollars because they said what everyone knew yet no one would say because of the money: "Let's build a democracy. Let's get rid of the corruption (aka ... Tom Wheeler). Let's stand for the 99%."
If you took a truly strong stand like this, I think a helluva lot of people would stand with you. But you'd lose the Tom Wheeler campaign bundlers of the world.
I think you'd be better off.
Is it time for us to stand for something?
I believe if we trusted the people, we might find that the people are capable of cutting through the b*llshit. But first, we have to be honest with ourselves and stand for something.
A quick thought on actions
I believe we should continue to put pressure on the FCC.
But while you're at it, you may want to remind your elected Democratic representatives that if Democrats lose the Internet, they lose the Internet generation.
Remind them that you're going to remember who put Tom Wheeler in charge. Because I think Tom Wheeler might be more likely to listen to a phone call from Barack Obama (who probably has his home number) than he's going to be to listen to us.
This is, unfortunately, the situation.