Shortly after Charles Darwin published his The Origin of Species in 1859, T.H. Huxley argued that dinosaurs and birds have a common ancestry. In The Origin of Birds (1916), Gerhard Heilmann commented on the similarities between theropods and birds. By the late 1960s, John Ostrom had identified 22 skeletal features common to both theropods and birds. Then, in 1996, everything changed with the discovery of Sinosauropteryx, a small carnivorous dinosaur. This began the recent scientific acceptance that many dinosaurs had feathers, and that some of these dinosaurs had evolved into modern day birds.
The Oregon Museum of Science and Industry (OMSI) in Portland recently hosted a major display of dinosaurs in which the models move and make sounds. Photos from this special exhibit follow.
Velociraptor: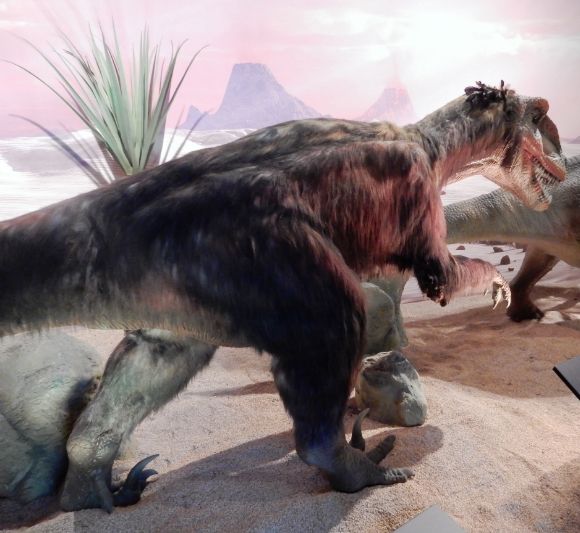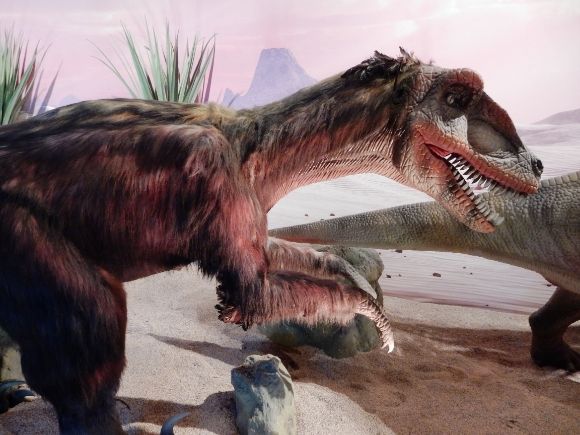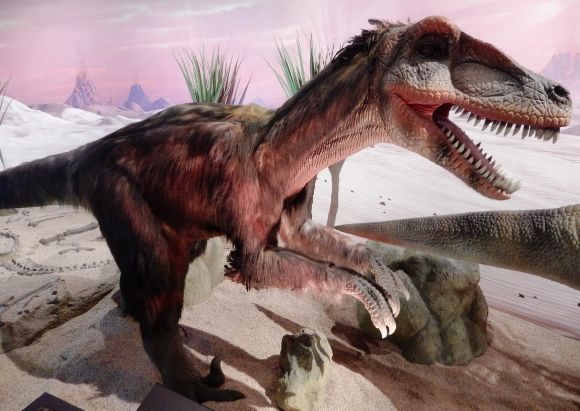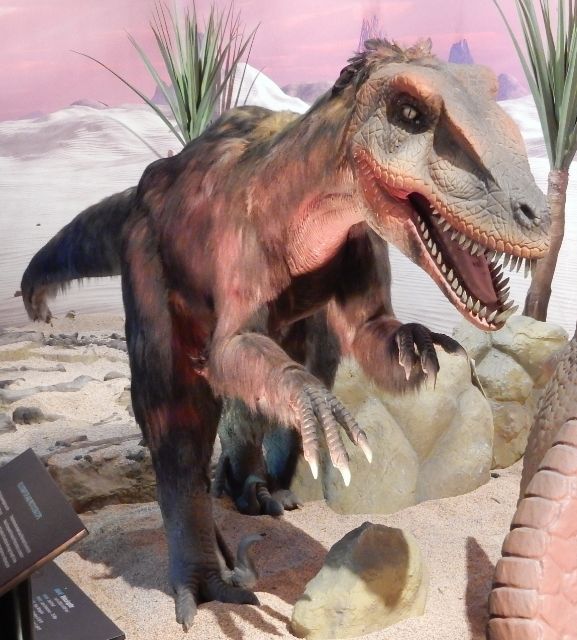 Velociraptor was a fearsome killer which appears to have been a nocturnal hunter. This animal dates to the Late Cretaceous (75 million years ago). It was warm-blooded and probably had a downy or feathery coat.
Protocerotops: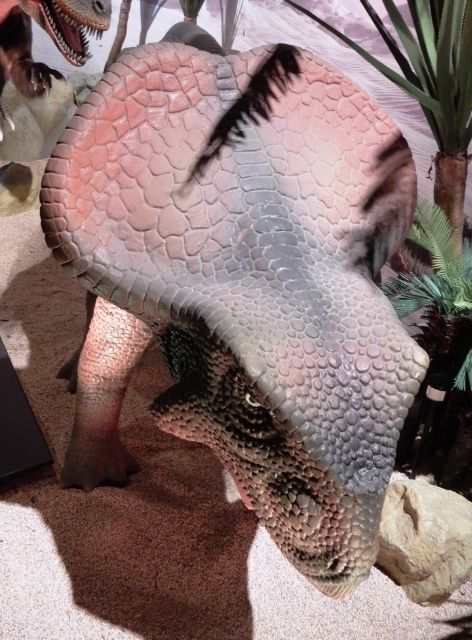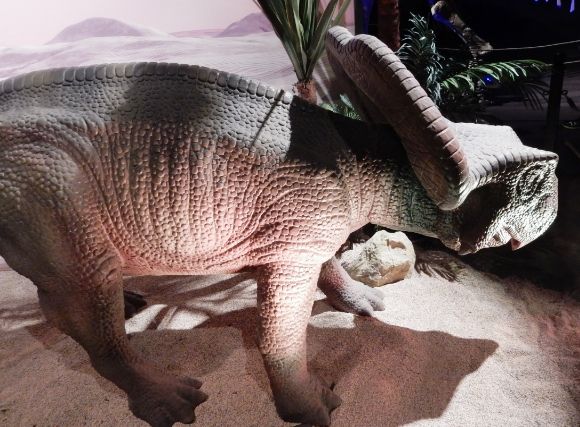 Found in Mongolia during the Late Cretaceous (75 million years ago), this herd animal had a showy neck frill which may have served for sexual attraction as well as making the animal appear bigger and less vulnerable.
Triceratops: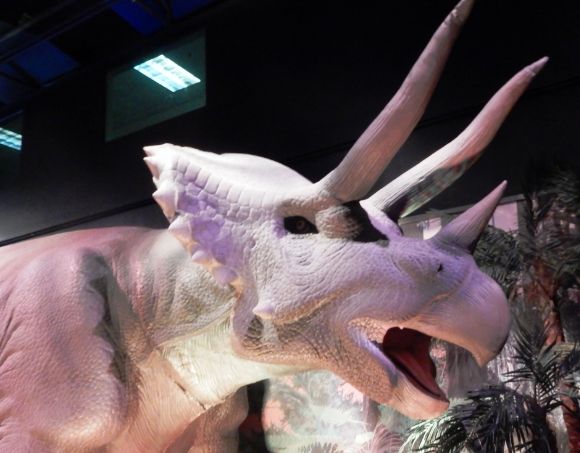 Triceratops is a dinosaur from the Late Cretaceous (65 million years ago). The fossil record indicates that this animal engaged in combat with sexual rivals and predators.
Allosaurus: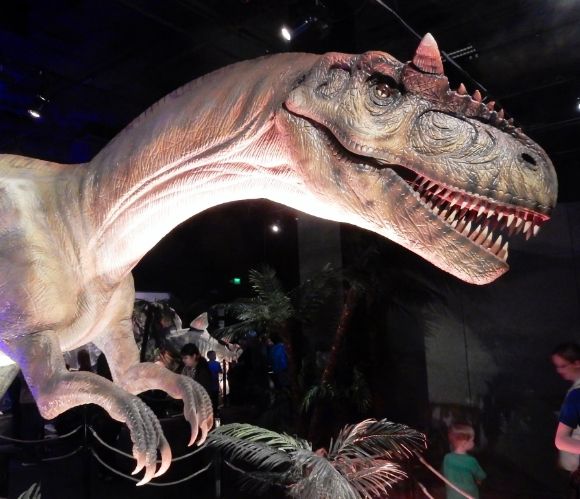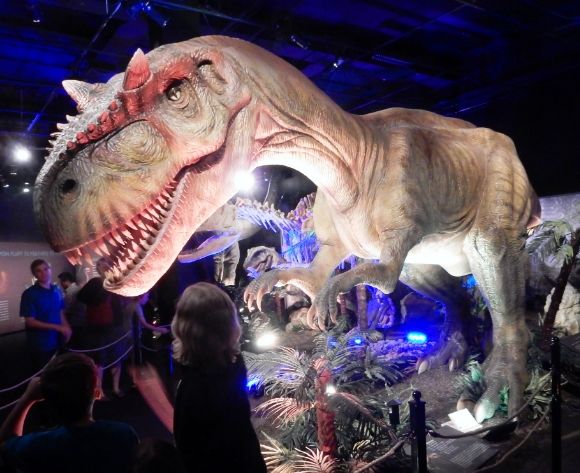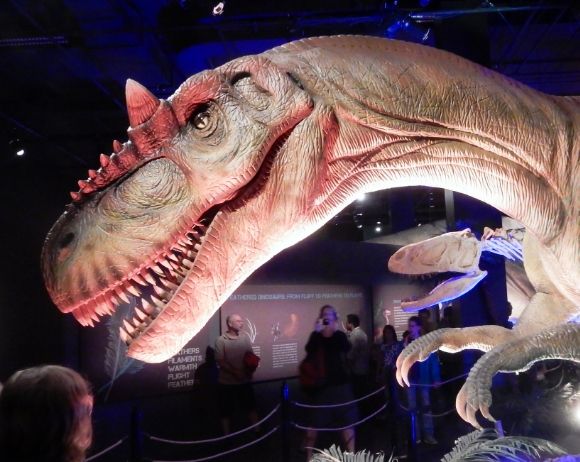 During the Late Jurassic (150 million years ago) this was North America's largest predator.
Stegorsaurus: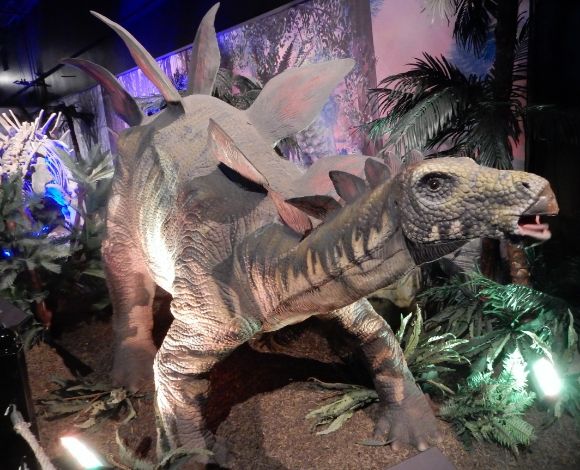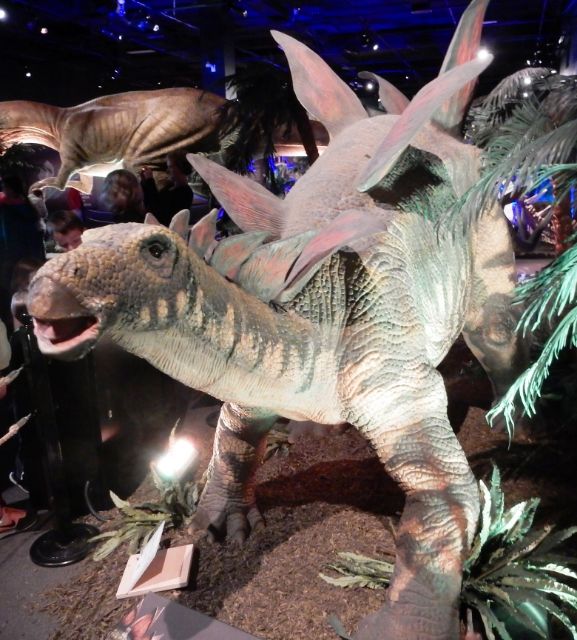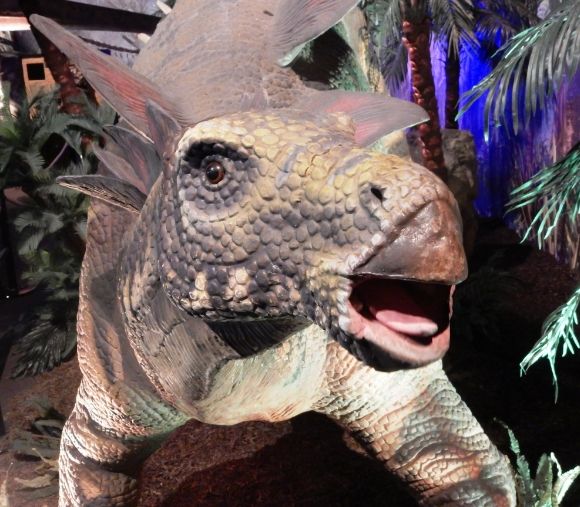 Dating to the Late Jurassic (150 million years ago) this dinosaur stood 4 meters (14 feet) high with a length of 9 meters (30 feet). It has an estimated weight of 7 tonnes (15,000 pounds).
Tyrannosaurus Rex: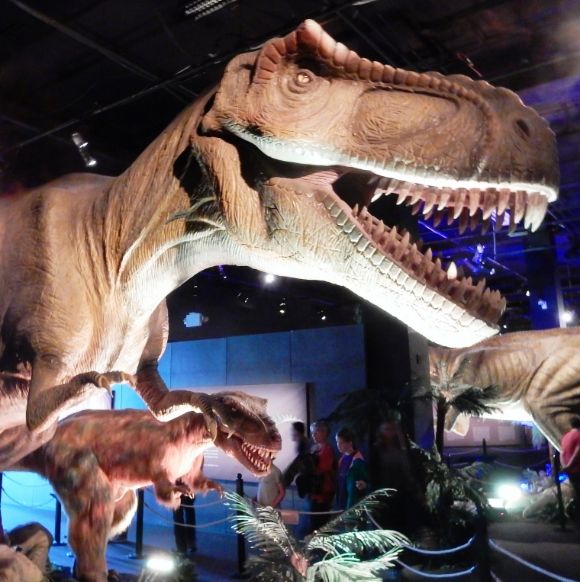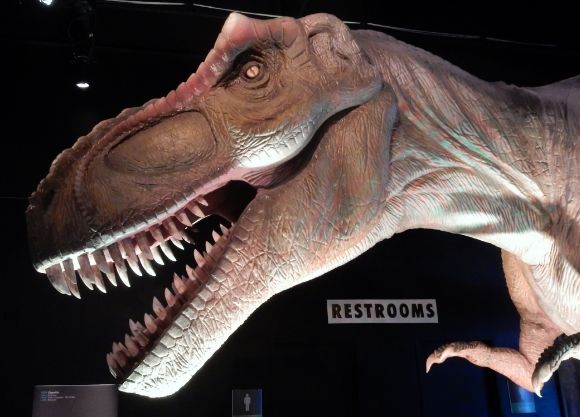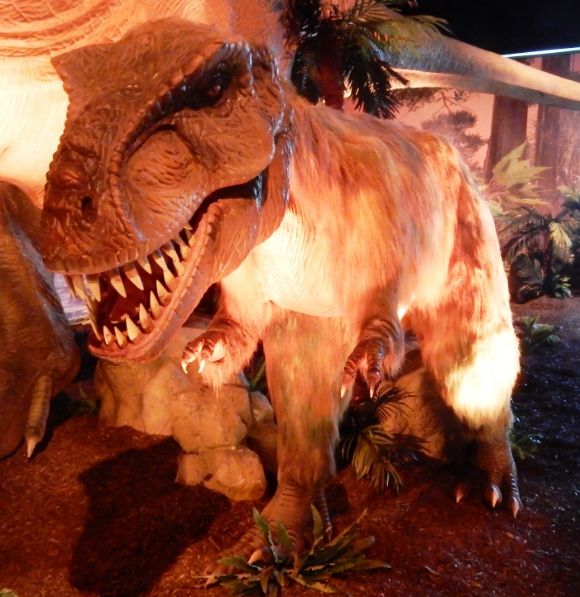 The young T Rex most likely had a fine, downy covering. This was shed prior to adulthood. Protofeathers are thought to be the precursor of feathers. Theses feathers may have looked like the soft fluffy down of baby chicks.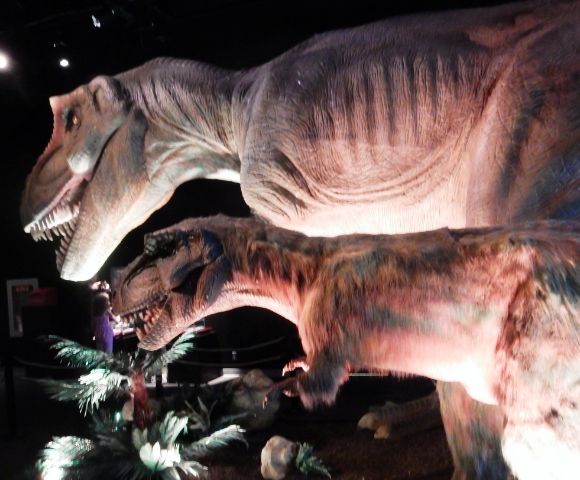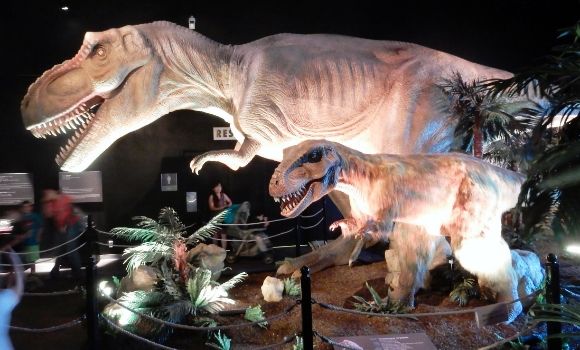 Tyrannosaurus Rex was one of the largest land carnivores of the Cretaceous Period.
Dilophosaurus: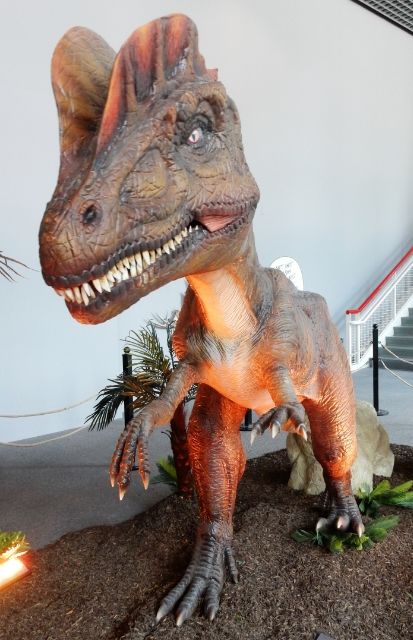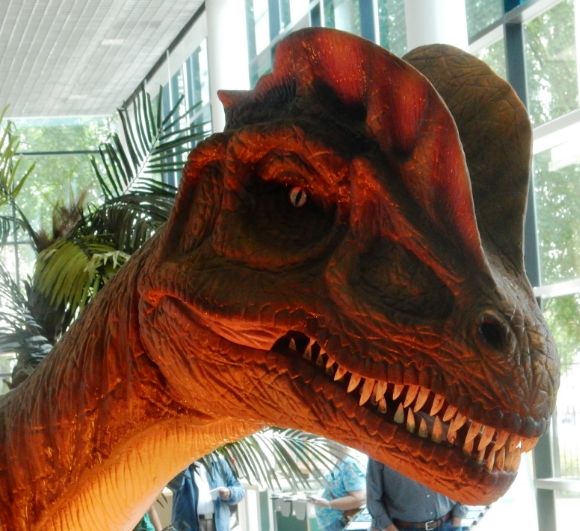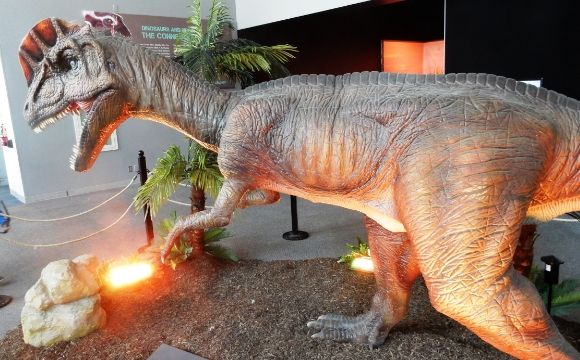 Dilophosaurus was the largest meat eater of the Early Jurassic (200 to 190 million years ago). With an opposable thumb it was able to grasp prey and hold it tight whiles its power claws could teach meat from both living flesh and dead carcasses. The double crest appears to have been for display purposes as it was not attached to the skull.