This July edition of my gubernatorial race ratings looks at the probability that either party will win the November governors elections for each state. Many pundits like to assign races to categories of likelihood of a particular party winning using the categories of Safe, Likely, Lean, and Tossup and I do as well. I'll also go one step further and give percentage chances for each category, but note I'm not using a formal model and these are just to give you a rough idea of my confidence:
Safe - That party has over a 95 percent percent chance of winning. The other party has no realistic options for victory under present or expected circumstances.
Likely - That party has over an 80 percent chance of winning and is the heavy favorite. However it is possible that the situation might change and the other party has a potential path to victory.
Lean - That party has over a 60 percent chance of winning and is a narrow, but clear favorite. This race will be competitive and it is quite plausible that the other party could win with changing circumstances.
Tossup - Both parties have less than a 60 percent chance of winning and the heavily contested race could easily go either way even if one party might be favored from week to week.
With that system in mind, let's take a look at the playing field mapped out and in chart form, while you can find an interactive map with various biographical and electoral stats here.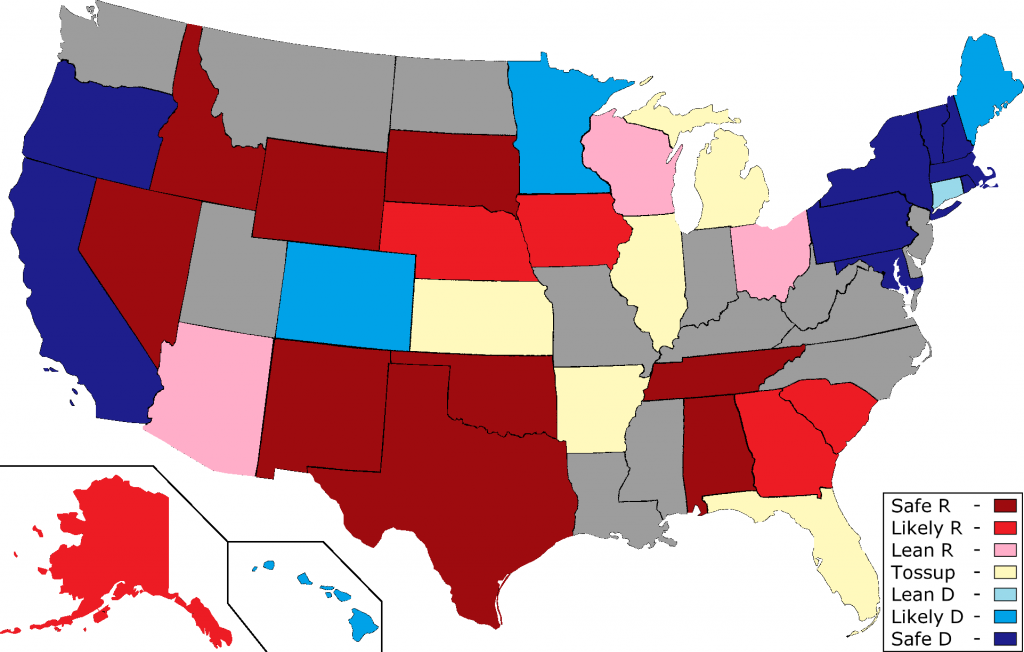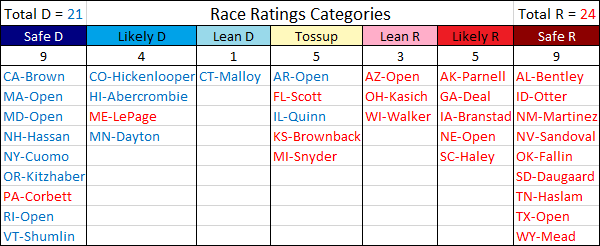 Following the disastrous 2010 elections Republicans built up a commanding lead in governors offices, particularly considering how many people are represented by each party. Currently there are 21 controlled by Democrats and 29 by Republicans with their party governing 56 percent of the (2010 census) population of the 50 states. Of the 36 states with 2014 gubernatorial elections, 14 are held by Democrats while 22 are held by Republicans. Aggregating all the races not up for election with those rated Lean or stronger for either party yields 21 for Democrats, 24 for Republicans, and 5 Tossups.
At present I expect 4 states to change hands with Republicans gaining Arkansas while Democrats gain Florida, Maine, and Pennsylvania and while that number is low it would represent a net gain of nearly 10 percent of the 50-state population for Democrats which would result in their governors representing the majority of Americans. Kansas has shown a lot of promise for Democrats and could very easily move over to their column by the next update, as could Michigan, while Republicans remain at least even-money in Illinois.
Compared to last quarter, five races saw a ratings change: Florida from Lean D to Tossup, Hawaii from Safe D to Likely D, Kansas from Lean R to Tossup, Nebraska from Safe R to Likely R, and New Mexico from Likely R to Safe R. Since there are only 36 races I'll detail each one individually below the fold, but keep in mind that a lot of that section is the same as last quarter for races that were static.
Tossup
Arkansas - Open - (D)
Long a Democratic bastion, Arkansas gradually turned towards Republicans over the past two decades until that movement became an avalanche in 2010 and 2012 with little signs of abatement in 2014. Very popular governor Mike Beebe is term-limited and the man he defeated for the open seat in 2006, former congressman Asa Hutchinson, is the Republican nominee this year. Democrats have a very deep bench in the state though and their nominee is former 6-term congressman Mike Ross who has been very competitive in fundraising and easily held down ease a much more important swing region of the state in Congress. Reliable pollsters have thus far shown a neck and neck race and Hutchinson has been out of office since 2001 and ran his last race eight years ago, but realigning partisanship will be difficult to overcome and I suspect the (D) next to Ross' name will be what beats him even if this race is competitive all year long.
Florida - Rick Scott - (R)
Governor Rick Scott was a wealthy businessman and political neophyte who had the fortune of running in the 2010 wave, narrowly winning both the primary and general. Scott however has and had at the time major liabilities in addition to very conservative positions. He was the CEO of the company that committed the biggest Medicare fraud in US history and Florida is one of the oldest states in the country, though Scott was never personally charged (he plead the 5th 70-some times) and was rather miraculously still elected by a narrow margin and he lagged far behind Republicans in the state that year. Since then though his approval ratings have consistently stayed in the 30s or low 40s and popular moderate former Republican governor Charlie Crist, who left the Republican party in 2010 and became a Democrat this cycle, is the presumptive Democratic nominee against him. In Scott's favor is his ability to spend a massive amount of money thanks to his personal wealth and spending in the race has been one-sided thus far, giving him a few narrow leads in recent polling. However given all the negatives Scott has and Crist's popular tenure, I'm betting that this is one of Team Blue's pick ups.
Illinois - Pat Quinn - (D)
Governor Quinn cheated political death in the wave of 2010 when horrid approval ratings weren't enough to overcome a flawed Republican challenger and a strongly Democratic state. Unfortunately for Democrats, Quinn's approval rating is at best just as bad if not slightly worse, but on the other hand the political environment is very unlikely to be as bad is it was four years ago. Republicans nominated self-described .01%er near-billionaire Bruce Rauner who has made ample use of his own funds. Though his money is a campaign plus, Rauner has never run for office before and has made some pretty foolish mistakes such as advocating for reducing the minimum wage while raising it is overwhelmingly popular. If any contested race is likely to be fought over issues of class, this is probably it. Given how Quinn eked out a victory in 2010 when most pundits and even most polling had written him off I'm predicting he pulls it out one more time, but not with particularly high confidence. It's worth noting in particular that prolific Illinois conservative pollster We Ask America has been finding Quinn down by up to double digits, but they did the same in 2010 and generally have a poor track record.
Kansas - Sam Brownback - (R)
Despite Kansas being one of the most Republican states in the country, first term governor Sam Brownback's very conservative agenda has caused his approval rating to tumble as many of the state's large contingent of relatively centrist Republican voters became turned off. Polling has been somewhat sparse though all have shown him very unpopular and most have him losing while the state has had a long tradition of electing moderate Democratic governors. Likely Democratic nominee, state house minority leader Paul Davis also raised a surprisingly respectable amount of money for such a Republican state. However this is still Kansas and it would take a lot for Brownback to actually lose a state where Democrats have had a hard time winning anything in recent years even if they're currently winning in the mid 40s in polls. Given the trajectory of the race and the unfolding budgetary debacle due solely to Brownback's policies, I wouldn't be surprised at all if Democrats end up winning this one, but as things stand today I'm not quite ready to make that call.
Michigan - Rick Snyder - (R)
A product of the Republican wave, Rick Snyder was a first time candidate running on his business credentials who crushed his Democratic opponent as his state turned hard toward his party in 2010. But since then Snyder and Michigan Republicans have pushed a very aggressive and conservative legislative agenda with unpopular measures such as the emergency manager law effectively suspending many local (Democratic) governments which was overturned at the ballot box and then nefariously reinstated, a strict anti-abortion law, and the biggest of all a right-to-work measure which legislators disgracefully passed in a lame duck session after an election where they lost their majority for it. Snyder has seen his approval rating plummet from the nearly 60 percent he won in 2010 to the low 40s, but complicating things tremendously is the unreliability of Michigan polling. There have been several polls in 2013 showing him with recovered approvals and modest leads over likely Democratic opponent, former congressman and state senate majority leader Mark Schauer, however pollsters also showed the 2012 presidential race competitive or had Romney leading late in the cycle when Obama won the state by nearly 10 percent. In Snyder's favor is his sizable monetary advantage and Schauer's currently undefined image, but with bizarre ads like this, the mediocre record it tries to defend, and the state's clear Democratic lean this one has the potential to become a Democratic gain since at the end of the day Michigan is a blue state.
Lean Democratic
Connecticut - Dan Malloy - (D)
Though Connecticut is quite blue federally, Dan Malloy only narrowly won an open race in 2010 and has had mediocre approval ratings in the few polls seen over the past few years, particularly on fiscal issues. Republicans are likely to pick their losing 2010 nominee, former ambassador to Ireland Tom Foley. Given how Democratic Connecticut is and another Republican wave year being unlikely, Malloy is more likely to win than not, but without a reliable stream of polling data it is rather hard to tell and the somewhat competitive race could easily tighten at some point in the cycle.
Lean Republican
Arizona - Open - (R)
Incumbent governor Jan Brewer is term limited and the Republican primary to replace her is a free-for-all with state treasurer Doug Ducey and former GoDaddy.com executive Christine Jones looking like the front-runners. Democrats have coalesced around former state university board of regents chairman Fred DuVal whose only previous electoral experience was a failed run for the US House in 2002, but is nonetheless well connected in Democratic politics. While the state voted for Romney by roughly 9 percent, Democrats typically are competitive and held the governor's office from 2002-2010 and performed respectably against then popular Brewer in 2010 given the year. For now Republicans have a clear advantage due to the state's lean, but as the candidates become more well-defined and campaigning shapes up the race could potentially tighten.
Ohio - John Kasich - (R)
At first elected by a slim margin in the 2010 wave, John Kasich saw his approval rating absolutely tank in 2011 only to astoundingly recover throughout 2012 and 2013 to where he now polls usually above water. The man he defeated in 2010, then governor Ted Strickland, chose not to seek a rematch at what would make him 73 on election day, thus removed Kasich's strongest potential opponent. Democrats have since settled on Cuyahoga County executive Ed FitzGerald as their likely nominee, but he has not run a flawless campaign with issues like his initial running mate pick having to step down over delinquent taxes. Unlike several other class of 2010 Republican governors with a same-party legislature, Kasich has made a strong attempt at maintaining an element of moderation in his public image through things like expanding Medicaid under Obamacare. Polling has been fairly infrequent and conflicted with only two firms dominating the scene: Public Policy Polling typically shows results with Kasich being very competitive with his unknown Democratic opponent while Quinnipiac University finds Kasich with a huge positive approval rating spread, but paradoxically lower reelect numbers yet nonetheless in a commanding position. In total though Kasich appears to be the clear favorite even if the race is competitive, especially with his huge monetary advantage, but it seems a possibility that FitzGerald might pull off the upset if conditions change.
Wisconsin - Scott Walker - (R)
The Republican golden child of the 2010 wave, Walker has walked the finest line between electoral viability and pushing a toxic conservative legislative agenda since his initial election. Though he incurred a major backlash by pushing through unpopular anti-union legislation as one of the first acts in his term and one upon which he did not campaign, a 3-1 spending advantage and an electorate dismayed that the electoral recall was being used for political reasons comfortably reelected him in the summer of 2012. Walker's approval ratings since then have been slightly positive and along with the recall's failure seem to have importantly deterred 1st tier Democrats from running, but he still faces serious opposition from presumptive Democratic nominee and city of Madison school board member Mary Burke who has polled quite close behind him all cycle. With Wisconsin being a light blue state and Republicans under Walker presiding over strongly conservative policies and mediocre job there will be plenty for Burke to attack him on, but his decent approval rating and a very impressive fundraising ability should allow Walker to win a modest victory. Don't be surprised though if this race moves in the Democratic direction after Labor Day.
Likely Democratic
Colorado - John Hickenlooper - (D)
Then Denver mayor John Hickenlooper was a massive beneficiary of Republican dysfunction in 2010 when their presumed nominee imploded in a plagiarism scandal and narrowly lost the primary to a little known extremist whom the state party disavowed yet stayed on the ballot and former Republican congressman Tom Tancredo became their de facto candidate on the Constitution Party line. Initially quite popular and seen as a heavy favorite for reelection, Hickenlooper's standing fell in a state with a large pro-gun voting bloc after state Democrats passed a gun control legislative package which despite having individually popular components polled poorly as a concept. However his numbers have since recovered with him leading all comers by a decent margin in recent polling. Republicans have re-nominated their 2006 loser, former two-term congressman Bob Beauprez, but several very extreme statements on his part of since come to light that indicate to me he is a seriously flawed candidate. However Hickenlooper is known for eschewing negative ads and Beauprez's past is not well publicized, so current polling, which has a history of underestimating Democrats in Colorado, has not yet reflected Beauprez's negatives.
Hawaii - Neal Abercrombie - (D)
Abercrombie was regarded as vulnerable and deeply unpopular all throughout the beginning of his term thanks to terrible poll numbers, but more than any state in the nation Hawaii polling is horrendously bad. Abercrombie had close poll numbers late in 2010 and won by a 17 percent blowout. Now-senator Mazie Hirono had competitive polling numbers early on in the 2012 cycle and won by a 25 point rout. For whatever reason, pollsters dramatically understate Democratic chances here, but in such an inconsistent manner that it is effectively useless, while Hawaii is already one of if not the most Democratic states in the union. Abercrombie is facing a rematch against Lingle's lieutenant governor Duke Aiona while former Democratic Honolulu mayor and perenial loser Mufi Hannemann is running as a conservative independent, but don't be surprised when the governor wins by a comfortable margin this fall. However, because of the aforementioned polling issues in the state and the fundamentals which would indicate Abercrombie isn't popular, I'm moving the race to Likely Democratic out of caution, but with a massive fundraising edge and the state's dark blue lean I would be shocked were he to actually lose.
Maine - Paul LePage - (R)
Despite being an incumbent in a medium, but not dark blue state LePage is a heavy underdog. Initially elected by a bare plurality with just over 40% of the three-way vote thanks to a split field among the left, the quite conservative LePage has made several blunders and kept himself very unpopular. The only reason he's not completely dead on arrival is because 2010 runner up, independent Eliot Cutler, is running for a rematch. However unlike 2010 when the Democratic nominee was loathed and came in a distant 3rd, Democrats are running their most popular politician in the state, 6-term congressman Mike Michaud who consistently destroys LePage one on one in polling. But since this is a three-way race, polls have shown LePage competitive if not infrequently narrowly leading thanks to Cutler siphoning off a large portion of the vote, but don't be fooled by trial heats this far out. It would be practically unheard of in our two party system for Cutler, who is not unusually well-liked as now-senator Angus King was in 2012, not to collapse in support as left-leaning voters come home to Mike Michaud who is very popular with them. This may not happen until low-information voters start paying attention to the election in September and the ad wars heat up, but I don't expect Cutler to exceed 15 percent of the three way vote and that is completely insufficient for despised governor LePage to win.
Minnesota - Mark Dayton - (D)
Bucking the trend in the Midwest, Mark Dayton was very narrowly elected in this light blue state in 2010 when Republicans put forth Tom Emmer who was deemed too conservative by the electorate (who nonetheless is set to succeed Michele Bachmann in Congress). Since his initial win with just over 44 percent of the vote, Dayton has seen his approval ratings consistently positive and above 50 percent and the state Republican party is in relative disarray after coming off a bruising 2012 loss of the legislature and being deep in debt. While multiple decent candidates have stepped forward to challenge him, Dayton is unlikely to lose barring a shift in the national environment away from his party.
Likely Republican
Alaska - Sean Parnell - (R)
Though he has had a mediocre approval rating in the past several polls and has credible opposition, Alaska is one of the least Democratic states in the country. What makes this race Likely R is the presence of independent Bill Walker who was runner-up for the Republican nomination in 2010 and is running against Parnell because of an oil-industry tax give away that was deeply unpopoular at the time it passed and who has been polling in second place over likely Democratic and former Juneau mayor Byron Mallot in some polls. The last few cycles of polling in Alaska were unreliable, but this is a state which is quite open to third party candidates and is worth keeping an eye on.
Georgia - Nathan Deal - (R)
Governor Deal was elected by a fairly comfortable 10 percent over a Democratic former governor for the open seat in 2010, but that was a relatively poor showing compared to the rest of the ticket. Deal had resigned his seat in congress to avoid a congressional ethics investigation ahead of his gubernatorial run and only narrowly won his party's nomination, but since his initial election has seen his middling approval rating nonetheless put him in a decent position for reelection given the state's heavy Republican lean. However Deal now has strong opposition with Democratic state senator Jason Carter, the grandson of former president Jimmy Carter who is still quite popular in Georgia and Carter has not been lacking for campaign funds. Throwing a major wrench into Deal's reelection is his ongoing troubles with ethics related to his time in Congress and his past election campaigns. Whether that, Jason Carter's positives as a candidate, and Georgia's slow but steady Democratic trend will be enough to turn this race into a competitive one remains to be seen and for now we can expect heavily conservative state to favor Deal, particularly because unless Carter wins a majority in November there will be a December runoff where asymmetrically lower turnout will make it very difficult for him to win.
Iowa - Terry Branstad - (R)
The longest-serving governor in American history, Terry Branstad was a strong favorite all cycle to win a record 6th four year term. However a developing scandal involving the firing of state government workers over party politics has threatened to seriously hinder his election chances, but it remains to be seen what impact it will have. Unfortunately Democrats had only put forth a decidedly 2nd tier candidate with liberal state senator Jack Hatch who has lagged far behind Branstad in fundraising and received little support from national Democrats. Regardless of that, if the state firing scandal ensnares Branstad further, this race could be a potential upset for Democrats, but for now Branstad remains the clear favorite and leads all polling.
Nebraska - Open - (R)
As with its neighboring plains states, Nebraska is heavily Republican and though Democrats had a long history of winning gubernatorial elections here those days have been left behind. Fortunately for Democrats though, Republicans nominated their worst possible candidate with uber-wealthy businessman Pete Ricketts who got demolished by over 20 points for senate in 2006 despite outspending incumbent Ben Nelson several times over that year. Polling has been very infrequent, but Democrats nominated former University of Nebraska board of regents member Chuck Hassebrook who had previously won election to that board in a conservative district. With a Ricketts nomination for an open seat this race has moved to Likely Republican, but the Republican lean of the state should most likely keep the governorship in their hands another term.
South Carolina - Nikki Haley - (R)
Even though South Carolina is generally a safe state for Republicans, disgust with former governor Mark Sanford's tenure and tumultuous relationship with his own party and Haley's close ties to him, a strong conservative Democratic opponent, and possibly her ethnicity caused Haley to win a surprisingly close initial election in 2010 despite a serious monetary advantage. Back for a rematch is state senator Vincent Sheheen who held Haley to under a 5 percent win in 2010, but it is unlikely that he will even come as close this time given how Haley has maintained a sufficient approval rating, particularly with her own party, for her to survive in a state as deep red as South Carolina.
Safe Democratic
California - Jerry Brown - (D)
Governor Brown is immensely popular in a very Democratic state, has a huge war chest in an incredibly expensive state, and faces an underfunded and first time candidate in former treasury department official Neel Kashkari.
Maryland - Open - (D)
Maryland is one of the most Democratic states in the country where Republicans have no strong candidates. Lieutenant governor Anthony Brown will win in a walk, even if the cycle turns into another Republican wave.
Massachusetts - Open - (D)
Though Republicans recruited losing 2010 nominee Charlie Baker to run and he came within 7 percent in 2010, I don't foresee a path to victory for him in a non-wave political environment, especially against very popular multi-term attorney general Martha Coakley even despite her epic fail during the 2010 US Senate special election. Massachusetts is one of the least Republican states in the country and even if Coakley proves a bad candidate a second time, Baker's party should be enough to sink him again when he couldn't even defeat an unpopular governor in the best year for his party in generations.
New Hampshire - Maggie Hassan - (D)
While her initial 2012 election was considered competitive until she won by a hefty 12 percent, Hassan has had stellar approval ratings all cycle and no serious opposition despite New Hampshire's swingy nature.
New York - Andrew Cuomo - (D)
One of the most Democratic states in the country and Andrew Cuomo is very popular and obscenely well funded.
Oregon - John Kitzhaber - (D)
Three term governor Kitzhaber very narrowly won the open seat in 2010 after serving two prior terms, but has since maintained a solid level of support and has a massive fundraising advantage over Dennis Richardson, who is one of the most conservative legislators in the state. With Oregon Democrats holding onto their general popularity in a medium blue state he will have little trouble winning.
Pennsylvania - Tom Corbett - (R)
Though he had a successful track record of winning election as attorney general in a light blue state and was elected governor with ease in the 2010 wave, Tom Corbett has seen his approval rating sink to abysmal lows making him likely the least popular governor in the country who is still running for reelection. Though he has governed over an unpopular legislative agenda that made drastic cuts to education funding and refused Medicaid expansion, what makes Corbett's reelection almost impossible is his connection to the Penn. State Jerry Sandusky sex abuse scandal from when he was state attorney general. Democrats nominated self-funding businessman and first-time candidate Tom Wolf who has been leading Corbett in polls by around 20 points and is headed for a 2006-level blowout as the incumbent has an approval rating in the low 30s.
Rhode Island - Open - (D)
Similarly to Massachusetts, the days of this state electing moderate Republicans are over. Rhode Island is one of the most Democratic states in the country even if not the most liberal and the party has no shortage of strong candidates to run, including Providence mayor Angel Taveras and state treasurer Gina Raimondo along with Clay Pell, the grandson former senator Claiborne Pell. While likely Republican nominee, Cranston mayor Allan Fung is personally popular, he is more than weighed down by his party affiliation and his chances of winning a majority or even plurality of the vote are highly unlikely without another Republican wave.
Vermont - Peter Shumlin - (D)
The most liberal governor in the country, Peter Shumlin was initially elected very narrowly over moderate Republican then-lieutenant governor Brian Doubie in 2010, but has since kept a high approval rating. With Vermont's dark blue hue and a total lack of serious opposition Shumlin is a lock for another term.
Safe Republican
Alabama - Robert Bentley - (R)
Bentley is a non-offensive incumbent in a state where Democrats would have an incredibly difficult time winning if they were even running a strong candidate, but instead they are running turncoat buffoon and recent re-convert Parker Griffith.
Idaho - Butch Otter - (R)
While governor Otter had a relatively modest initial election margin in 2006, he was easily reelected in 2010 and is overwhelmingly favored for a third term in 2014 as Idaho is one of the most Republican states and he faces no serious Democratic opposition.
Nevada - Brian Sandoval - (R)
Brian Sandoval is overwhelmingly popular, is probably the most moderate Republican governor in the country, and has no remotely credible major party opposition despite sitting in a light blue state.
New Mexico - Susana Martinez - (R)
For a long time this state was woefully underpolled, but the handful of surveys in past months have given first term Republican Susana Martinez a fairly decent approval rating. Democrats nominated the sitting two-term attorney general and son of a former governor, Gary King, but his campaign has been a joke thus far with horrid fundraising and a very unimpressive primary win. While the state's Democratic lean might prevent Martinez from winning in a blowout, there is absolutely nothing to indicate she might lose.
Oklahoma - Mary Fallin - (R)
Oklahoma is one of the most Republican states in the country and any Democrat is unelectable here against any scandal-free Republican, let alone a fairly popular incumbent.
South Dakota - Dennis Daugaard - (R)
Governor Daugaard is popular in a strongly Republican state and faces no serious opposition.
Tennessee - Bill Haslam - (R)
After winning his initial election over a legitimate Democratic candidate in a rout, Bill Haslam has maintained a high level of popularity and has no credible opponent while in a starkly Republican state.
Texas - Open - (R)
Although Democrats recruited Wendy Davis, a state senator elected twice to a Republican leaning district of over 800,000 constituents, as their nominee here and she has posted a very impressive roughly $24 million in fundraising total for the last 12 months, this is still Texas where Democrats have a ceiling of support well short of 50% thanks to relatively very low minority voter participation rates and an implacably conservative white population. Davis' national fame and support-base will keep this election in the news, but don't believe for a second that she stands a realistic shot at beating relatively popular and very well-funded state attorney general Greg Abbott despite his ultra-conservative positions.
Wyoming - Matt Mead - (R)
Wyoming is one of the most Republican states in the country and Mead is very popular and will win in a landslide.