this is the Saturday Morning Home Repair Blog where the Dailykos community gets together to talk about all things construction and repair. Our genial and expert staff stand ready to aid you on your every problem
Ok, for starters I can't be here today to shepherd you threw all your little domestic problems, I have to go help in a parade. Sorry sorry sorry. Ask one of the really smart people who show up here.
now I don't exactly remember where I left off last month and I accidently deleted that diary in a mass deletion thing I do every now and then or my diary list gets clogged up with old MOT diaries. My biographers complain a lot if I don't.
Sooooooo anyway,here's where I was 2 months ago.


I think this was as far as I got last month

then it went to this:

here's how she sits today:


So I finish this side off and then pivot to the front porch. Its going to get a farmhouse-type porch on it, with maybe some pseudo Victorian corbels and stuff
Ok this is why you should always have a tractor with a loader. Problem: How does a Little Old Man get 3/4 ton worth of 60 hardiplanks out of the rear of the truck all by himself without breaking a sweat. First idea: back up fast and stop real quick. No, too much of a Guy idea. 2d idea: tie load to house and drive truck forward. No, see previous idea. Hey I've got a tractor with bucket---I know what I'll do!
And so I did.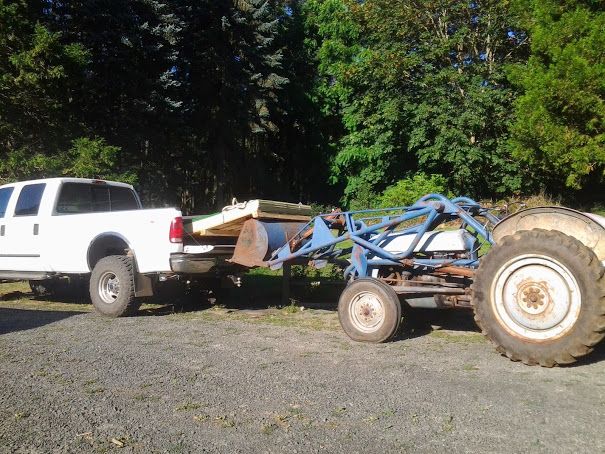 then I moved the loader up to the front, tied a big rope underneath the front end of the pallet, looped it over the bucket and picked it up, then drove the truck out from underneath it, then set it on the other sawhorse. Pays to make strong sawhorses.
Don't know what did before I got this tractor, just having the small crane capacity is great. And its 2 years younger than I am!