Full disclosure: if you're looking for a diary with in-depth analyses of panels, keynotes and plenaries, with beautiful pictures of everyone, this isn't it. It also is NOT about NN15; my diary on that is in progress and will be up as soon as I'm able to finish writing it. But this diary IS my writeup on Detroit, so please follow me below the fold after a word from our sponsor (PLEASE watch out for the trip hazard masquerading as a speedbump-like thing covering up the camera cables)...

Here at Top Comments we strive to nourish community by rounding up some of the site's best, funniest, most mojo'd & most informative commentary, and we depend on your help!! If you see a comment by another Kossack that deserves wider recognition, please send it either to topcomments at gmail or to the Top Comments group mailbox by 9:30pm Eastern. Please please please include a few words about why you sent it in as well as your user name (even if you think we know it already :-)), so we can credit you with the find!
First, a bit about why this conference matters so much to me. I've been to all nine YearlyKos/Netroots Nations, because my nervous foray to that first Vegas YK proved without a shadow of a doubt that my tribe, my people, were there. Even if they don't sport a DailyKos username on the badge, or know how NN came to exist out of the desire of a bunch of Cheers & Jeers and other folk to meet up in person. Ever since Austin I've been volunteering doing everything from handing out registration badges and sticking the labels on said badges to packing swag bags and getting tables ready for plenary sessions. Why? Exactly the same reason, the people.
I go to see friends old, and new. Dragon5616, Dave in Northridge, Gizmo, Puddytat... we all were there, although sadly we did NOT get a picture of the Top Commenteers all together. Many of the people who send in noms regularly were there; only my fear of forgetting someone accidentally keeps me from naming all the wonderful people I met and hugged.
It's always been about the people. You and me people, not the Famous People. Well OK, it's fun meeting them too... because this place is one of the very few where people like me can ask people like them questions. Where I can ride the People Mover from the hotel to the convention center with K1, and have a fantastic conversation with Nicole Sandler. Where a person like us can chat with someone at the bar and find out after the fact they were in radio, or news, or government, or something else. Hold this thought, because I'll come back to it at the end.
With that in mind, here's my photo montage of NN14/Detroit. A little disjointed and out of focus... just like me:
We came in Tuesday so that we could help volunteering in the pre-convention phase. Those badges don't make themselves... K1 probably stuck labels on 1/3 of them, I along with several others helped: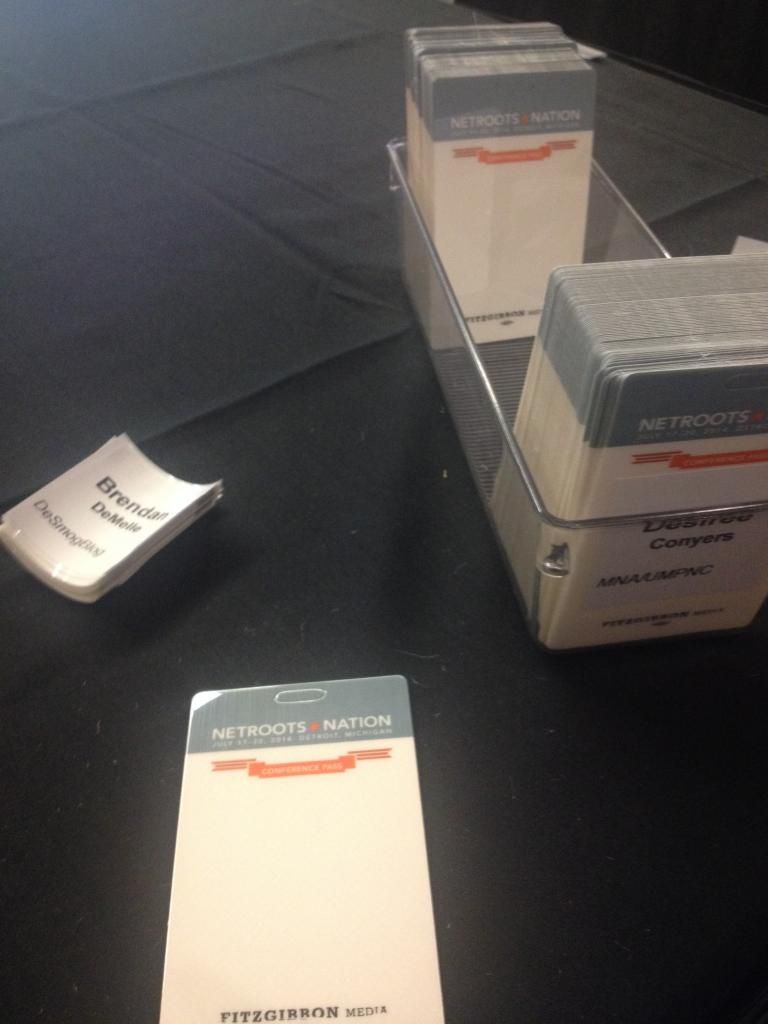 Swag bags are an organized chaos on Wednesday afternoon. We were down a lot of volunteers as many were out exploring Detroit, but over 2000 bags were packed:

The official beginning of NN for us is the annual C&J dinner. This year, the entire DailyKos staff showed up (and more, thank you so much). Here are a couple of pictures from this traditionally fun event:

Some guy named Biden prompted a quantum upgrade in security. Three metal detectors (plus a shit ton of Men In Suits, Men With Short Military-Style Hair, and Working Dogs) made sure the keynote room was safe. I snapped this picture quickly because the nice security lady wasn't keen on people hanging out in the hallway once they cleared security:

The room was full for Biden's speech, as this panorama shows:

The room SHOULD HAVE BEEN PACKED FULL for Rev. Dr. Barber's opening Keynote speech; unfortunately, it seemed the press pool for Biden was larger than the turnout for this incredible activist. See shanikka's diary where she speaks far more eloquently than I can about that. Suffice to say it was quite possibly the most inspirational speech I've ever heard: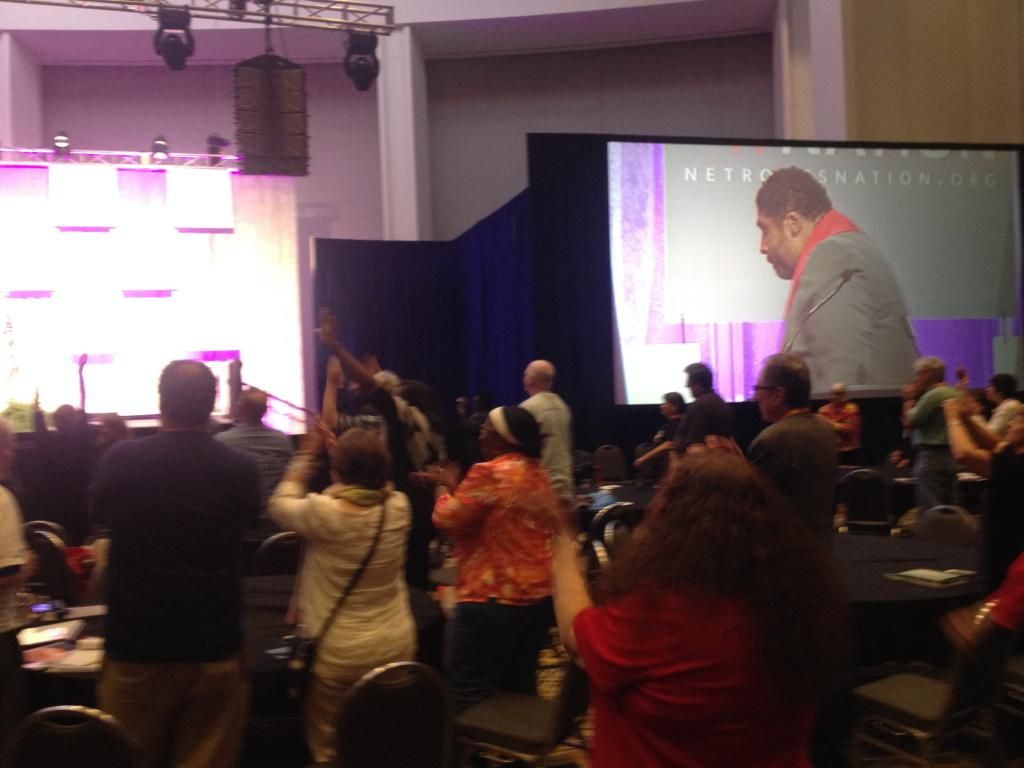 Senator Elizabeth Warren spoke, too. A fantastic speech. What I'll remember of her visit to NN14 though was her book signing, where K1 helped speed things up by taking most of the photographs of people getting their books personalized. Warren's staff was not amused at people wanting pictures taken, as they were on a strict schedule, but people WILL have their pictures. They encouraged her NOT to stand up and pose. Yet Warren greeted everyone by name as she signed, and stood up for picturetaking for many, many people. At the end, Netroots staffer Linda Lee made K1 a very happy future voter by making sure Warren's people allowed a picture with her. Not posting it here for privacy reasons as K1 is a minor, but those of you on my Facebook have seen it. Here's my view of the book signing:

The highlight of my Friday night has become Pub Quiz. It's kind of a BFD:

Waaaay down at the end of that picture was Team Shock & Awesome, the NN staff team who took in last year's last-place finishers, the teens... thus making sure Adam B could breathe easily as no alcohol to minors incident could occur. K1 scored points for them with the answer to a question, making her more valuable to her team than I proved to be to mine :). Said team, the Forbes Fashion Victims (all but myself and Dave Weigel are in the picture), gave it our all and took 8th place. Who the HELL knew Motown lyrics were so hard to remember out of context and under pressure. However... WE had propers correct, and not profits. Anyone not at Pub Quiz know what song we were trying to remember? :)

Saturday was capped for me by a Q&A panel with Howard Dean. I truly wish someone... anyone... had taped that session. Sigh.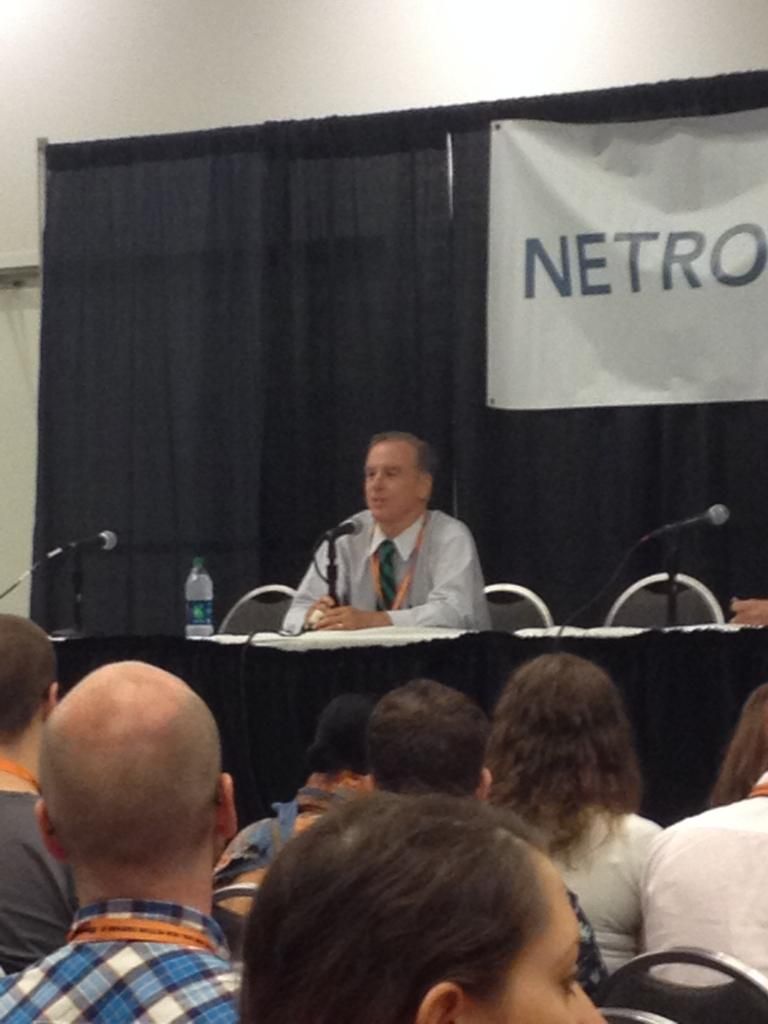 Before the closing party, a group of us headed out for Actual Dinner, something we didn't really get much of after Wednesday's C&J/dKos party. A Detroit local and friend of Mr. Brillig's and mine from Second Life steered us to a great Greek restaurant:

Did you know flaming cheese is a thing? Now you do... Opa!!!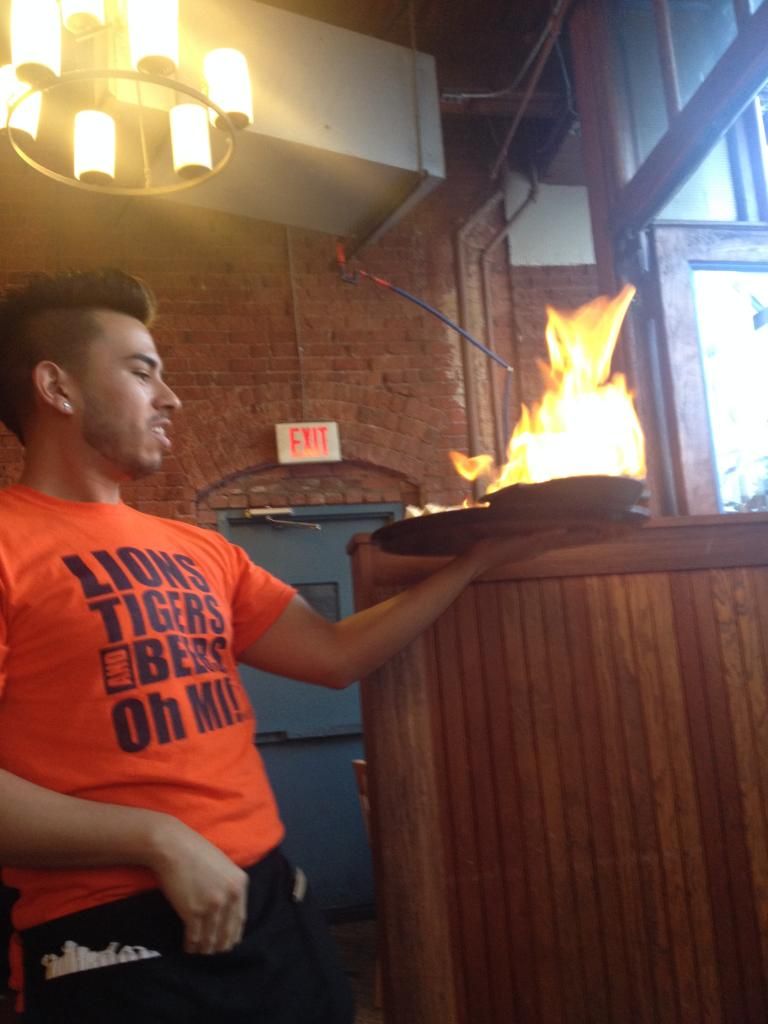 I closed out Netroots Nation 2014 the only way i know how... late, late, stupid late on an outdoor patio chatting with friends and friends I only just met right then. Thank you kos for the good talk at 1:30, and to various others for reaffirming my reason for attending - the energizing, powerful force that is a tribe of progressives together. Here, a blurry (hey, did I mention 2am here?) picture from the patio to the bar, where many others were chatting.

I've left out so much, and I'm going to reread this for days wishing I'd said more, remembered more, taken more photos, and... more. But I'll end with this: whether it's a Netroots Nation, or a DailyKos Quarterly Gathering, or a local meetup, or something totally different... make the time to get in the company of other liberals. Be present with a group of people who believe in a world shaped by OUR values, not theirs. Talk to someone you don't know, and hear what they have to share. Help your fellow human to the PeopleMover or Taxi, buy or accept a drink from someone who wants to chat more about a topic one or the other of you know better, and smile.
Oh, and wear orange sometimes. Here's my clothing before I packed. As one astute viewer noticed when I posted this on FB... even the towel is orange. Strictly speaking coral, but you get the drift :).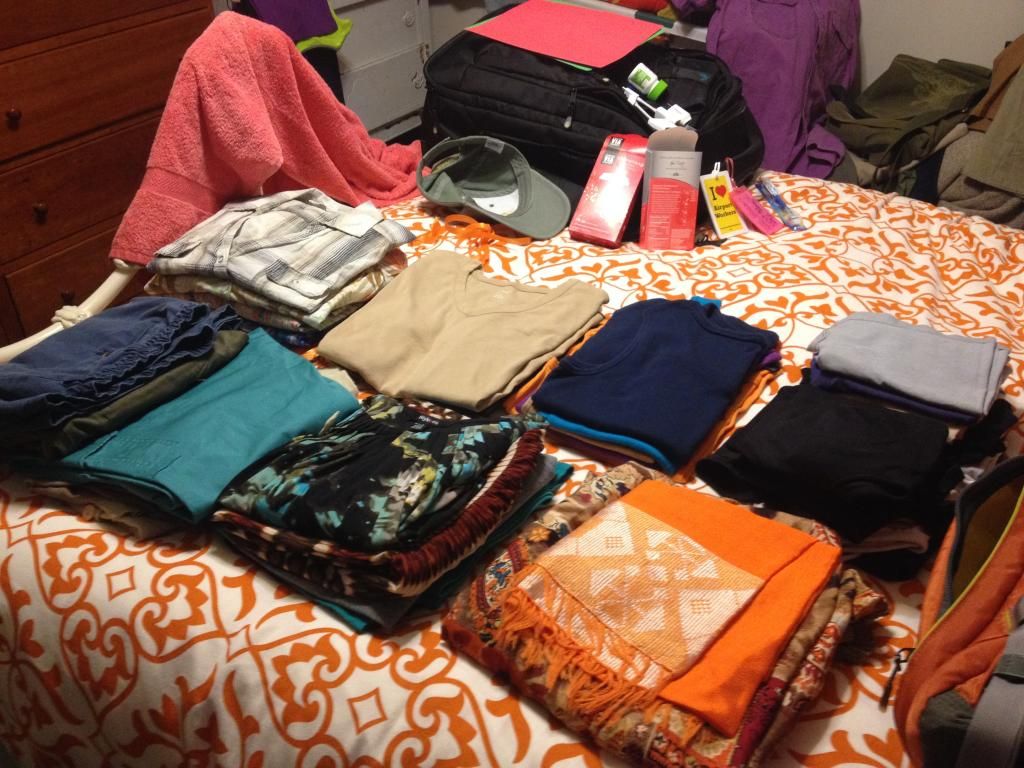 I don't have pictures, but NN14 for us extended to the airport. As we sat at a TGIF before boarding, a gentleman sat down next to us. Mr. Brillig and I recognized him immediately; we'd met him a few years early at a NN event and chatted for quite some time. We had no expectation he'd remember us though, but figured we'd mention NN a couple of times and see what happened. Sure enough, he glanced over... and again, and again. Once we made eye contact, it was OK for me then to say "Hi, we met a few years ago at a Netroots Nation. I'm sure you don't remember us, but it's good to see you again." Jon Bauman replied that we'd looked familiar to him, but he couldn't place us. That he'd been at NN on Saturday, and enjoyed it. And so it came to pass that Bowzer and Casa Brillig spent an hour discussing election races across the country, prospects for Hillary, Warren, and a plethora of things about the Republican politicians that keep on gifting us with their policies, gaffes and mistakes. Yeah. :)
Without further ado, here's tonight's tops, formatted by the incomparable BeninSC:
---
Brillig's ObDisclaimer:
The decision to publish each nomination lies with the evening's Diarist and/or Comment Formatter. My evenings at the helm, I try reeeeallllyy hard to publish everything
without
regard to content. I really do, even when I disagree personally with any given nomination. "TopCommentness" lies in the eyes of the nominator and of you, the reader - I leave the decision to you. I do
not
publish self-nominations (ie your own comments) and if I ruled the world, we'd all build community, supporting and uplifting instead of tearing our fellow Kossacks down.
From The Termite (and Ooooh! And RF! ):


I am submitting this (already well-received) comment from ontheleftcoast to Top Comments!
From nightsweat:


I think this is the most important comment of day. TexMex alerts us to the list on Amazon of basic needs that Texas Young Democrats are collecting for refugee kids kept in the detention center there. Please contribute if you can!
From mikejay611:


The holy ghost line in the middle of this comment about Rev. Barber from slouching is gold!
From joedemocrat:


This comment from shanikka is out of recommendability, but it provides terrific insights into the difficulties many families have making ends meet, and paying things like water bills in Detroit! Great comment!
From DoReMI:


Commenter SolarMom included a link where people can make payments on overdue water bills. I have pledged (for now) the cash I had left after NN14 (in other words, a small amount). If the process proves to be reasonably straightforward, I will donate more and diary about the process. In the meantime, here is SolarMom's comment with the link.

(Ed. note: That is one of the finest comment nominations I have seen since Top Comments was founded in 2006. Thank you, DoReMI. It is an honor to include that. And special thanks to SolarMom, too, for a terrific and most generous contribution!)
From Angie in WA State:


I am nominating this comment by dmsarad. in this David Nir diary. Why? Because this comment expresses what constitutes the very heart of Daily Kos...

Community and sharing
Top Mojo for yesterday, July 21st, first comments and tip jars excluded. Thank you
mik
for the mojo magic! For those of you interested in How Top Mojo Works, please see his diary
FAQing Top Mojo
.
1) If We Accomplish Nothing More in Our Time by Gooserock — 169
2) Bravo Gov. Patrick! by Richard Lyon — 150
3) Well, I really think that Bibi, his gang, by corvo — 143
4) I've read more people than I can count saying by David Harris Gershon — 143
5) Good for Rula by tporky — 122
6) Then why am I smiling? n/t by GeorgeBurnsWasRight — 116
7) I'd check those teddy bears for smallpox. by CwV — 112
8) This is a very good point. It's not an issue for by pixxer — 111
9) Before the Israel excusers get in by Lib Dem FoP — 109
10) Markos by shanikka — 107
11) Thanks, Markos....this is what settled it for me: by The Marti — 104
12) Since there is no accountability by BDA in VA — 103
13) I'm sure that John McCain by Its the Supreme Court Stupid — 103
14) Thx, fixed! by kos — 102
15) Thank you Markos. As a person with a Spanish by Denise Oliver Velez — 102
16) Ham must imagine... by angry marmot — 101
17) And the only reason THOSE people showed up by Hatrax — 95
18) As long as the US encourages Israel through by LaFeminista — 95
19) I feared it was only a matter time by Major Kong — 95
20) Wow indeed. by One Pissed Off Liberal — 84
21) Looking forward to a conference by Denise Oliver Velez — 83
22) pop goes those weasels by annieli — 81
23) And no one will because it by TomP — 79
24) Not approved by ELECTED officials by Fuzzytek — 78
25) We visited Arizona by side pocket — 78
26) Why, he drew almost 20! by psnyder — 78
27) And that is why Kos' stand is so by TomP — 76
28) This Will Dominate Sunday News Talk This Coming by Gooserock — 76
29) That's just by Pilsner — 75
30) short answer to your title question: by corvo — 74
2014-07-22 Top Comments with Pictures, courtesy of
jotter
!