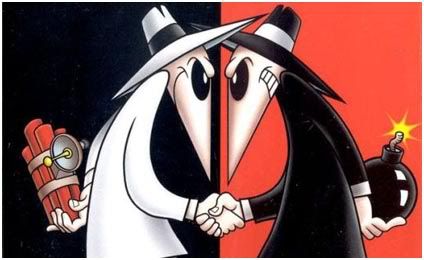 It appears that concern about government snooping may actually be an issue of equal importance to Democrats and Republicans, at least while a Democrat is in the White House.
Senator Patrick J. Leahy said Thursday that next week he would file a new version of a bill aimed at ending the National Security Agency's bulk phone records collection program after extensive negotiations with the Obama administration and privacy groups.

Mr. Leahy, a Vermont Democrat who is chairman of the Senate Judiciary Committee, has been leading the negotiations, and several officials familiar with the deliberations said a deal had been reached. Because the Senate leaves for its August recess at the end of next week, it is unlikely to vote on the bill before September.
The legislation that
Leahy is working on
is a marked improvement over the
relatively worthless Bill the House passed
, according to privacy advocates:
Mr. Leahy's draft bill is said to make over a dozen changes to a version of the legislation, called the U.S.A. Freedom Act, that the House passed in May. Some privacy advocates who had denounced the House bill as too watered-down said they backed Mr. Leahy's draft.

"The Center for Democracy and Technology supports the draft language we've seen," said Harley Geiger, a senior counsel for the advocacy group. "It is, in every instance, a step forward and an improvement on what the House enacted."
The language of Leahy's bill significantly tightens the language proposed by the House delineating the scope of records search demands permissible when the government seeks out phone records from phone companies. It doesn't stop the phone companies from keeping your records, it just narrows the circumstances when the government can ask for them. And it purports to end the wholesale "hoovering" of information by the NSA itself.
His bill makes several changes to provisions allowing for more public reporting about surveillance. Among other things, it would require companies to wait just one year — rather than two in the House bill — before reporting that they had received a Foreign Intelligence Surveillance Act order for the first time.

The bill also modifies several changes the House version made to the procedures of the Foreign Intelligence Surveillance Court, which hears only the government's point of view without any opposing counsel to argue the other side or to file appeals if the government wins, and issues classified opinions interpreting surveillance laws.

The House bill says the government must make public unclassified summaries of significant rulings by the court. Mr. Leahy's draft adds that those summaries must have enough information for people to understand the rulings' impact on civil liberties.
The legislation also expands (somewhat)the role of a third party advocate in FISA hearings by permitting them more of a voice concerning privacy issues.
Will this legislation would stop illegal NSA surveillance? Of course not. Here's one big problem, for starters:
Mr. Leahy also does not address a controversy over the government's practice of searching for Americans' communications in databases of phone calls and emails that were intercepted without a warrant because the surveillance was directed at noncitizens abroad.

Several senators, including Ron Wyden of Oregon and Mark Udall of Colorado, both Democrats, have called for requiring the court's permission to search for a specific American's communications, and last month the House separately approved an amendment to a spending bill that would bar the use of funds for such searches. But the Obama administration opposes that change, and Mr. Leahy's draft does not include it.
With vague, inviting loopholes like that still around, of course the domestic surveillance will go on. The NSA has proved itself again and again to be an agency which considers itself largely unaccountable to any elected officials. Its own officials have repeatedly lied about their actions to Congress--and thus to Americans-- with impunity. No new law is going to constrain the activities of an organization that has taken such an obsessive view of its "mission" to combat terrorism that it willfully ignores the right of Americans not to be spied on, to the point where devising ways to get around legal "technicalities" appears to have become the predominant aspect of that mission. This is also an agency that's shown (like Americans themselves) that it can't say no to any new digital toys, no matter how intrusive their usage. There is no way, short of defunding and abolishing the agency, that domestic spying will ever be reined in completely.
So should we care about this legislation? Of course. While such laws will not eliminate the spying, they will serve to inhibit the actions of the NSA to some degree. They also lessen the likelihood that the NSA or any government agency or Administration would be willing to use information on American citizens for purposes of improper influence, blackmail or coercion. The more publicly known, "legal" limitations of record to the NSA's behavior, however ineffective in practice, the less likely that this agency will risk negative public exposure of the kind Edward Snowden supplied, because there will at least be a law on the books for Courts to rely on. This alone will serve as something of an inhibition, and may possibly prompt the NSA to re-think some of its more arbitrary and violative schemes before they're actually hatched. The NSA have shown they hate public exposure more than anything else. So long as they have to at least pretend to hew to any law, they will always be forced into maintaining a public pretense of obeying it. The real scandal of the NSA was not the spying itself--it was the fact that we were never supposed to know what they were doing. We were all supposed to blithely go along with our lives, happily chatting on our Facebook accounts, texting, websurfing, emailing, cheerfully clueless to the surveillance cage being built around us. And most Americans would be oblivious right now, if it wasn't for Snowden's actions. But everyone knows about it now, the cat's out of the bag, and the eyes of the world are watching.
The House bill was "watered down" on the instigation of Administration officials and originally contained some fairly harsh provisions aimed at the NSA's domestic spying. So if Leahy has achieved a deal on this improved Senate version, then there is no logical reason for the legislation to be unacceptable to the Republicans when the Bill, if it passes, gets kicked back to the House.
Still, Republicans may say, why should I go along with any of this? Why not just follow the usual pattern of blocking all legislation for the remainder of this President's term?
Well, here's a novel thought for those House Republicans:
You might want to consider the fact that there's a good chance, a better-than even-chance, that Hillary Clinton may be sitting in the Oval Office as of 2016, and possibly for many, many years thereafter. And unlike the current occupant of that Office, Hillary Clinton will not feel pressured to temper her responses to deliberately provocative acts of economic sabotage and disrespect for the office, based on concerns about appearing to be "the angry black man." She won't have to tread on eggshells when your people stand up in the Gallery and shout out "You lie," out of caution to not appear vengeful or furious--and thus playing to the stereotype you intended to instigate by these actions. She won't have to stand for it when your people make "lynching" comments or other more "coded" racist remarks just to try goad a heated response that you can use to diminish her. Hell, she probably won't feel as compelled by residual racial stereotypes to run the cleanest Administration in decades, either.
Because, in case you hadn't noticed, Hillary Clinton is not black.
And Hillary Clinton's--well, let's just admit it--Bill Clinton's --team would be back in charge of all Federal agencies, including the FBI and the NSA. The same general team that saw its leader impeached by a Republican Congress a few years back for no reason save a desire to publicly humiliate him. A team that sat through years of demonization, ugly rumors and fantastic lies about Hillary as well. But it's a brand new world now. The Internet wasn't much to look at back in those days, and the NSA and FBI were just getting started figuring out how to peek into everyone's online underwear. But now they're really good at it. And honestly, there's just a lot more for Bill and Hillary to look into now. Because of all the people in the world, the Clintons know more about you Republicans than anybody. And soon they may have the tools to find out all about your constituents, too. Every last one of them, typing away into the wee hours of the night on those websites.

Yes, I'm suggesting that they think about this, because it's no different than what we Democrats envision with the NSA in the hands of a Chris Christie, Jeb Bush or Marco Rubio.
And if this all sounds like a cynical or paranoid way for either Party to look at the issue, well, there is actually some historical precedent for a Presidential Administration collecting data and spying on its enemies for purposes of political retaliation: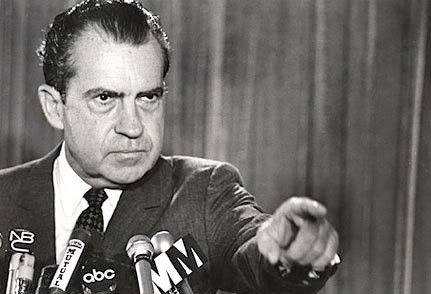 Just imagine what that guy would have done with today's NSA and the Internet.
So yes, Republicans might want to consider signing on to a bill that at least on its face purports to put the brakes on some of the NSA's free-range surveillance. Because when push comes to shove, their constituents can't be too comfortable about the government spying on them either.
It's a sad irony of our dysfunctional political system that the only legislation capable of being passed is that borne out of mutual distrust.