STOP! If you only read ONE thing today, you NEED to read this. I know we've sent you 12 emails in the last three days, but you MUST read this one!!! Follow me below the dingledoodle squigglie dKosagnocchi dividerthingie fold after a word from our sponsor or the terrorists will win and we'll all know you hate Democracy...

Here at Top Comments we strive to nourish community by rounding up some of the site's best, funniest, most mojo'd & most informative commentary, and we depend on your help!! If you see a comment by another Kossack that deserves wider recognition, please send it either to topcomments at gmail or to the Top Comments group mailbox by 9:30pm Eastern. Please please please include a few words about why you sent it in as well as your user name (even if you think we know it already :-)), so we can credit you with the find!
I remember when it was a quarterly thing, the political spam. Last week of March, June, September and December (plus as Primary and Election Days approached) ye olde inbox filter would get a workout, and then it would all die down to a respectable background level. Recently, however, it's gotten to fevered pitch all the effing time.
The DCCC has been especially bad this go-round. I've gotten at least a dozen emails in the last few days. Here's but a few:
Two days ago, one of the emails proclaimed itself to be my FINAL NOTICE of your member status before tonight's red alert impeachment deadline. Apparently, my $5 (or more!) was needed because "We now have a shot at hitting our $2,OOO,OOO goal to defend the President -- and defeat Boehner's Republican House." It wasn't explained to me exactly how that $2M was going to defend the President, so I have let my member status lapse...
Or so I thought. 22 hours later, I received the email announcing that we (umm, hadn't I lost member status at midnight?) had the opportunity to "deal a CRUSHING BLOW to Boehner's Republicans?"
While mulling that tempting offer over, Nancy Pelosi HERSELF emailed 6 hours later to tell me that "If Boehner has his way, we might as well kiss all hope goodbye for the remainder of President Obama's term." Well, her regular email account must have been down because she used the dccc@dccc.org account to send the email.
I can do hyperbole as well as the next House Minority Leader, but by this point I'd had enough. So I went to the bottom of the email and clicked the unsubscribe button. You won't beLIEVE what happened next!
(See? All those Upworthy videos do weasel into your brain like that thing Khan put in Checkov's ear and leak out in what you type)
There was a space to type my email, but it wasn't to unsubscribe:
WHAT WE STAND FOR

Republican SuperPACs, Big Oil billionaires like the Koch Brothers, and right-wing pundits are out to defeat President Obama's agenda and Democrats nationwide.

We need you with us.

However, if you'd only like to receive our most urgent messages, you can enter your e-mail address here:
Down at the bottom of THIS page was another
If you still wish to unsubscribe, click here and enter your e-mail address.
I clicked, and that's when I got irked enough to realize I had tonight's TC topic.
I was greeted with this exhortation: Wait! Before you decide to leave us, please take 3 minutes to watch this video on what it means to be a Democrat. On the DCCC site the video was embedded; here I linked to it directly from Youtube so as not to drive traffic to the DCCC site.
But wait! There's more! If the impassioned implied threat that wanting out of DCCC spam is equivalent to not knowing what the f-ck Democrats are wasn't enough to get me to stay, there's also the bribery: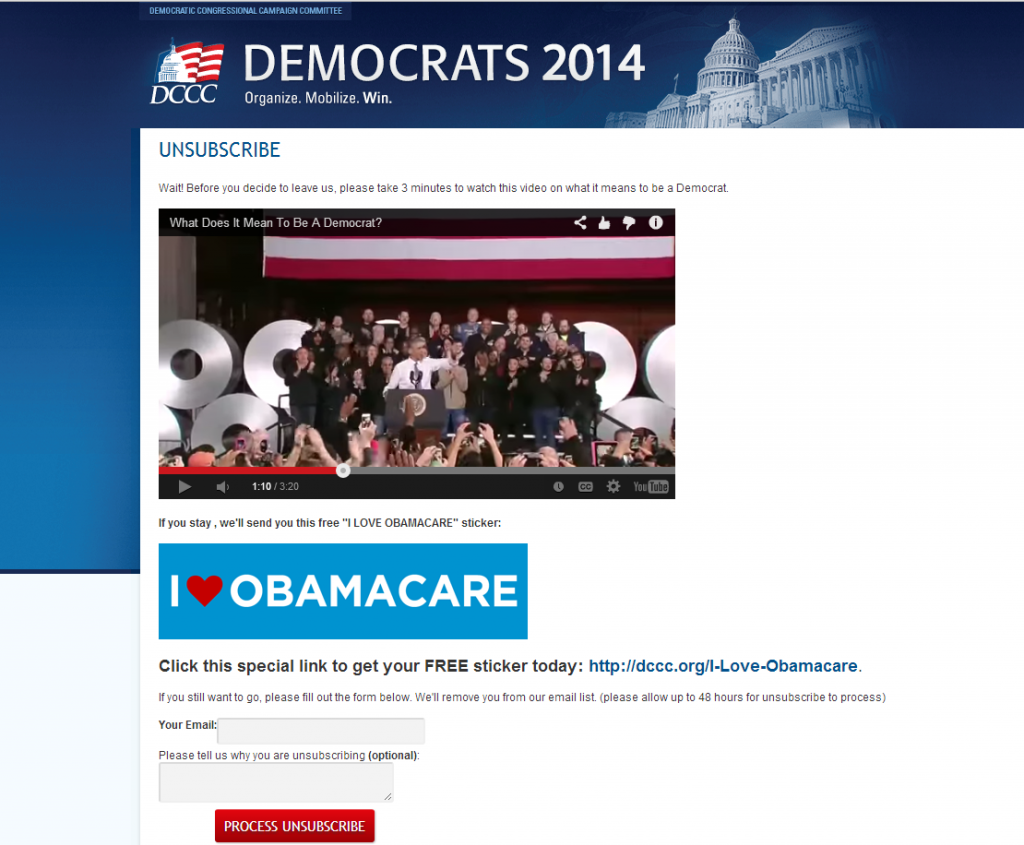 Yep. If I stay, I can haz a FREEEEEEEEEE bumper sticker. Dear DCCC: no. Just no. Your tactics border on repugnant, and skate the thin ice of what we rail about the other side doing. If I don't like what the right does to keep their sheep in order, why the hell would I want to be YOUR sheep?
Don't even get me started on what I told the guy from the DLCC who called last week, and when I told him I donate directly to candidates or via ActBlue because I don't trust the DLCC, asked me "But don't you want to take back the majority?" My blood pressure can't handle rehashing that one tonite, too.
Got similar stories to tell? Excellent responses to people who won't take no for an answer, and know less politically than you do? Prefer to sit just quietly and smell the flowers? Join us in the comments, after checking out tonight's Tops. Formatting tonight was done by the incomparable BeninSC, always calm and whose email I always welcome!


Brillig's ObDisclaimer: The decision to publish each nomination lies with the evening's Diarist and/or Comment Formatter. My evenings at the helm, I try reeeeallllyy hard to publish everything without regard to content. I really do, even when I disagree personally with any given nomination. "TopCommentness" lies in the eyes of the nominator and of you, the reader - I leave the decision to you. I do not publish self-nominations (ie your own comments) and if I ruled the world, we'd all build community, supporting and uplifting instead of tearing our fellow Kossacks down.



From Steveningen:


In BruinKid's diary Well, well. Satanists to use Hobby Lobby to block pro-life propaganda, which by the way garnered over 52 thousand Facebook likes, oldcrow cracked me up with this cute comment.
From Yours Truly, brillig:

I don't usually nominate comments this brief, but it speaks directly to who we are. Eclectablog brings us an update on the Detroit water crisis. Adam B asked the question that needed to be asked prompting an update to the diary.

Many excellent comments in Jen Hayden's Arizona man arrested in Phoenix Sky Harbor Airport after open-carry 'protest' terrifies travelers, but this one by Front Toward Enemy caught my eye because basic fucking logic, indeed..
Top Mojo for yesterday, July 28th, first comments and tip jars excluded. Thank you
mik
for the mojo magic! For those of you interested in How Top Mojo Works, please see his diary
FAQing Top Mojo
.
1) Fundamental rule of the universe. by David54 — 281
2) Hail Blue Velvet by FishOutofWater — 222
3) It's getting weird out there. by FishOutofWater — 154
4) The Israeli government by Pilsner — 115
5) I am reccing this by Got a Grip — 112
6) fashion is as fashion does. by nuclear winter solstice — 109
7) Silly boy by Chinton — 108
9) very intense by Lady Libertine — 103
10) More tweets: by poco — 101
11) We're a bunch of frogs swimming around in a pot... by markthshark — 100
12) NBC journo was there by Lady Libertine — 100
13) I think you hit the nail on the head by tampaedski — 99
14) thanks, Andrew Wakefield and Jenny McCarthy! by terrypinder — 99
15) People need to open their minds to Satan by The Termite — 98
16) Netanyahu has been saying by beltane — 94
17) If signing a statement stating that by Its the Supreme Court Stupid — 90
18) And this is happening on Eid. No words. nt by Portlaw — 88
19) They have total impunity. by corvo — 82
20) And physician Joseph Mercola. by psnyder — 81
21) This is hard? by CenPhx — 81
22) Each day is worse than the last.How by Portlaw — 81
23) Seems to me Unitarians could do this too by anastasia p — 78
24) At what point can we call these guys out for by bleeding blue — 78
25) Does this mean Bibi gave the two big fingers by Lepanto — 77
26) Tipped & reced; there is no safe place by a2nite — 77
27) If the International Criminal Court does not by HoundDog — 76
28) Silver has a dodgy relation with climate science by Magnifico — 76
29) It's genocide. by Timaeus — 75
30) It is good that the pushback on this unscience by Its the Supreme Court Stupid — 74
Top Pictures for yesterday, July 28th. Click any image to be taken to the full comment. Thank you
jotter
for the image magic!