One common complaint from the climate change "skeptic" crowd is that addressing carbon pollution will hurt our economy. Elected representatives of the fossil fuels industries have even gone so far as to label any regulation of carbon emissions as economic terrorism. Here is Rep. Mike Kelly, humping his new "Coal Country Protection Act" (Mitch McConnell is introducing the Senate version) before the big brains at the Heritage Foundation.

"You talk about terrorism, you can do it in a lot of different ways," he said. "But you terrorize the people who supply everything this country needs to be great — and you keep them on the sidelines — my goodness, what have we become?"

Pressed on the fiery language, Kelly appeared to walk back the remarks, saying that the regulatory action has the effect of smothering economic activity.
What do you call the virus that robs you of integrity and your very soul? Money, but I digress.
The White House Council of Economic Advisers just put out an analysis of the economic costs of delaying action on carbon pollution.

This report examines the cost of delaying policy actions to stem climate change, and reaches two main conclusions. First, delaying action is costly. If a policy delay leads to higher ultimate CO2 concentrations, then that delay produces persistent additional economic damages caused by higher temperatures, more acidic oceans, and other consequences of higher CO2 concentrations. Moreover, if delay means that the policy, when implemented, must be more stringent to meet a given target, then it will be more costly.

Second, uncertainty about the most severe, irreversible consequences of climate change adds urgency to implementing climate policies now that reduce GHG emissions. In fact, climate policy can be seen as climate insurance taken out against the most damaging potential consequences of climate change—consequences so severe that these events are sometimes referred to as climate catastrophes. The possibility of climate catastrophes leads to taking prudent steps now to sharply reduce the chances that they occur.
Here
is the take-home message:
If delayed action causes the mean global temperature increase to stabilize at 3° Celsius above preindustrial levels, instead of 2°, that delay will induce annual additional damages of 0.9 percent of global output. To put this percentage in perspective, 0.9 percent of estimated 2014 U.S. GDP is approximately $150 billion. The next degree increase, from 3° to 4°, would incur greater additional annual costs of 1.2 percent of global output. These costs are not one-time: they are incurred year after year because of the permanent damage caused by additional climate change resulting from the delay.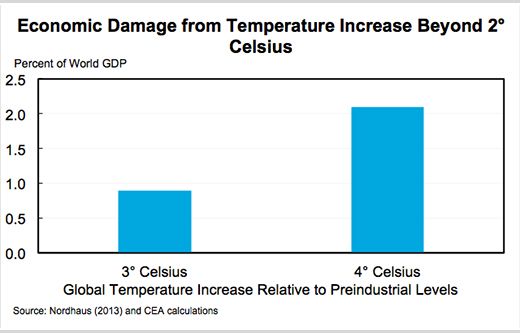 Climate change means economic austerity for those that can least afford it. So let's stop propping up profits for outdated energy sources that require digging up and burning carbon.

Beyond the uncanny juxtaposition the coal industry's sock puppets and the president's economic analysts' report, there is an inconvenient truth. As intense storms have become more destructive of persons and property with rising temperatures in recent years, so has financial risk from lost productivity and insurance costs.
The thing that frustrates me most about the upcoming midterm elections is that the climate craniorectal inversion syndrome crowd could actually control the House and Senate after November. Many are campaigning on their loyalty to fossil fuels. Meanwhile, ALEC is preparing to attack clean energy subsidies and government targets for market share.
On the other side of the political spectrum, the Democrats have settled on economic fairness as their central message, most avoiding climate change as the proverbial third rail. I know politics is sausage-making and all the other excuses for ethical bankruptcy. However, true leadership requires the ability to help fossil fuels extraction-dependent local communities imagine life beyond harvesting carbon. Replace those coal jobs with solar panel research, development, and production companies. Sing the praises of being free from slavery to the fossil energy grid.
You also cannot talk about economic fairness when climate-fueled disasters always have the greatest impact on those with the least. Droughts drive up food, water, and energy costs. Just ask those struggling to keep up with expenses in the southwestern United States. Poor communities take much longer to recover from natural disasters. Walk the streets of the 9th ward in New Orleans if you have any doubt.
If Democrats shy away from the climate issue during this election, the discussion of carbon pollution will be dominated by the flat-earth Republicans. Guess which side will move the Overton Window under these circumstances. Too many Democrats are "climate ducks" instead of climate hawks.

The majority of Democrats are what we call climate ducks - they vote the right way against bad Republican bills, but otherwise duck the issue of climate change.
Future generations cannot afford an energy policy in the United States run by political hacks and quacks.