delimiter
In last week's KTK I mentioned that I would present a few thoughts and photos of our mini-vacation taken in the five days following Netroots. We noticed the proximity of Canada to Detroit and decided to explore the east coast of Lake Huron. Forgetting that our AAA membership provided full access to a travel agent, we made all arrangements for the trip on line, which took a lot of time. We tend to be very frugal in life but decided that we deserved a fine vacation so we went first class.
We picked up our car at the Detroit airport. It was a Chevy Cruze which was excellent; made in the USA. Border crossing was slow but we had remembered our passports so it was easy. The first two nights we stayed at a B&B in Grand Bend. This was right on the shore of Lake Huron and was lovely.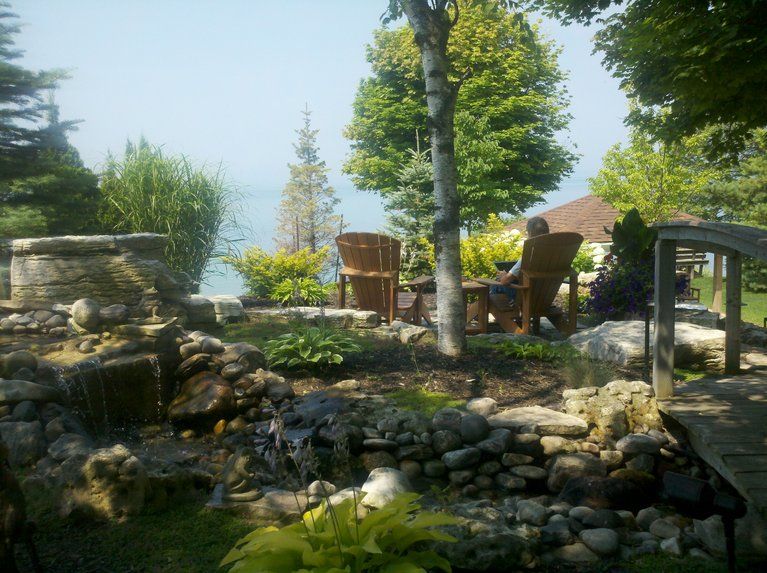 Relaxing at the lakefront.
I still needed to check Daily Kos from time to time.

This coast is famous for its sunsets and this day was no exception. Note that Ceiling Cat's tail did manifest.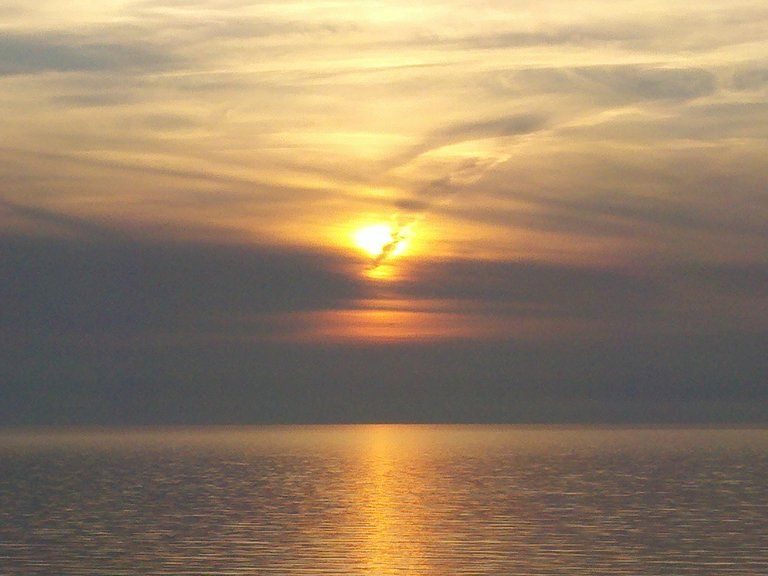 A lone kayaker traverses the warm shallow lake.

This was used for the BBQ on the second night. This was a bonus only done on Mondays. We drove to a nearby town to get a 6 pack and a bottle of California Zin to share.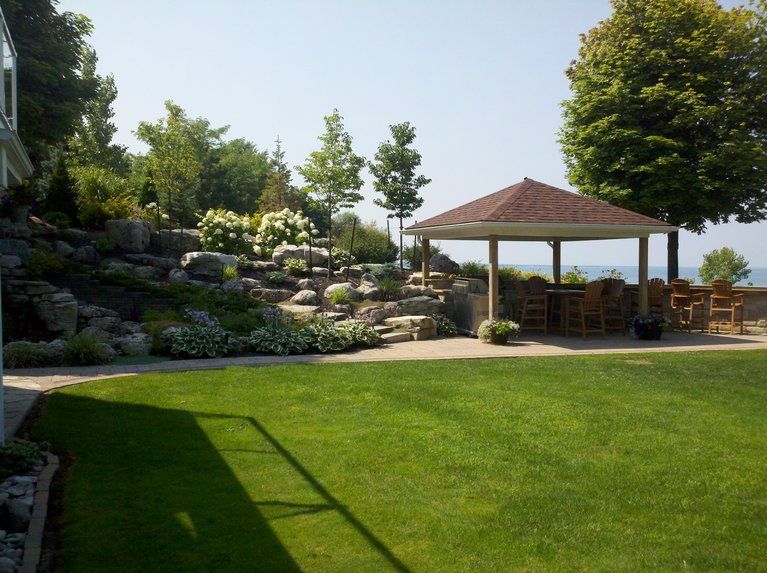 When the owners of the B&B found out we had been flower farmers they insisted we visit their friends who owned a large nursery. We stopped and had a wonderful conversation with them. We had noticed the huge number of windmills along the coast and asked about them. They said that despite the "green" aspects they were mainly benefitting the windmill industry and destroying the countryside; all would have to be replaced in 20 years. Canadian political corruption.
Their goats said goodbye to us are we left.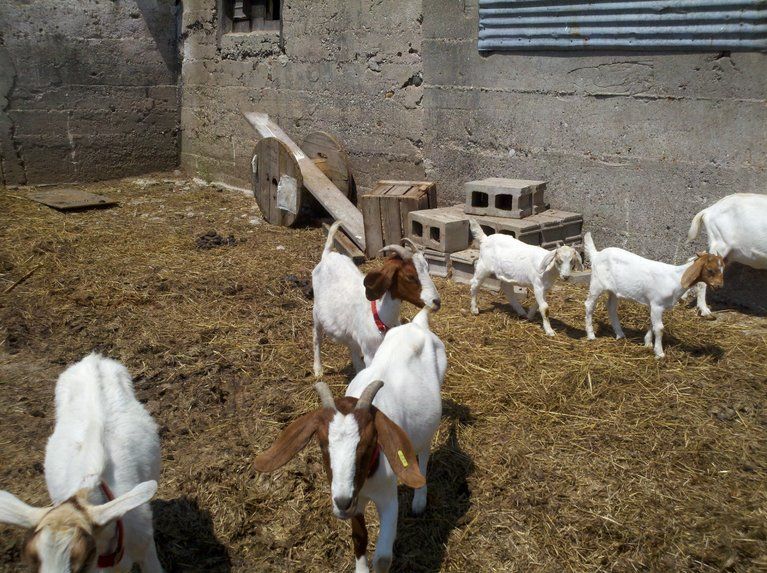 There were hundreds and hundreds of windmills, mostly in groups of three to five, scattered among the lush fields of corn and soy beans. I'm sure the individual land owners were handsomely rewarded.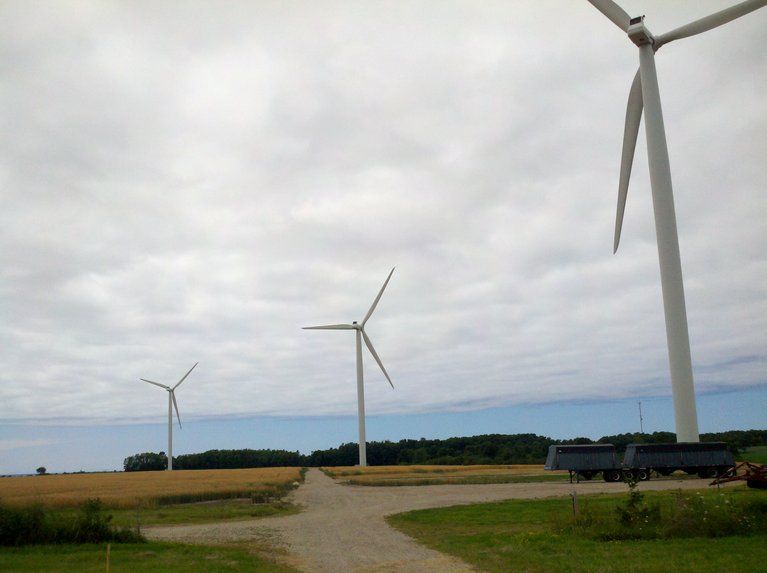 We drove for hours to get to the tip of the peninsula for the much-anticipated visit to Tobermory. The weather changed; cold and rainy. We did take the two hour "sunset" cruise but……no sunset. "This never happens" said the guide.
So back down the coast to Kincardine. We had tried to get accommodations at a famous hotel right on the coast but they were booked so we reserved a room at Best Western. While driving through the town we went past the hotel (where we were on the waiting list). I took a chance and stopped. Yes, there was a cancellation. We could stay in their restored house right across from the hotel. OMG, the most beautiful suite ever, with an unimpeded view of the marina and lake, and the famous lighthouse.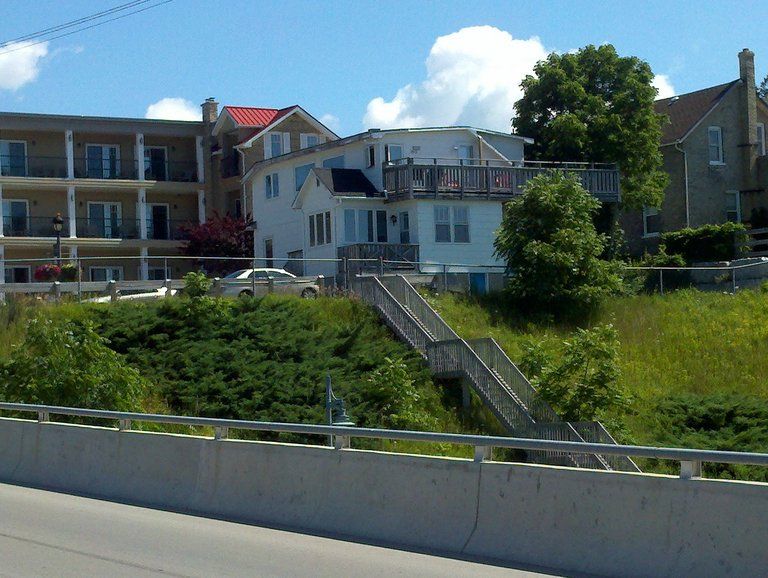 We had the entire top floor.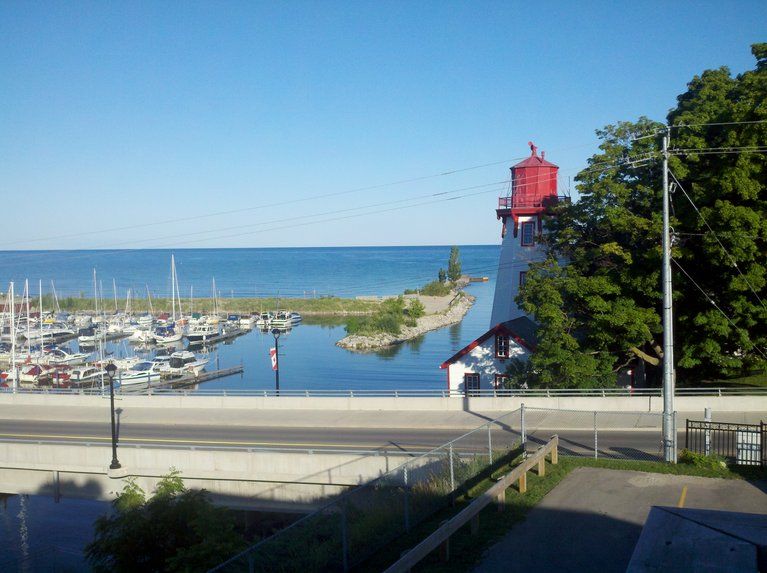 A bagpiper plays every evening in front of the lighthouse in honor of a bagpiper of yore who saved a ship that was heading for the rocks. We were at dinner followed by a play so we missed that.
We stopped at one other place and saw a great production called The British Invasion which was two hours of singing and dancing to music of the 60s. I enjoyed it immensely. One last photo in the show's parking lot during intermission. I couldn't resist.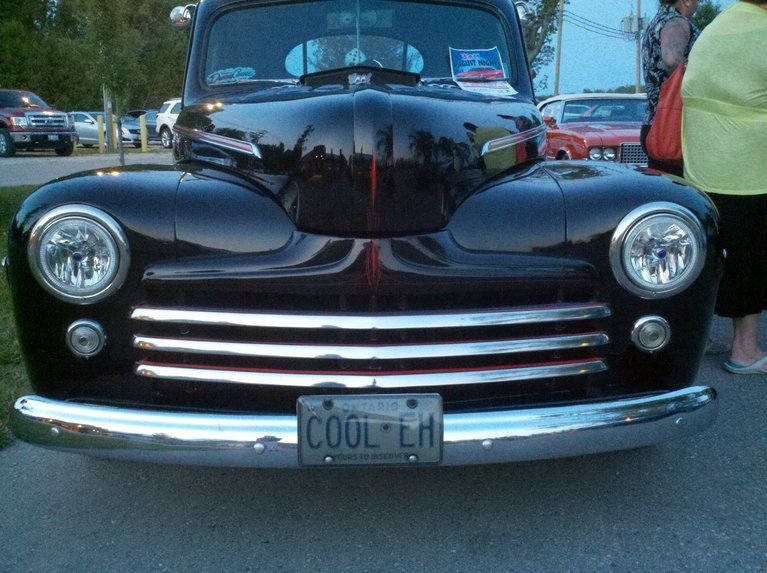 Thanks for sharing our vacation. Canada is a great place, eh?
| | | |
| --- | --- | --- |
| | Kitchen Table Kibitzing is a community series for those who wish to share part of the evening around a virtual kitchen table with kossacks who are caring and supportive of one another. So bring your stories, jokes, photos, funny pics, music, and interesting videos, as well as links—including quotations—to diaries, news stories, and books that you think this community would appreciate. Readers may notice that most who post diaries and comments in this series already know one another to some degree, but newcomers should not feel excluded. We welcome guests at our kitchen table, and hope to make some new friends as well. | |