---
County Fairs
County fairs had their origins in the early nineteenth century as a vehicle for the promotion of modern farming. There were displays of farm equipment, livestock judging, and contests. Their popularity has grown such that nearly every county has a fair. Since we have lived in Sonoma County we have attended nearly every county fair; in the early years we entered produce and other farm products such as hay in the agricultural judging. Even won a few blue ribbons.
After a two year hiatus we attended this year. Some things were the same but there were noticeable differences. The entry price was higher. We had to walk through a metal detector gauntlet. The food and beer prices jumped extensively across the board. And the number of spa dealers had quadrupled.
But the nostalgia returned because of the livestock displays and judging, 4H kids so proud of their animals, tawdry music from the midway, and the lovely sight of kids of all ages having a great time. Crowds are essential; a lonely empty fair is a dud. Horseracing is an important part of our fair. One hour before start time an "expert" gave a seminar to the crowd on how to bet and how to win.
I have always loved fair food. Some of you who know me have seen my almost limitless capacity for food. But this year the prices have been pushed so high that I ate only one thing (plus the free ice cream cone our local dairy provides each year).
This year's theme was the 60s. Although Sonoma County has many folks who are still stuck in the 60s (delightfully so) the main manifestation at the fair was in the free flower show in the giant pavilion.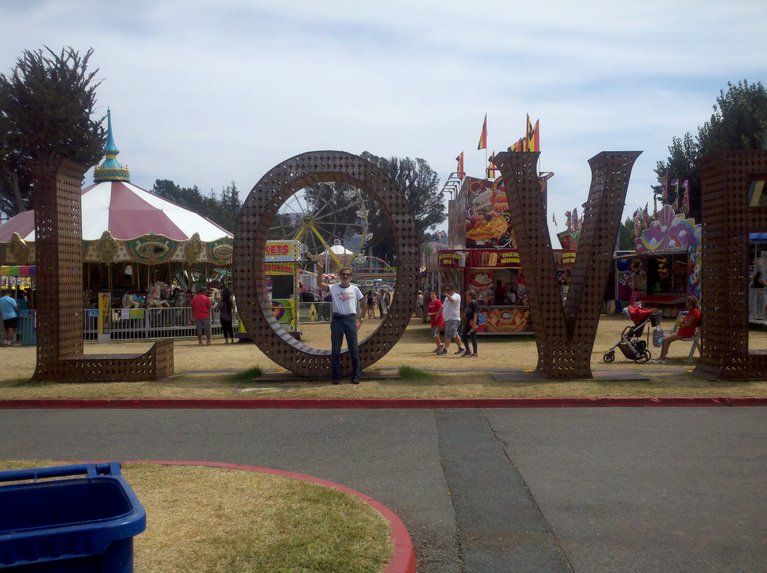 Standing in the "O" of Love. I was wearing my Netroots shirt that says DFH on the back.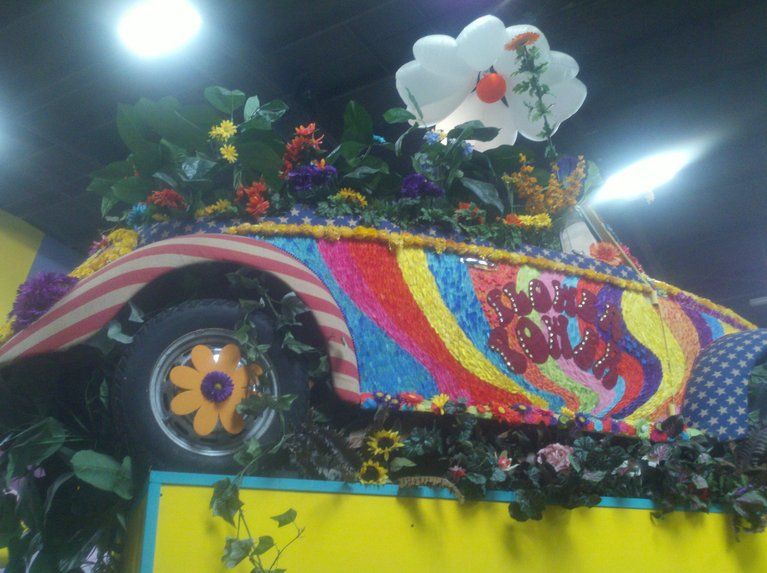 Hippie VW made of flower petals.
I took only one more photo before my camera battery went dead. This was in the exhibit called "Ugly Cakes". You may have seen this before, a litter-box cake. It was phenomenally realistic and horrible. Note the blue ribbon.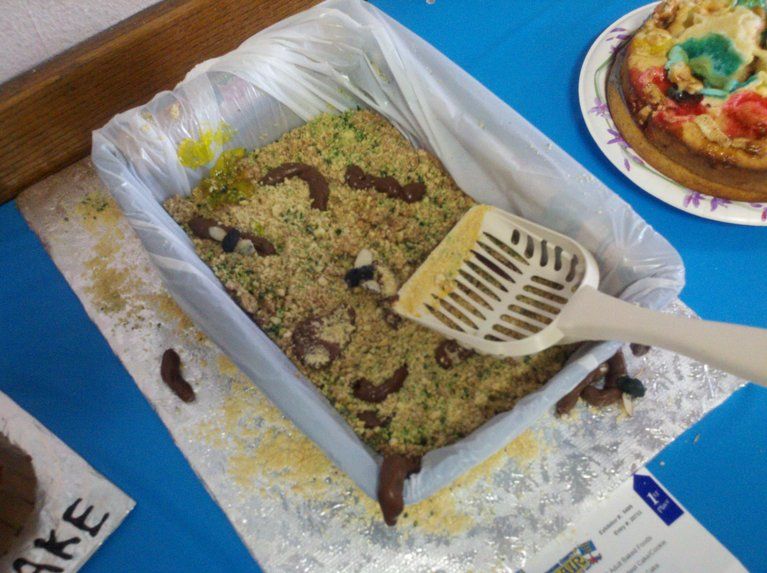 Do you have a favorite local fair? Do you attend? Are fairs just for kids? When I was a youth (yes I was) the main reason to go was to meet girls. Have you entered anything in a County Fair? Is there a special fair that looms large in your memory?
The Kitchen Table is open, the tablecloth is clean, and we await your valued presence.
| | | |
| --- | --- | --- |
| | Kitchen Table Kibitzing is a community series for those who wish to share part of the evening around a virtual kitchen table with kossacks who are caring and supportive of one another. So bring your stories, jokes, photos, funny pics, music, and interesting videos, as well as links—including quotations—to diaries, news stories, and books that you think this community would appreciate. Readers may notice that most who post diaries and comments in this series already know one another to some degree, but newcomers should not feel excluded. We welcome guests at our kitchen table, and hope to make some new friends as well. | |