This is a Shameless Self-Promotion diary. Feel free to ignore.
An odd time to be launching a personal project, I know, what with the tumultuous events in our land and abroad. I'll add (without details) that this is a time of much turmoil in my own family, stretching us all to our limits. But time, tide and promised production schedules wait for no man and all that, so here we are.
Appropriate? WTF do I know? That's one reason I'm posting this in the drowsy middle evening.

What this yammering portends is that this week marks the national launch of my latest "record" (don't know what else to call it, though, unless you're a radio programmer or print reviewer, you'll never see an actual, physical copy of the thing), entitled, "These are the Ways of My People."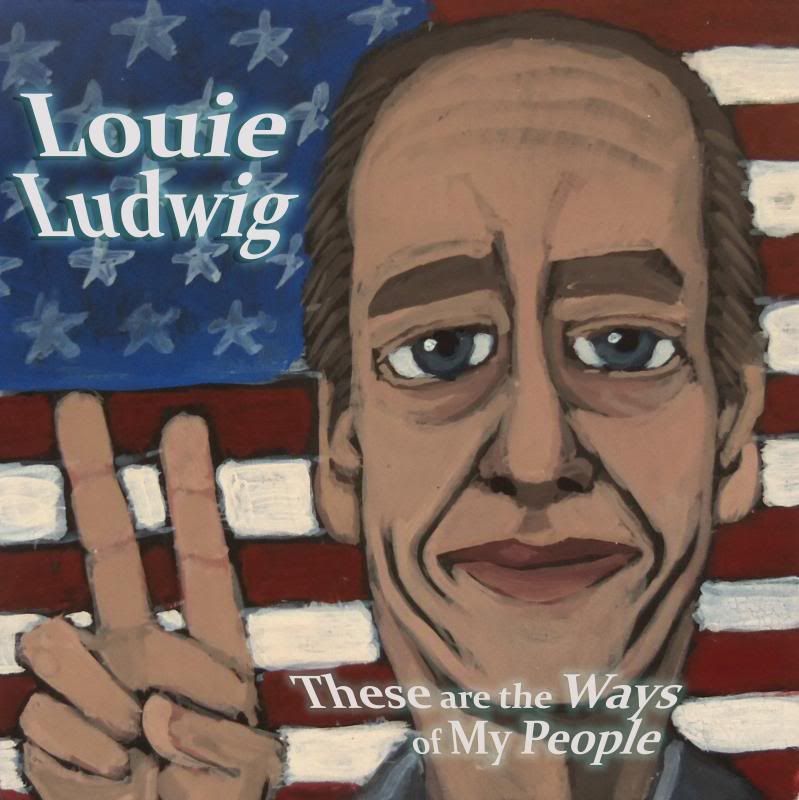 As with other albums, many of the songs have already debuted on YouTube and (of course) this site. This time, I've saved some of the really good ones out, in hopes of actually selling a download or two. Don't know if that will work, but I'll tell you with confidence that some of the bits you haven't heard are really good, an opinion backed up by real musicians (i.e. not me).
Aside from holding out some good shit, another departure with this collection is the appearance of an actual image of me, quite the rarity in the interwebs. The cover is a portrait by the remarkable Carri Skoczek, who, I believe, captured something of my essence, if not the delicacy of my patrician nose.
This really is a half-decent collection, and I hope my friends here give it a chance, downloading from CDBaby (where I make 90% of the price), iTunes (about half) or whatever your favorite mp3 purveyor.
I know you know me as a guy spewing political opinions (and there's a bit of that on the record), but writing and producing songs is what I do in what passes for real life, and I hope you enjoy that, too.
So here's the thing:
The Reservation Featuring a montage of many of my earlier recordings, the song points to the corralling of all but the .001% into a "homeland" of hopelessness.
Let's All Hate On the Hipsters started as a condemnation of the hipsterfication of our great cities, but ended up wondering if perhaps the people we mock are actually the best hope our urban landscapes can find.
Underground is a Mac-esque muse on the need to find shelter from a world bound down. Kind of a funky, minimalist duck down the cellar.
New York Apartment recalls a more innocent time (at least in my jaded life) when nothing was too big to dream, even love.
Headin' Home is an unabashed love song to my home town, set on a long ride on the Crescent.
Pony Girl is a tale of unrequited, or maybe undeclared, love. Think Neil Young on a grand piano, musing on the one who either got away or was left behind.
Another Universe starts with the many-worlds interpretation of quantum theory and speculates on what might have been (or might actually be). Featuring Madonna and the Beatles, but not really.
The World Is Goin' Down is a simple, happy, Lehreresque look at our dreadful current circumstance. Enjoy!
The Feeling's Got Too Strong is, if I do say so myself, one of the best soul songs written in half a century. Wait, I don't even have to say so myself. On hearing it, John Autin said, "If only Otis were alive to record this." Hey, I'll take that.
La Mort is a track I've been wanting to cut ever since I saw Bowie's Ziggy Stardust movie back when. His interpretation of the Jacques Brel classic always seemed to lack a certain dub sensibility.
So there it is, the latest volume in my own personal story. I hope you'll take a chance on it or, at the very least, check out the free versions on YouTube.
Thanks, as always, for looking in. I promise I'll have something more substantial soon.