I'm editing and republishing a diary about my passive solar heated home that I first posted five years ago. Now I've lived in the home for 21 years.
My place is about 8 feet above sea level with most of that elevation gained between the house and the edge of my yard. It is half a mile away from the beach, with a large salt marsh in between. That makes my side yard a likely candidate to become a beach as some point in the future. The verdant salt marsh, could transform into a mud flat.

NOAA's New Study: Coastal Impacts, Adaptation, & Vulnerabilities - National Climate Assessment


Coastal Impacts, Adaptation, and Vulnerabilities pdf

Executive Summary

Society should be concerned about current observations of sea-level rise and projections of significant increases in decades ahead for two key reasons: 1) population densities have increased greatly and coasts have undergone intense development during a period of relatively stable sea level over the past century. Although, in theory, people could relocate landward to accommodate rising seas, human infrastructure, private land ownership, and current policy tend to prevent such adaptation measures. 2) Coastal landforms such as barrier islands, wetlands, and deltas are already dynamic and therefore highly vulnerable to sea-level rise. Many coastal urban areas including Boston, New York, Washington D.C., Norfolk, Charleston, Miami, New Orleans, San Francisco, and Honolulu are also at high risk, yet few coastal states and communities have plans for adaptation to warming temperatures, changes in storminess, and rising sea levels.


World Trade Center Flooding
My house is a labor of love. I designed it myself, after doing extensive reading on home design, and passive solar technology. The house is designed to be very energy efficient, and it is passive solar heated.
I am an avid environmentalist and I wanted a solar home since the early 80s. At an Experimental College class on solar home design in 1984, I learned that I had to have to specific home site in mind in order to tailor a home's design to that specific site. So I went shopping for a sunny building site. In 1985 I settled on one on Whidbey Island that had a fabulous view to the south of Admiralty Inlet and the whole Olympic Mountain range with Port Townsend across the water in the foreground.
I spent the next 4 years saving money, and working up floor plans and elevation views for different ideas for the house, just to set one idea aside and start all over again with a new idea. After half a dozen false starts I finally came up with one I liked well enough to go ahead and build. I then got Chris Herman the designer who had taught my Experimental College class to turn my floor plans into building drawings. I originally had included a pellet stove in the design but after Chris did an analysis that predicted my heating costs at $137 a year (at 1992 energy prices) I removed that feature as being unnecessary
The Home has a passive solar storage wall called a Trombe Wall named after its French inventor.
Trombe Walls

Thermal Mass
Solid masonry wall works well – storing about 200 calories per kg per degree centigrade. The more massive the better. Also needs to be thermally conductive so that the energy stored in one place moves uniformly across the wall for re-radiation.
Comfortable Heat
Radiates in the infra red, which is more penetrating and pleasant than traditional convective forced air heating systems.
Passive
No moving parts and essentially no maintenance.
Simple Construction
Relatively easy to incorporate into building structure as an internal or external wall. Materials (masonry, concrete) are relatively inexpensive.
Effective
Can reduce heating bills by large amounts; in our case, we have no furnace.
My Trombe Wall has a two layer polycarbonate exterior glazing, 4 inches from the walls surface, covered with what's called selective surface. The selective surface absorbs solar radiation and transmits solar heat into the 8 inch thick concrete wall that acts as a solar mass that stores the heat. The selective surface made copper foil reflects the infrared radiation back to the wall, preventing it from losing too much heat at night. The wall slowly releases its stored heat into the interior rooms reaching a temperatures as high as 104 F (its 98 F as I write this) on the interior surface, keeping the house toasty warm through the night. The house has the Trombe Wall on the lower story with most of a number of large direct gain windows on the upper story, providing the living room with its fabulous view. On the home's exterior over the Trombe Wall there is a window wash deck for accessing the second story windows that also serves as a shading device for the Trombe Wall during the summer when the sun is high. During the warm month I add a sade made of awning material to augment the shading. I put it up in the late spring when excess heat starts to become a problem and remeov it in the fall when it starts to get chilly. The whole twice yearly ritual takes about 15 minutes. In the summer months most of the Trombe Wall is shaded preventing unwanted heat gain. The wall's interior is finished in tile including some iridescent fused glass tiles that I fired at a friend's glass studio.
During the construction I was my own general contractor. This involved a grueling routine starting with a morning ferry trip to the building site, several hours of work, followed a ferry trip back to the mainland in time for a swing shift at the factory.
For the house's backup heat I use baseboard electric. Most of the lighting is fluorescent and LEDs. The home's solar features have paid for themselves several times over in the 21 years that I've lived here.
The size of the Home is modest at 1,170 square feet. I've never understood the bigger is better idea when it comes to houses, or cars. Speaking of cars while my house is located in a very quiet rural setting, a free county bus route into town goes past the front door once an hour.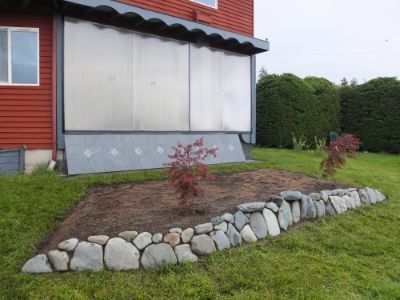 My Trombe Wall
I think it would be ironic for the passive solar house that I built to be swallowed by rising seas (after I'm gone) caused the proliferate use of fossil fuels. I am beginning to think that large rises in sea level are as inevitable as rush hour traffic is (when you typically find only one person in the vast majority of the vehicles on American roads). That is only starting to change in the five years since I first published this diary.
Seattle does have a rudimentary light rail system now.