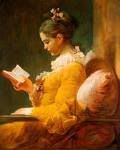 Shakespeare warned Julius Caesar to "beware the Ides of March." I'm alerting R&BLers to have fun in the Dog Days of August. If you're not into Little League, there's not much for the sports fan these days -- MLB baseball is beginning the upward climb of the second half of the season. No traces of pennant fever on the wind yet. Football hasn't cranked itself up yet as many colleges haven't begun the fall term and the pros are still sweating on the practice fields. By now summer picnics, trips to the zoo, and excursions to the beach are becoming banal.
Even for the non-sports minded or the un-enamored picnickers and seasonal excursionists, who are (around here) better described as book lovers, that book you're reading may not be enough to hold your interest against the heat and humidity of high summer. Until now.
Please turn the page. . .
Let's make the book you're currently reading a little more engaging by using it as part of an interactive game. The game is simple and, yes, a little silly but it takes no effort at all! Here's how you play.
Turn to page 42 of the book you're now reading, select a single paragraph and post it in the comments. For those of you reading an e-book with locations only, choose loc 420. Once you've posted your para, provide the title and author as a hotlink in case R&BLers are intrigued enough by the paragraph you chose to want to read the book for themselves.
You may choose to link your title to a purchasing site directly, or to web pages that provide a review, or some other kind of relevant link. You can provide a separate distinct link for the author if you wish -- to an interview site, for example.
That's it!
Now, here's a variant of "Page 42." Select a book from your personal library that's well known -- a classic is always good, even a modern one -- or a best seller, or one that won a major literary award. Turn to page 42 (or loc 420) in that familiar friend and give us a paragraph from it. Only, this time do not supply the title or author. Let us guess it in our reply comments!
While this may not cure your high summer doldrums, I think "Page 42" will add a bit of fun to your book lover lives. Enjoy!
I'll help get you started in the first comment below.