There is a teacher in South Carolina teaching history from Rush Limbaugh's book. I have no explanation for this. Presumably the kids are getting great lessons in how World War II was fought against Feminazis, led by Sandra Fluke. And, sadly, Rush Revere and his time-travelling horse (I'm not making that up) aren't even the worst entry in the annals of terrible children's books.
Top Comments recognizes the previous day's Top Mojo and strives to promote each day's outstanding comments through nominations made by Kossacks like you. Please send comments (before 9:30pm ET) by email to topcomments@gmail.com or by our KosMail message board. Just click on the Spinning Top™ to make a submission. Look for the Spinning Top™ to pop up in diaries posts around Daily Kos.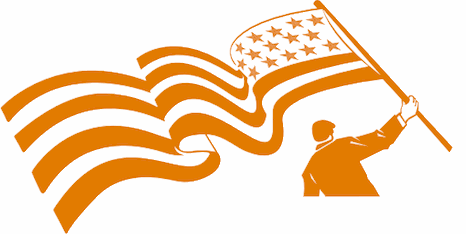 Make sure that you include the direct link to the comment (the URL), which is available by clicking on that comment's date/time. Please let us know your Daily Kos user name if you use email so we can credit you properly. If you send a writeup with the link, we can include that as well. The diarist poster reserves the right to edit all content.
Please come in. You're invited to make yourself at home! Join us beneath the orange children's book illustration...
Just recently, we got My Parents Open Carry, by Brian Jeffs and Nathan Nephew. Just another happy day in the life of good-guys-with-a-gun, who are ready to save the world from bad-guys-with-a-gun. (Presumably followed by the sequel, "My Parents Open Casket.") If you missed JDWolverton's diary on the Amazon reviews, I highly recommend checking it out.

I was having a hard time explaining to little Billy why daddy needs to carry his AR-15 into Chipotle when he goes for burritos but now, finally, I have a book that helps.
Along the same lines, there's
Help! Mom! There Are Liberals Under My Bed,
by Katherine DeBrecht. It's the terrifying story of two children who set out to run a lemonade stand, but Evil Libruls ruin everything with taxes, regulations, and (OMG) broccoli. I assume our heroic kids get rid of those pesky regulations, so corporations can go back to dumping toxins in the water that those kids will use in their lemonade.
Then there's Does God Love Michael's Two Daddies? by - I kid you not - Sheila K. Butt. Right-wingers hailed this book as some sort of "balance" to Leslea Newman's Heather Has Two Mommies. Of course, Newman's book is about how Heather is afraid of rejection at school because her family is different, but instead the kids are kind and friendly, and they discover that every family is a little bit different. I'm not sure why a message of kindness and tolerance needs to be "balanced" with anything. From a publishing standpoint, Butt's book is something of a marvel: a book with no target audience. Heather Has Two Mommies is targeted to gay and lesbian parents, and their friends and extended families. But they're not going to be buying a book about how God broke up Michael's two daddies and got one of them to marry a woman. The people who find Heather objectionable don't want their kids hearing anything about GLBT people, so they're not going to be buying it. And the rest of the population doesn't care.
But the all-time worst children's book, if you can call it that, has to be Alfie's Home (warning: link includes creepy cartoon drawing of molestation). It's self-published by Richard Cohen. Yes, THAT Richard Cohen. The "ex-gay therapist" best known for cuddling with clients and beating up a pillow with a tennis racket. (Better than the other way around, but anyway....) The touching story of a boy who was turned gay because of his bad father and sexually abusive uncle, but with help from a therapist, he straightened out and married a woman. I don't know what Richard Cohen has against children, but he should't be allowed to inflict this book on them, ever.
On to Top Comments!
From Denise Oliver Velez:

Comment by Fog City John in today's Black Kos.
From your humble (if antisocial) diarist:
Manneckdesign offers this hilariously accurate tweet in Chrislove's diary Watch: Straight couple barricade themselves from 'Armagayddon' in marriage equality PSA.

This comment by Peter Hug was flagged by democracy inaction in librarisingnsf's diary Missouri GOP outraged about voter registration booths in Ferguson.

A brief but perfectly expressed comment by Lawrence Lewis was flagged by Susan Stike Conner in Barbara Morrill's diary I'm a cop. If you don't want to get hurt, don't challenge me.
Top mojo, courtesy of
mik
:
1) standard psychosis by Laurence Lewis — 311
2) And this answers a question by GAKeynesian — 255
3) Nothing more peaceful than voting. by David54 — 207
4) GOP calls voter registration "inappropriate" by JBL55 — 167
5) This is precisely why by anastasia p — 150
6) Thank you Ono by Denise Oliver Velez — 146
7) i got three words for the MO GOP. by bubbanomics — 129
8) Republicans hate it when "those people" register by Jeff Y — 126
9) They don't even listen to themselves, do they? by Liberal Protestant — 121
10) People are at least heartened by the by Denise Oliver Velez — 121
11) yup. by rexymeteorite — 115
12) So if you're keeping score at home by david mizner — 109
13) Yes, and I think Obama is also. by TomP — 107
14) Sue them until it hurts. by Youffraita — 105
15) All those unhappy Republicans by PeterHug — 103
16) The biggest threat to police by Puddytat — 103
17) The most important legacy of Michael Brown by MsTribble — 102
18) How in the world by zaynabou — 102
19) Sadly, that's true. by AuroraDawn — 98
20) Incompetence is the reason for recall. by Walt starr — 95
21) Excellent post, Dee. by TomP — 95
22) as argued in the Rodney King trial by annieli — 94
23) Maybe I am stating the obvious, but: by nuketeacher — 93
24) Thanks Tom. I was worried by Denise Oliver Velez — 92
25) That quote has been by AnnetteK — 91
26) it sounds harsh by rexymeteorite — 85
27) the employee didn't call 911 - a customer did by MartyM — 85
28) While they're working overtime by eyeswideopen — 81
29) People have no choice but to try. by TomP — 80
30) P. W. Botha must be smiling up at the by commonmass — 80
Photo quilt, courtesy of
jotter
: