I am beginning to think it is a leftist conspiracy. Starting to wonder if tin foil affects the part of conservative brains in charge of grammar and spelling.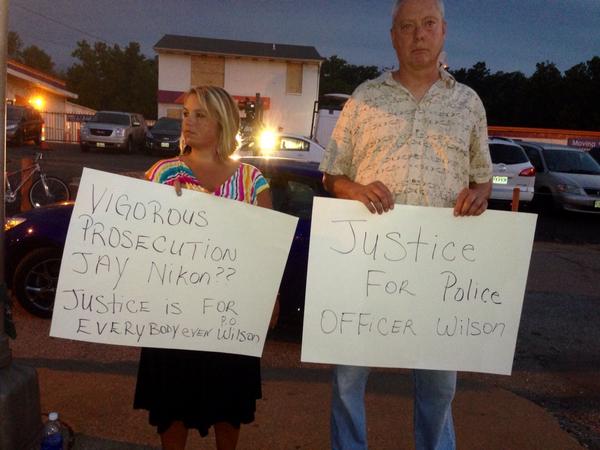 Counter Protestors in Ferguson MO 8/20/2014
Dawn, (who smartly following her heroes' in blue tactics of never giving out too much info to an undeserving public and nosy press only gave out her first name), and her friend were the instigators center of some slight unrest violence by appearing at a peaceful protest riot in the jungle town of Ferguson demanding that her hero Officer Wilson give up his FOP Constitutional rights and 'boys in blue club' privileges and let himself be charged with a crime because he murdered shot some innocent inconsequential unarmed stoned black teenager strong arm jaywalker robber who dared to try and surrender backtalk and charge and attack the brave officer for no reason!
(Though supposedly it is the animals citizens of the community right to whine protest too. But only where and when Our Boys in Blue approve.)
But the worst part is that Dawn and friend dangerously set things on edge with their misspelling of Missouri democRat Gov. Jay Nixon's name. The Grammar police had to escort Dawn and friend away from the scene in a special cruiser in order to head off even more protests violence from the local animals citizens outraged that she spelled the libral democRat Nixon's name wrong. (Two of whom were unjustly arrested and herded roughly placed into regular police vehicles.)
Praise God for blue blooded anglo-americun truthseekers like Dawn…now if they could only learn to spell. Or not.
/snark