They say it's not nice to generalize, but when EVERY single encounter I've had with people who make arguments against Michael Brown are making bullshit racist statements, then I can say from my own experience that yes, if they're defending the shooting of an unarmed man six fucking times, then they probably don't care too much for black people.
Below the fold is every argument I've heard from a Michael Brown detractor, and it's not pretty:
1. "Why didn't you complain when this black person killed this white person?"
Well I'm pretty sure I did. But you know what I didn't do? Claim the white person had it coming.
There's a story in the media that is getting overshadowed by the attention of the Michael Brown reports. In Salt Lake City, a 20 year old unarmed white man by the name of Dillon Taylor was shot by a the local police department.
Tragic? Yes. Should it get more attention as part of a media narrative that shows the alarming use of force by our police departments? Absolutely.
But you know what's different about the story? You don't have conservatives screaming that Mr. Taylor should have been shot. You don't have people accusing him of smoking pot or being a "thug". But Taylor is white, so he won't be demonized by conservatives.
2. "BUT THE RIOTS!"
Yeah, here's some footage of the aftermath of those riots:

The rioting has been reported to be miniscule compared to the police response to peaceful protesters:

Strange how the Brown haters don't mention that.
3. Michael Brown was a bad person!
If you haven't seen the response to this by now by Jesse Williams, watch it now. He sums it up much better than I can:

You'll see the racists using code words to describe Michael Brown. They'll call him a "thug" or an "animal". All words that are used when dehumanizing black people.
The Brown haters will bring up every little sin that he's committed. He smoked pot. He shoplifted. You know what he didn't do? Anything that deserved getting shot six times.
This is not North Korea. The state does not get to execute you for stealing cigars!
Even if he did punch a cop (stories debunking the orbital bone claims are mentioning that the officer did have some swelling, indicating he may have been punched), a fist to the head does not make it okay to shoot somebody. If you cannot handle scraping with one unarmed man, you have no business being in the police department! None! Go take up a job that requires you to live a less aggressive life.
4. Racist memes
If you've been having a discussion on a social media site about Michael Brown, this inevitably shows up: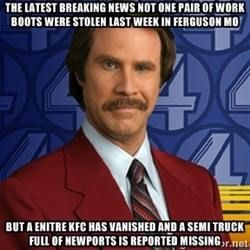 The memes are all different pictures, but they all have the same racist message that black people are lazy and refusing to get a job.
I'm sure that some people are just trolling, but when you add up everything else, it shows a pattern of racism.
The Brown haters will make the now debunked accusation about the orbital bone fracture, which if true, would justify deadly force (it's not). But when you let them talk long enough, you find that they have a hatred of black people. The orbital bone or any of Mr. Brown's actions are irrelevant. They're just excuses for racists to defend the death of a black man.
I admit that my experience is anecdotal. If you happen to know one person who is defending the shooting of Michael Brown but hasn't shown animosity towards black people, congrats on knowing one. But so far I haven't seen a single person, and I've been talking about this in real life and on the internet A LOT. And every single one has made a racist statement about this story.
Their racism didn't grow on its own. It was created by the conservative media like Fox News, Breitbart, and other right-wing sources that have spent years denouncing black people, treating racism as though it were some overblown use of the race card, the use of coded racist language, and making sure that African-Americans are always viewed in a negative light. There will never be a time when they will not find a reason to justify the killing of a black man.
Unless, of course, they can blame Obama.
We need to call this out. There is no reasoning with racists. There is no convincing them that Michael Brown didn't deserve to die. He was a black male, so that's all the reason they need. When you call them out, they'll whine and bitch that "you're playing the race card!" It's then that you remind them:
"If you don't like being called a racist asshole, then don't be one."
(P.S. I'm white. Not that it should matter, but just FYI for any racists who want to play the "angry black man" card).