After a week of gawdawful news, it's time for the Friday Night Follies:
Blast from the Past. At Daily Kos on this date in 2011—Michelle Rhee still refuses to answer questions about cheating scandal:
"Why won't Michelle Rhee talk to USA Today," the New York Times asks.

USA Today, of course, broke the story of suspicious erasure patterns on standardized tests taken by Washington, D.C. students during Rhee's tenure as the city's schools chancellor. The story was the product of serious investigative journalism by reporters Jack Gillum and Marisol Bello, who marshaled significant amounts of data as well as talking to parents, academics, DC schools administrators and the consultant hired to do a cursory investigation of the possibility of cheating. But Rhee would not talk to them.
Now, the Times is telling the story of Rhee's refusal. Michael Winerip contrasts her typical eagerness to talk to the press—"It's hard to find a media outlet, big or small, that she hasn't talked to. [...] Always, she preens for the cameras"—with her determined evasion of the USA Today reporters:

---
Tweet of the Day
What's missing in #Ferguson incident report? The "what happened" part.
http://t.co/...
http://t.co/...
— @ProPublica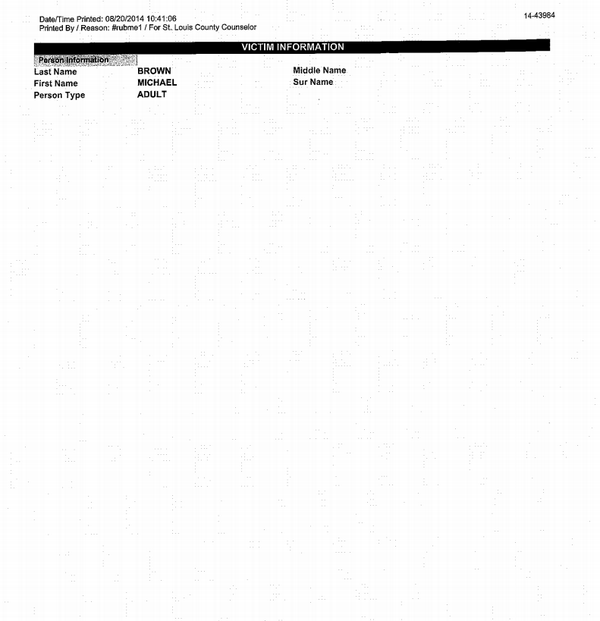 ---
On
today's Kagro in the Morning show
: catching up on the Ice Bucket Challenge, news of the first serious accident, and Mitt Romney gets doused. Crazy fines & penalties in Ferguson, where each household is hit with an average of three warrants a year! Not the high-stakes drug warrants we've discussed in the past, but worth connecting.
Gideon
, with food for thought on the James Risen case, Elizabeth Warren, Ferguson, the Kajieme Powell shooting & more. Next,
Meteor Blades'
"Cop cams could change police behavior, but technology can only do so much," plus speculation on the problems they might create. And from
Politico
, "How going nuclear unclogged the Senate."
---
High Impact Posts. Top Comments