Much of the discussion on climate in the past few years can be boiled to penetrating the fog of denial with one realization: There is no "Away".

Long-standing human habit has been to send unwanted material away - down the stream and away from you (even if upstream of someone else), away into the unimaginably vast ocean, or away into the boundless atmosphere. The simple weekly ritual of putting the garbage at the edge of the road, where some person you have never met takes it away never to be see again, symbolizes the level of thought, or not, that most people put into the question of where it all goes.
The ocean is filling with pollutants and debris, to a level than can be seen at every seashore and cannot be denied. Our atmosphere is steadily increasing in it's level of Carbon Dioxide, and our climate is changing. Yes, it really is possible for us humans to fill up the bin of our entire planet, and there is no curb to take it out to.
Now, a more complex and ultimately more dangerous issue looms - the question of the Others.
For countless centuries, those atop the pyramid of power have justified their rule with one foundational idea above all - they will protect us from the Others.
No single issue has as much emotion, and as much power to summon obedience to authority. It is the ultimate justification for even the worst kinds of violence, and for the deeply alarming trend of militarizing police and criminalizing peaceful dissent.
When all else fails, they only need to summon Others and the fear of them. The Others may be foreign armies, they may be people of a different race, they may be witches. It doesn't matter, any given group just needs even the smallest quality of otherness that can be painted upon them and expanded into a portrait of monstrosity and threat.
Change is coming, and denial of the facts will crumble, at greater or lesser velocity. Our fate now hinges upon whether will allow ourselves to continue to be ruled by fear of the Others. Fear, manufactured, on purpose, to keep us apart.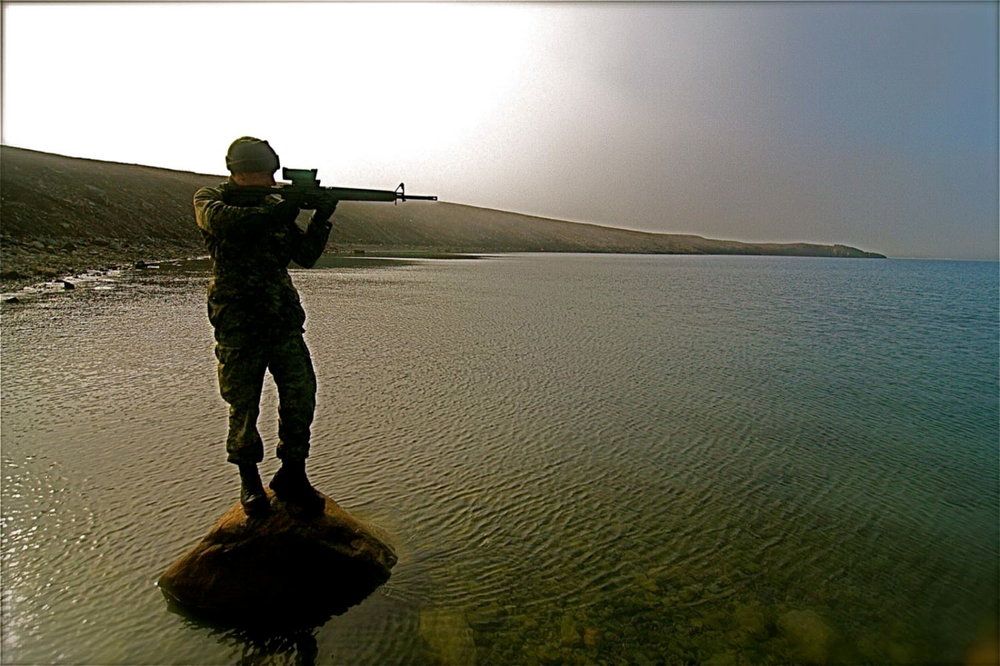 Industries are moving on to the post-denial phase of the climate crisis. Drilling in the Arctic, digging for minerals as glaciers recede. Gathering up water rights as droughts approach. And the smokescreen that will allow them to continue in their ways will be fear - fear of losing out to Others. Fear that Others may come to take what remains to us. Climate action within any one country will be deflected by the idea that Others will inevitably drill, burn and emit, and will become more powerful than we are.
At this point the climate crisis will not be solved, or even meaningfully reduced, by some set of legislative acts or adoption of new technologies. The only real hope for progress on climate is for us as a society, a global economy, and as a world to make larger far larger changes, based on recognizing the rights, dream, and humanity of those who have been ignored. Ignored because they have been portrayed as - you guessed it - Others.
In a must-read article titled Why the climate movement must stand with Ferguson, Dierdre Smith writes:

Demonization and the illusion of the 'other' allows mainstream US to feel unaffected and disconnected to the employment of unacceptable and institutionally supported militarized violence. These divisions imposed on us prevent us from building the movement we need to create a new future for ourselves, a future where we have clean energy that doesn'€™t kill us, and creates jobs that provide dignity and a living. ...

If we hope to build anything together and employ our combined power we must deny that anyone is an "other" -€" denying this pervasive cultural norm isn'€™t easy but it'€™s a central challenge we face.
There is a reason why this march is named the People's Climate March. It's not just a climate march, and it's not just about the scientific facts. It is - or it must be - about people committing to being part of a larger movement for climate and for justice.
Marching is about being visible, standing together, and being proud. Demonstrating to the world by assembling together that there truly are a critical mass of people that care, and who will not be split apart.
The weekend of September 21st is a time to march. I request and deeply hope that you will do do all of these things:
- March. Come to the Peoples Climate March if you possibly can. If you can't make it to New York (and not everybody can, although it is important) then march somewhere near your location.
- Make a personal commitment not to be silenced on climate. It is now an every day part of our lives, and so it should be part of our normal conversation both private and public.
- Perhaps most importantly, recognize that, the common path that we must walk, not just to reduce emissions that cause global warming, but for action to reduce the cycle of violence and fear that has been stoked for so long, and simply must end.
Marchons! 48 Hour People's Climate March Recruitment Storm:
Thursday August 21st at 12 Noon through Saturday the 23rd at 12 Noon
We are one month out from the historic People's Climate March. The September 21 March is being held two days before the UN Climate Summit, where government and corporate leaders will convene to discuss taking action to address climate change.
Tens of thousands are expected to march in New York City.
Join in the 48 hour Recruitment Storm by registering and inviting friends to participate. Our goal is to add 10,000 new marchers by the end of the day Friday. Let's make September a game-changer for the climate movement.
---
Sign up here!!! --> People's Climate March
---
Notes
I wrote about the post-denial actions of industry in my review of Windfall, the Booming Business of Global Warming, an excellent book by McKenzie Funk.
Seriously, read all of Dierdre Smith's article, don't just like it on Facebook.