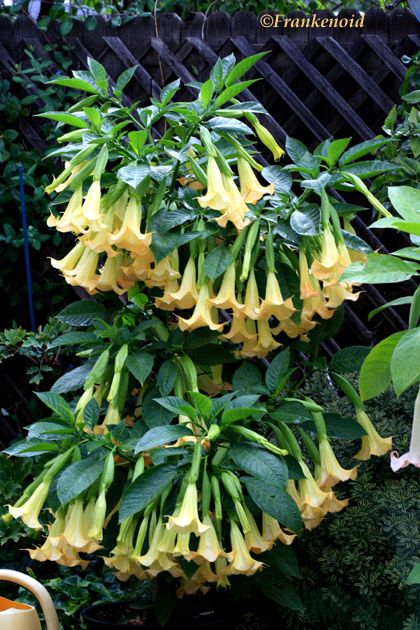 Good morning, and Labor Day already? Welcome to Saturday Morning Garden Blogging.
Denver has had an extremely long and strong monsoon season this year. We've had thunderstorms and rain almost every afternoon this week. Overall, August temperatures have been a couple of degrees below normal, while rain totals are more than an inch greater.
While the moisture is appreciated, the lack of heat has led to slow ripening tomatoes, squash and melons.
And it took for_ever_ for the brugmansia to set buds and bloom.
I think they were worth waiting for. This one is about 5 feet tall; a smaller specimen is indoors so the house, too, is full of the delightful, lemon pie scent.

A couple of weeks ago I drove up to Steamboat Springs to play knitting expert, and while there I, of course, had to take a walking tour of the neighborhood. I was hugely amused by this sign across the street from my friends' home — and yes, there are kids, and dogs — but I avoided seeing any bears.
Around the corner I found where a family had immortalized its VW-Following-The-Grateful-Dead-Bus with a portrait.

Uhm, yeah. Steamboat is kind of a hippy haven.
But I was looking for gardens — and I had to wander up and down a couple of hills before finding a garden after my own heart.

Like in my own garden, the flower beds filled the entire front yard, a wonderful mix of perennials and annuals flowing up a hill next to a stairway.
On Sunday we motored up the road to visit the Routt County fair — where I found another stunning garden!
That's what's happening here. What's going on in your gardens?