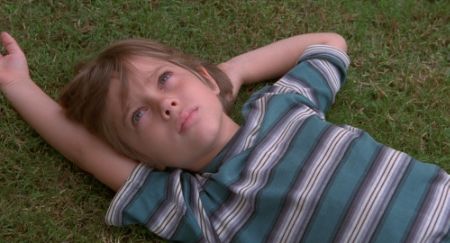 Barring the last-minute discovery of some forgotten Holocaust-period masterpiece featuring Robin Williams, Lauren Bacall and Philip Seymour Hoffman, my award for the Best Picture of the year goes to Boyhood, written and directed over a twelve-yer period by Richard Linklater (Before Sunrise; Dazed and Confused). The main characters are played by Ellar Coltrane, Ethan Hawke and Patricia Arquette. As most are aware, Linklater followed the same cast through those twelve years, filming at intervals of a few days each, so that what transpires on screen is the literal growth of Mason, a five-year-old boy (along with his parents) through the age of eighteen.
The beauty of this movie is that there is so much in it I can write a review without spoiling it for anyone. I can point out the fact that it contains at least three overt, unmistakable Anti-Republican moments, including the protagonist's father (Hawke) pointing out to his children that the War in Iraq was based on Bush's lies; that Sarah Palin's only useful legacy is the reminder to young people everywhere that teenage pregnancy is to be avoided; and that Bush supporters particularly in Texas, are among the more intolerant assholes in the country.
Then there's the matter of Hawke stealing the McCain campaign lawn sign. But I digress. This isn't a political film at all. It's about a white (unmistakably white, I would add--the movie reflects the near complete segregation of the races in housing and schooling that exists in Texas) child growing up with his sister in a single parent environment, punctuated by the painful and abusive presence of alcoholic stepfathers and boyfriends. The movie traces the relationship between the boy and his sister, his peers at the various schools he attends, and chiefly, his biological father. The background is an unflinchingly accurate portrayal of the state of Texas (where I have lived, for the record), complete with its peculiar culture of guns, state pride and evangelical Christianity. The accuracy is pinpoint--there's a scene of elementary schoolchildren reciting both the Pledge of Allegiance and the pledge to honor the Texas flag.
The movie doesn't fit into "predictable" Hollywood niches. Linklater has had twelve years to think about what to include here, and it shows. The frustration of the returning war hero from Iraq is reflected in his ability to find employment only as a corrections officer, and his ensuing alcoholism is emblematic of the PTSD suffered by veterans of Iraq and Afghanistan. Several of the characters simply disappear as they no longer affect the boy's life--we don't know what happens, for example, to the beleaguered children of Mason's stepfather after Mason's mother leaves him shouting at her in an alcohol-fueled rage. Some of the characters resurface after we've written them off--Ethan Hawke's guitar-playing roommate who initially appears to as as a destitute druggie and eventually appears to serenade Mason from the stage as leader of a successful band.
But the biggest transformations --over this twelve year period--are those of the three main characters. Patricia Arquette's portrayal of a single mother struggling to survive with her children is spot-on--her efforts to transform their lives by getting her Master's degree and the sacrifices she is forced to make because of that are all subtly teased out by Linklater. Mason's own personal journey (really the main focus of the movie) and its juxtaposition with his mother's life decisions, the development of his personality and his on-again, off-again relationship with his father carry us throughout the movie, so much that we become lost in the story.
Ultimately the story ends--deliberately--at the age of eighteen, as Mason is entering college. By this time we see the outlines of his adult personality, couched in the deliberately ironic self-awareness characteristic of the teenage years. Everything is discovered--from sex to one's purpose in life--as if for the first time. We recognize our earlier selves in Mason's tentative attempts to make sense of his own existence. Coltrane pulls all of this off as naturally as can be imagined.
But for me the most profound development is that of Ethan Hawke's character, a father far too early who grows into his role and becomes more likable to the audience in the process. The film conveys what few movies manage to do successfully: that people mature at different times, and at a varying pace. The movie is filled with small, almost unnoticeable but incredibly resonant asides (Hawke's former mother-in-law comments to his new wife that she caught him "at the right time;" Mason encounters a teacher on the first day of college who, sensing his anxiety, reassures him that college is the time when he will find "his people"; Hawke consoles his son over a romantic breakup by saying that girls often "trade up," then realizes this was insensitive and tries to correct it).

Boyhood has been criticized as depicting only the 'boyhood" of a fairly comfortable white child whose biggest challenge has been the relatively amicable breakup of his biological parents and being forced to cope with a string of bad parental surrogates. And in fact there is little diversity in the film--the only memorable nonwhite character is a Hispanic laborer who ends up following-up on a small piece of offhand advice delivered by Mason's mother and ends up drastically altering his life for the better. While bullying, homophobia, alcohol and drugs are all pointedly addressed in the film, racism is not. But the director is clearly drawing on his own experience and I think these criticisms are misplaced. There is no attempt to make an extraordinary political or social statement here. The sheer ordinariness of Mason's life is the key to his uncertain heroism and his unwritten future. Boyhood is a brilliant, perceptive, and moving piece of filmmaking that should seen by all.