Good morning, readers and book lovers! Unlike last week, when we enjoyed the great treat of an actual diary contributed by one of our members, this week no one has stepped up to contribute one. We will therefore have an open forum, and it's going to be short and sweet.
Short because I have a cold, and sweet because today we are having FloridaSNMOM's Applesauce Oatmeal Muffins for breakfast! She kindly provided the recipe a couple of weeks ago. Don't these look delicious? You may also munch these organic backyard apples and pears, picked by loving hands at home. Munch away, but mind you don't get crumbs on the carpet!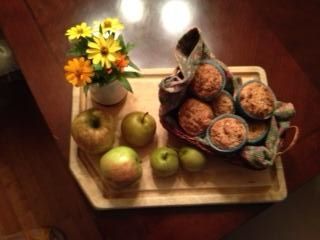 Does activism come on gradually, like the 'flu, or does it happen all at once? From a perspective of thirty or forty years it's hard to pinpoint the exact moment that it happened to me. But reaching back into my memory it seems to me that the book that turned me from a passivist into an activist was Our Bodies, Ourselves.


Like a lot of other people, I first read this book back in the heady days of the second phase of the women's liberation movement, that is, the 1970s. It was an absolute revelation to me. Here was a book written by women for women, and these women weren't meek and deferential--they were kicking ass!
Brought up as I had been in the 1950s, when our life ambition was to be beautiful and our most valued attribute was to be popular, I wasn't in the habit of talking back to men, especially men in authority. Before I read Our Bodies, Ourselves, it never occurred to me that a doctor--a real, medical school graduate god--could be questioned or disagreed with or dictated to. It just didn't happen in my world.
Yet here were women with no makeup and wildly curly hair like mine who told each other that we were the experts on our bodies, not some guy we saw twice a year for 15 minutes. Here were women handing each other mirrors and specula, inviting each other to look "down there" (that was what we called it in those pre-liberation days), and the world not only didn't end but continued to rock and roll--even though these women told their doctors exactly what the doctors were doing wrong. I was riveted by the testimonials from women, rendered in short, italic paragraphs, about their life experiences at the hands of the male-dominated medical establishment.
Women, especially shy women like me, had to engage in complete dissociation of mind and body when subjected to intimate, humiliating pelvic exams conducted by condescending male gynecologists before we were diagnosed and treated. Women were used to being infantilized, to never being told the reasons why one treatment was preferred over another. We were supposed to accept whatever the almighty god-doctor said without question or comment.
So when I read about these daring women who said that eating yogurt was a good way to get rid of a common affliction of women, who demanded explanations of treatments, who insisted on not being drugged during labor and childbirth, I felt like Hercules breaking free of his chains. I began to question other aspects of women's lives. Over the years, as my children needed me less and I had more spare time, I began to venture out of my little suburban housewife world and get involved. During the 1980s I marched more than once in support of the Equal Rights Amendment in Richmond (the capital of Virginia). The pivotal point came after working as a freelance editor in a company infested with Republicans. After the six-month assignment ended I went out and joined four pro-choice organizations in one week: Virginia NARAL, the Pro-Choice Alliance, the Democratic Committee, and the Washington Area Clinic Defense Task Force. And, as they say, thereby hangs a tale. (And now there is a post-abortion clinic movement, as described here.)
That's my story. What's YOURS? Which was the book that got you off your derriere and out into the streets? Tell us, we're all ears!