Reposted from Dartagnan by palantir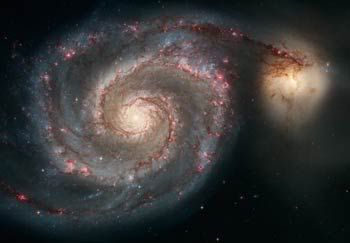 Last week two Senior NASA Scientists confidently predicted that we will find evidence of extraterrestrial life within a decade or so. Ellen Stofan, NASA's chief scientist and John Grunsfeld, the agency's associate administrator for science programs, weren't talking about walking, talking or slithering aliens, but rather microbes composed of basic chemical compounds necessary for life as we understand it. The growing consensus that there are innumerable temperate planets capable of supporting this kind of life prompts generous funding by NASA in efforts to locate it, and it seems that one day soon we will.
Efforts to locate more developed extraterrestrial life, on the other hand, receive almost no funding and are the provenance of only a limited number of astronomers and scientists embarked on a quest known as SETI (Search For Extraterrestrial Intelligence). Defunded by the U.S. government in 1995, SETI relies almost entirely on private funding. Some of the more well-known SETI projects are run through Harvard University, University of California at Berkeley and the SETI institute. Computer power is sometimes donated to support these efforts, which essentially seek out radio or laser-type signals that may pass through our own galaxy and possess a certain pattern indicative of intelligence.
However, for all of its efforts, SETI has yet to find any real trace of intelligent or advanced civilizations that might possibly exist out there. The disconcerting results of the most recent and comprehensive efforts to locate definitive traces of advanced extraterrestrial civilizations are detailed in the latest issue of Scientific American:

Now, new results suggest this loneliness may extend out into the universe far beyond our galaxy or, instead, that some of our preconceptions about the behaviors of alien civilizations are deeply flawed. After examining some 100,000 nearby large galaxies a team of researchers lead by The Pennsylvania State University astronomer Jason Wright has concluded that none of them contain any obvious signs of highly advanced technological civilizations. Published in The Astrophysical Journal Supplement Series, it is by far the largest of study of its kind to date....
Rather than look for radio signals, Wright and his team looked for thermodynamic residual signatures of what they would expect from galactic-sized colonization, using NASA's Wide-Field Infrared Survey Explorer. They based their work in part on a theory advanced by physicist Freeman Dyson:
Dyson postulated that a growing technological culture would ultimately be limited by access to energy, and that advanced, energy-hungry civilizations would be driven to harvest all the available light from their stars. To do that, they might dismantle a planet or two as feedstock for building star-enveloping swarms of solar collectors. A star's light would fade as it was encased in such a "Dyson sphere," but Dyson noted the constructions could be detected by the mid-infrared glow of their radiated waste heat—essentially the same phenomenon that causes your computer to warm up when it's running.
In 1963 a Russian astronomer (Nikolai Kardashev) elaborated on Dyson's hypothetical, creating a classification system for degrees of advanced civilizations which employed "Dyson Spheres." Depending on the amount of energy harnessed, a civilization could be called Class 1, 2 or 3, with Class 3 able to harness the energy not only of a single planet or solar system, but an entire galaxy. Of course this implies a degree of advancement that would render our human species barely a blip on the cosmological scale.
Wright's research, funded by the Templeton Foundation, relied on Dyson's assumptions and Kardashev's classification system but also allowed for the possibility that no "Dyson Sphere" existed at all. Wright's search for thermodynamic "waste" would also encompass any galactic-level astro-engineering (in other words, what we as humans would expect in our conception of a truly "advanced" civilization). Their methodology was based on established principles of physics, particularly the generation of heat:

[B]ecause the second law of thermodynamics makes energy use hard to hide. They could construct Dyson spheres, they could get power from rotating black holes, they could build giant computer networks in the cold outskirts of galaxies, and all of that would produce waste heat.
Where previous research along these lines had been limited to about 100 galaxies, Wright's team examined approximately 100,000. Alas, the results were disappointing.
"On Kardashev's scale, a type 3 civilization uses energy equal to all the starlight produced by one galaxy," Wright says. That would equate to an infrared-bright galaxy seemingly bereft of stars. "We looked at the nearest, largest 100,000 galaxies we could find in the WISE catalogue and we never saw that. One hundred thousand galaxies and not one had that signature. We didn't find any type 3s in our sample because there aren't any.
The fact that a civilization may not have expanded to the point where such galactic-altering capacities are reached and are therefore undetectable is, of course, a reasonable explanation. However the age of the Universe itself, according to SETI researchers, ought to compensate for civilizations only in their nascent stages of development:
"Life, once it becomes spacefaring, looks like it could cross a galaxy in as little as 50 million years," [ James Annis, an astrophysicist at the Fermi National Accelerator Laboratory who has used different methods to survey nearby galaxies for type 3s] says. "And 50 million years is a very short time compared to the billion-year timescales of planets and galaxies. You would expect life to crisscross a galaxy many times in the nearly 14 billion years the universe has been around. Maybe spacefaring civilizations are rare and isolated, but it only takes just one to want and be able to modify its galaxy for you to be able to see it. If you look at enough galaxies, you should eventually see something obviously artificial. That's why it's so uncomfortable that the more we look, the more natural everything appears."

Over the years, researchers have created a vast assemblage of possible explanations for SETI's failure to find any aliens. Perhaps we are alone or some restriction imposed by astrophysics and biology makes intelligent life vanishingly rare or technological civilizations always self-destruct or interstellar travel is simply too hard, too slow or too boring.
There is no shortage of speculation as to why no life on a galactic-altering scale has been discovered. We may very well be alone. Or it may be that intelligence is simply a freak of nature that in the extremely rare instances when it does occur quickly mutates to extinguish itself before any real "advancement" of the species can proceed. It is also possible that what we consider as the characteristics of an "advanced" species--the consumption of every conceivable source of energy--is completely different from the evolutionary cycle of other species and that the reason we see no trace of energy being burned is because that species has learned to live more in accommodation with nature.
Or perhaps intelligence actually carries with it the innate seeds of its own destruction. Perhaps every budding intelligent civilization has its own version of David and Charles Koch or other like-minded malignant specimens whose sole purpose in life is to eradicate the species in avid and relentless pursuit of short term self-interest. Perhaps the endless silence that greets us as we listen intently to the Universe is simply the triumph of something as mundane as greed.