High taxes = high economic growth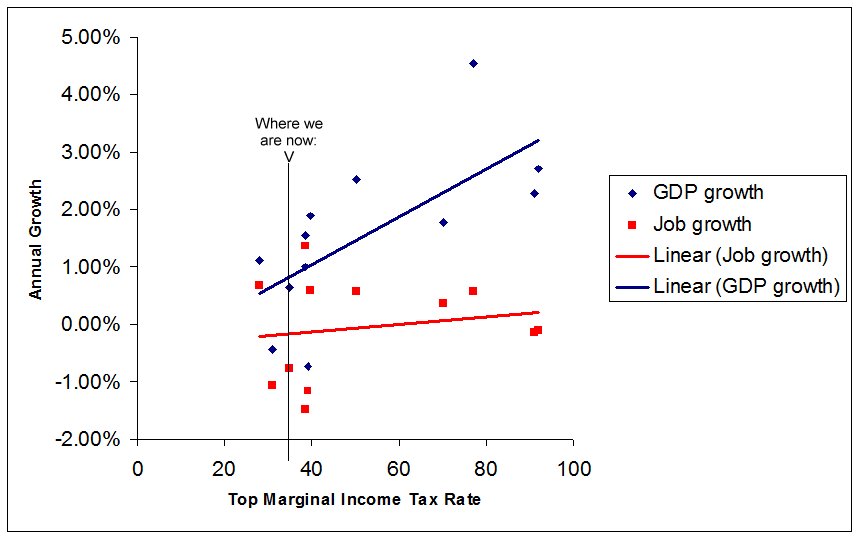 DATA
The top marginal tax rate is the marginal income tax rate paid by the richest Americans. A "marginal" tax rate is the rate you pay on that margin of your income that falls above the income bracket; for example, if the top bracket starts at $374,000 and the marginal rate is 35% (as it is now), you pay 35% of that portion of your income greater than $374,000 – not on your whole income. Data from the Tax Foundation is here, by year.
GDP growth is from the Bureau of Economic Analysis. GDP was determined per-capita and adjusted for inflation, yielding real per-capita GDP. These values were compared to the previous year's data to determine annual growth rate.
Job growth was taken from data supplied by the Bureau of Labor Statistics. Since there are many conflicting measures of unemployment, I went with a straight nonfarm payroll as a percentage of the total US population. Obviously there are problems with this (the large move of women to the workforce during 1970-1990 for example), but all employment indicies have problems of one sort or another, and I thought this was the least susceptible to manipulation.
Data for the latter begins in 1948, which means that the first year job growth can be computed is 1949. All data were therefore restricted to the sixty-one years 1949-2009.
METHODOLOGY
There have been twelve top marginal tax rates in the 61 years covered:
92% (1952-53)
91% (1949-51, 1954-63)
77% (1964)
70% (1965-81)
50% (1992-86)
39.6% (1993-2000)
39.1% (2001)
38.6% (2002)
38.5% (1987)
35% (2003-09)
31% (1991-92)
28% (1988-90)
Per-capita job growth and real GDP growth were computed for each year, and the average for each of the twelve marginal tax rates were computed, and are displayed on this graph. Colored lines are standard linear regressions.
CONCLUSIONS
The next time a Republican tells you that low taxes are good for the economy, ask him to prove it.
In fact, high top marginal income tax rates are linked with improved economic growth.
Tax rates overall have no significant effect on job growth – but the non-significant effect implies that high taxes improve job growth too.