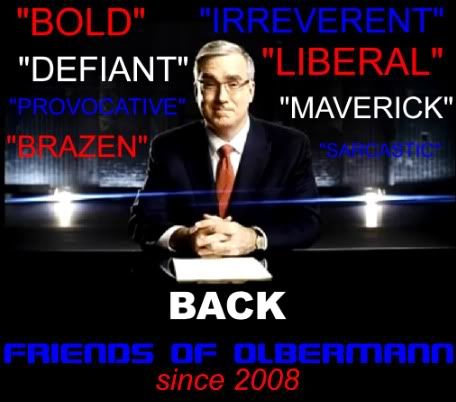 Tomorrow night's diary will feature a special logo for the occasion & dinner with a blessing and everything, so spread the word & check it out. :D BUT FIRST...
...we have a "seasonal" reminder of the fact "That woman is an idiot!" Those with "sensitive" natures are advised to not click "play"!
Talk about your epitome of $aint $arah from Wasilla & all those in her orbit!
Let's move to "this day in history" - other than the horrible events in Dallas in 1963; that's kind of a given. Other events on previous November 22nds include the death of "Blackbeard" in 1718 (probably not as portrayed in the most recent Pirates of the Caribbean movie). Yes, that IS Ian McShane! :D Charles de Gaulle was born in 1890, Bolero debuted in Paris in 1928, and the White Album was released in 1968.
Let's Countdown!
Many thanks to David Shuster for pinch - hitting for Keith...beginning Turkey Day early undoubtedly. :D
#5 "Occupy the President" AKA "Occupying Obama" AKA "Silence Please" AKA "Press VS. NYPD" - Occupy protestors "greeted" President Obama in NH today; to his credit, he didn't order them out or anything. Hell, can you even sparking imagine if something like that had happened during GWB's reign?! They probably wouldn't have even gotten in the damn room. Did you hear the crowd try to shout down the protestors?! Lordy...Not bad comments, though! The tents are back at UC - Davis. :) The L.A. Mayor's office offered protestors a deal involving a vacant building & land to garden in exchange for getting off City Hall property. Well, a deal like that might be more effective in a place like...oh...NYC or Madison, WI where weather will begin winterizing soon! Tim Dickinson gets Occupy duty. Plenty of current protestors probably worked to get President Obama in office, and Mr. Dickinson is a little surprised that protestors waited so long to confront President Obama directly. President Obama tried to connect Occupy to the student loan program that he recently enacted. Again, this program will only work with public government debt. If your student loan debt is of the private nature, you're SOL & JWF. But, it's a start. Protestors want much more sweeping change. President Obama has been mum on the abuse protestors are being subjected to by police. Journalists with authentic press credentials have been manhandled, too - especially photographers. Local & national media groups have sent a letter to Commissioner Kelly demanding a meeting about how journalists were handled & are being handled during protests. Jonathan Turley's here to talk journalist abuse! LONG TIME NO SEE!! Mayor Putz claims he kept the journalists away to keep them safe - downright 1984esque! No public officials are coming out to say this treatment is wrong. Cops usually don't get penalized for what they do because reporters are usually released soon after any arrests. Press areas are being set up far away from where the action is. Journalists need to keep their credentials handy & demand to see someone in charge if they're ordered away & keep a lawyer's number handy! ;)
#4 "Disobedience Class" AKA "Keeping the Peace" - Daniel Ellsberg is talking about comparisons between Occupy protestors & 60s protests during the Vietnam War. He's been arrested A BUNCH of times - including with Allen Ginsberg in CO some years ago. UC - Berkley last week looked a lot like UC - Berkley in the 1960s! A graduate student immolated himself because he couldn't find a job, and some Wikileaks cables revealed US government knowledge of corrupt governments that we were supporting all over the world. Mr. Ellsberg's shocked at the use of tear gas & pepper spray on students. He called the treatment "police torture." 4000 people have been arrested; no one's been arrested for putting our economy in the terlet.
"Time Marches On!" - KITTENS!!!!!!!!!!!!!!!!!!!!!!!! :D Is there anything cuter than kitten wrestling?! An employee in a Japanese restaurant can drink a whole glass of beer in 1 gulp. Turkeys are fighting back a couple days before Thanksgiving; the one at the farm where $aint $arah from Wasilla should've fought harder. ;D
#3 "Ad - Verse to Reality" AKA "Mitt - Guided Attack" - Mittens Romney's first attack ad against President Obama is a liar liar pants on fire. Well duh! He took a line from President Obama out of context. Again...DUH! Mittens is still hanging in there at a whopping 22% support. There's another MENSA meeting tonight on CNN?! Thank Jeebus I'll be missing that again!! Alex Pareene gets Mittens & GOBP duty. Mittens' ad is getting a whole lot of free publicity now, come to think of it. How long will Newt's lead last? Both David & Alex think "Herb" is toast.
#2 "Assault & Peppered" - So, if BillO & one of the FAUX News blond bimbos think pepper spray is a food product, I wonder if they will allow me to sprinkle some of that on their Thanksgiving food on Thursday OR (better yet) sprinkle it right in their damn faces?! BillO expected the students to have more of a "reaction." Well again, let's spray some in his face & see how he reacts. That FAUX News bimbo's a lawyer?! Her clients should seek alternate counsel. There actually are standards for response by police officers that the UC - Davis cops ignored BIG TIME. David has the same idea I do! :D
#1 "Televised Stupidity" AKA "Dumb FOX" - FAUX News viewers are less informed about current events than people who get their news from other sources. Again & again...DUH!!!!!! ;D File this revelation under "No $hit, Sherlock!" NPR listeners/viewers are the brainiacs. Christian Finnegan gets FAUX News duty. Talk about your softball segments for a comedian!! :D