Good morning Bombinos! I trust you survived your Monday OK. Come in, sit down, kick off your shoes, pour a cup of coffee, and gather 'round. Hey, what are you looking at me for? Please, converse among yourselves!
Maybe some Tweets will help get the conversational ball rolling:
Mitch McConnell misses flight at Reagan National Airport after filibustering his decision to buy a Cinnabon for 45 minutes

— The Daily Edge (@TheDailyEdge) December 8, 2012
I've designed a Christmas gift for both political parties - a clean-energy source that runs on human greed.

— John Fugelsang (@JohnFugelsang) December 10, 2012
There are same-sex married couples in Washington this morning pursuing their radical Sunday agendas of leaf-raking and laundry-doing.

— pourmecoffee (@pourmecoffee) December 9, 2012
Eric Cantor: "Why are women making a stink about my opposition to the Violence Against Women Act when they should be getting dinner ready?"

— Top Conservative Cat (@TeaPartyCat) December 10, 2012
Republican politicians fear that if same-sex marriage is legal their boyfriends will give them ultimatums.

— Andy Borowitz (@BorowitzReport) December 8, 2012
archeologists decode last unknown symbol of mayan calendar as "crazy train"

— mike fogelsanger (@whisper1111) December 10, 2012
Now, are you ready for a little history?
On This Day
In 1816, Indiana became the 19th U.S. state.
In 1941, Germany and Italy declared war on the United States after the Americans' declared of war on Japan in the wake of Pearl Harbor. The United States, in turn, declared war right back on Germany and Italy.
In 1972, Apollo 17 was the sixth and last Apollo mission to land on the Moon.
In 2008, Bernard Madoff was arrested and charged with securities fraud in a $50 billion Ponzi scheme.
Born on This Day
1781 – Sir David Brewster, Scottish physicist and inventor of the kaleidoscope. (d. 1868)
1803 – Hector Berlioz, French composer (d. 1869)
1830 – Kamehameha V, Hawaiian king (d. 1872)
1838 – John Labatt, Irish-Canadian brewer (d. 1915)
1872 – René Bull, Irish illustrator (d. 1942)
1905 – Gilbert Roland, American actor (d. 1994)
1911 – Val Guest, English film director (d. 2006)
1912 – Carlo Ponti, Italian film producer (d. 2007)
1913 – Jean Marais, French actor (d. 1998)
1918 – Aleksandr Solzhenitsyn, Russian writer and Soviet dissident, Nobel Prize laureate (d. 2008)
1919 – Marie Windsor, American actress (d. 2000)
1922 – Grace Paley, American writer and activist (d. 2007)
1922 – Maila Nurmi, Finnish-American actress (d. 2008)
1926 – Big Mama Thornton, American singer (d. 1984)

1927 - Dovima, fashion model (d. 1990)
1931 – Rita Moreno, Puerto Rican actress
1932 – Anne Heywood, English actress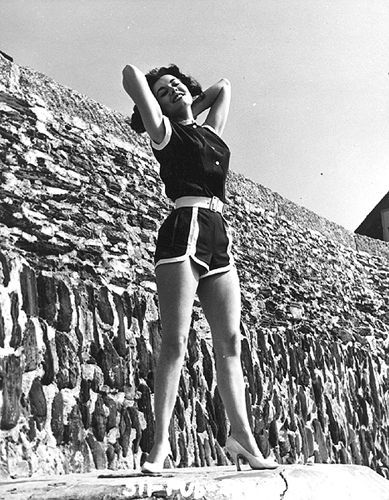 1938 – McCoy Tyner, American jazz pianist

1939 – Tom Hayden, American politician and activist
1941 – Max Baucus, American politician, senior senator of Montana
1943 – John Kerry, American politician
1944 – Brenda Lee, American singer

1954 – Jermaine Jackson, American singer (Jackson 5)

1961 – Dave King, Irish singer (Flogging Molly)

1964 – Justin Currie, Scottish singer and songwriter (Del Amitri)

1973 – Mos Def, American rapper who has grown into a fine actor as well
Died on This Day
1957 – Musidora (Jeanne Roques), French actress (b. 1889)
1964 – Sam Cooke, American singer (b. 1931) (The was a Twitter argument this weekend about whose version of this song is better, Sam or Otis. It seems Sam was the winner.)

1975 – Lee Wiley, American jazz singer (b. 1908)

1989 – Louise Dahl-Wolfe, American photographer (b. 1895)
Today is
National Noodle Ring Day (I believe these are those spaghetti-O things)
International Mountain Day
National Tango Day (Buenos Aires)