As requested by King of Spades, here's my IL-10 analysis. I edited and cross posted the diary from its RedRacingHorses version, where it was cross posted from, but if you don't mind more partisan analysis, a slightly more "stream of consciousness" style version is over there. This was obviously an emotional race for me and I apologize if I forgot to edit something out.
10th District History
Illinois' 10th Congressional district has a proud history of electing thoughtful, independent leaders to the US House of Representatives. John Porter, Mark Kirk, and Robert Dold each were ranked as some of the most independent members of Congress each and every cycle. The last time a Democrat held the 10th district before today was in 1980 when Abner Mikva resigned to take a position as a federal judge after less than two terms in the House. Mikva, a former Congressman from the South Side of Chicago saw the writing on the wall when Evanston was to be removed from the 19th district after redistricting, making his reelection chances low.
Let's turn to Wikipedia for a brief history of how Mikva, a Congressman from Hyde Park, moved to the 10th district and won it thanks to his being viewed as hostile to the Chicago machine.

[Mikva] spent ten years in the Illinois House of Representatives[2] before serving in the U.S. Congress from 1969 to 1973 and 1975 to 1979. He first represented Illinois' 2nd District, which included the South Side's lakefront wards including Hyde Park, his residence and also home to the University of Chicago. Both parties attempted to redistrict Mikva out of Congress; redistricting for the 1972 elections put Hyde Park in the 1st District for the first time since 1903, which would have pitted Mikva against Democratic incumbent Ralph Metcalfe in a district with nearly a 90% black population; moving in order to stay in the 2nd District would have matched him against Democratic incumbent Morgan F. Murphy, who had previously represented the 3rd District. Mikva instead moved to the North Shore's 10th District and, after being defeated by Republican Samuel H. Young, successfully ran in 1974 as an Independent Democrat – his status enhanced in this predominantly Republican, suburban district because he was viewed as hostile to the Chicago Democratic Machine. In 1978, he was narrowly reelected against Republican John Porter in what was one of the most expensive congressional races to that time.
Even as IL-10 became more Democratic over the years with some minority growth making historically GOP townships swingy and social issues scaring off former Republicans in the district's wealthy communities, Republicans consistently eluded Democrats' well-funded attempts to win the district. The IL-10 GOP machine was one the country's best run Congressional district machines, with a group of dedicated Kirk campaign staffers running a strong race in 2006 and 2008, each time stunning national pundits by pulling out a strong, ~6 point victory. Kirk's campaign nucleus moved on to Robert Dold's 2010 campaign when, once again, the GOP proved the punditry wrong and won the district by about two points. Understandably, Dold underperformed Kirk's '06 and '08 performances but ran strongly enough in Arlington Heights, Prospect Heights, northern Mount Prospect, Glenview, Inverness, Libertyville, Palatine, Lake Forest, and New Trier Township to carry the day. Unfortunately for Dold, Bill Brady lost narrowly to Governor Pat Quinn, giving Democrats the redistricting trifecta.
Considering that almost all of Dold's strongest areas were on the fringes of the district, they could be easily chopped off in redistricting. In redistricting, Democrats removed the 10th district's tail into wealthy Inverness and middle-class and strongly GOP Palatine, which itself provided Dold's 2010 margin, its non-Glencoe (so, the largely Christian) portion of New Trier Township, wealthy and WASP-heavy Northfield, upper-middle class Glenview, middle-class and heavily locally Republican Palatine, middle class and strongly locally GOP Arlington Heights, upper-middle class and heavily Republican Prospect Heights, and part of the old 10th district's portion of Mount Prospect.
Regardless of his unfortunate circumstances, Bob Dold set out to once again prove national pundits wrong by attempting to win the new IL-10, which had been turned from a 61 percent to a 63 percent Obama district. With a well-organized campaign team, nearly 100 dedicated spring, summer, and fall interns, and a killer fundraising team, Dold was seemingly poised to eke out a narrow victory, making him an instantly formidable future statewide candidate for the GOP.
Dold's opponent, Brad Schneider, also narrowly won his primary against Ilya Sheyman, a 25-year-old MoveOn.org activist. Schneider, a businessman, was a first time candidate for public office and did not run a particularly strong campaign. Schneider was also hampered by late breaking news that his business hadn't had any employees, income, or an office in at least three years.
Dold was endorsed by every newspaper in the district (and the Chicago Tribune), most of the towns' mayors, and had one of the most independent records in Congress of any Republican.
Ultimately, Bob Dold lost by about one percent on election night while Mitt Romney lost by nearly 18 percent district wide. What went wrong, with Dold running about as strongly as Kirk did when Obama's home state boost in 2008 is accounted for?
Find out below the fold.
2012 Election Results
Dold v. Schneider

Color Scale:
Navy: 65+% Schneider
Sky blue: 50-52% Schneider
Dodger blue: 53-58 Schneider
Blue: 58-65% Schneider
Salmon: 50-53% Dold
Red: 53-57% Dold
Crimson: 57-60% Dold
Reddish Brown: 60+% Dold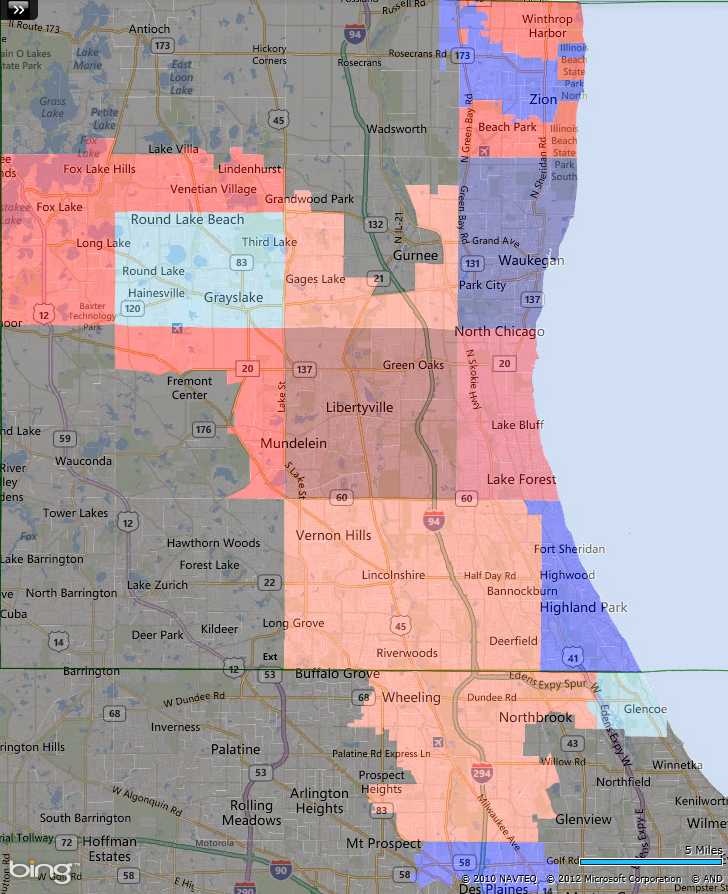 Romney v. Obama

Color Scale:
Navy: 65+% Obama
Sky blue: 50-52% Obama
Dodger blue: 53-58 Obama
Blue: 58-65% Obama
Salmon: 50-53% Romney
Red: 53-57% Romney
Crimson: 57-60% Romney
Reddish Brown: 60+% Romney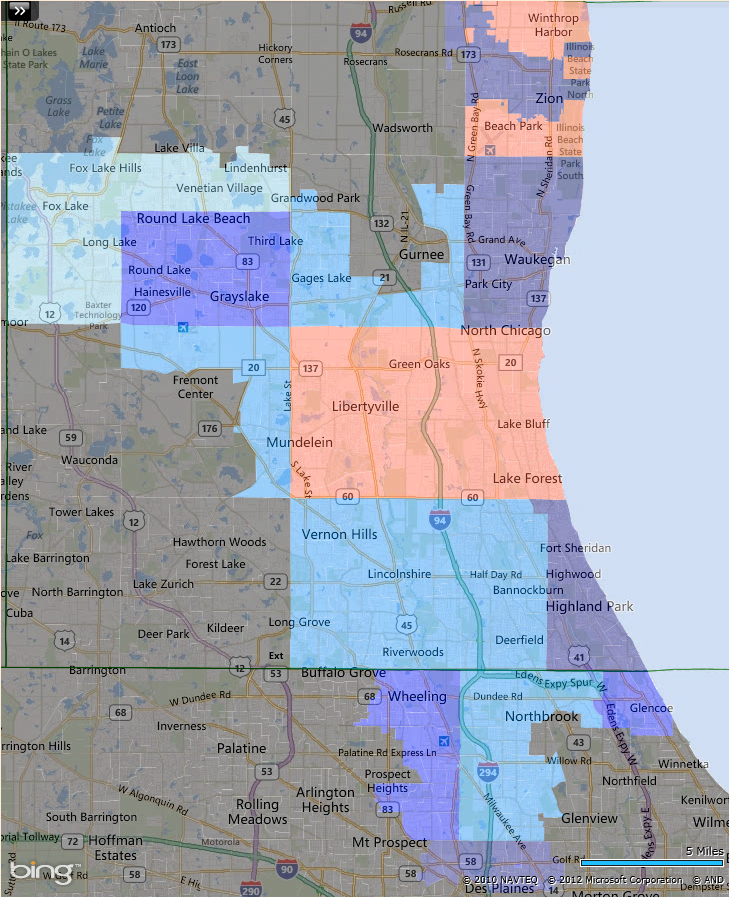 Dold's performance v. Romney's (note, only the reddish brown portions were townships where Dold performed at that 8.34% rate ahead of Romney in order to win the district)

Red: 4-6+% ahead of Romney
Crimson: 6-8.33% ahead Romney
Reddish Brown: 8.33+% ahead of Romney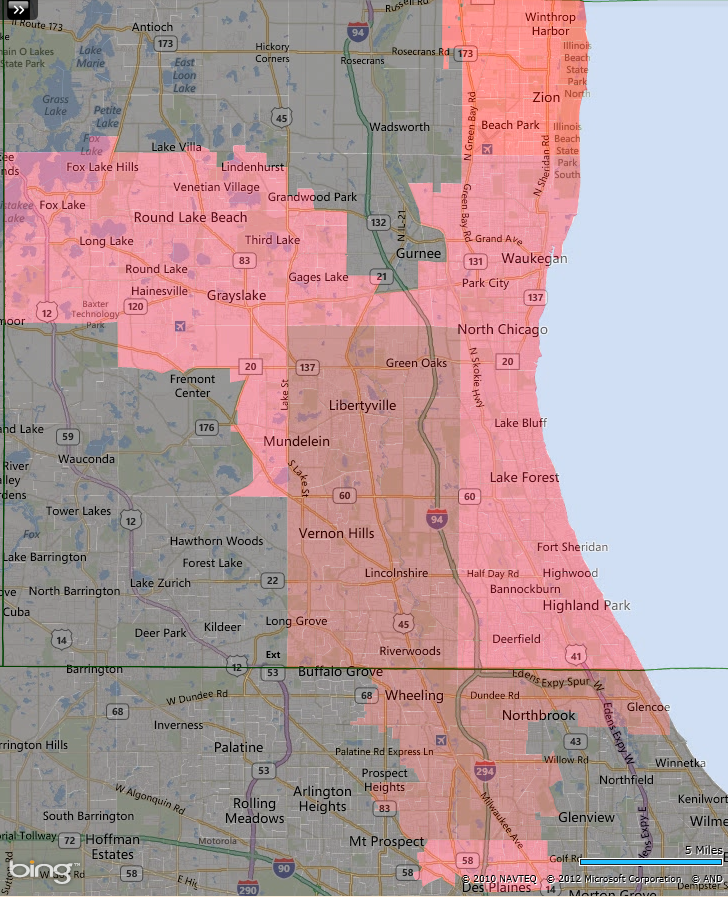 Kirk v. Seals '08 in Lake County (winner/loser by precinct)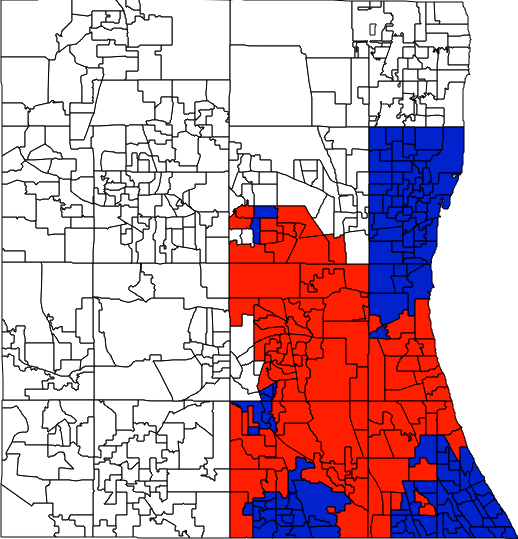 Dold v. Schneider '12 in Lake County (winner/loser by precinct)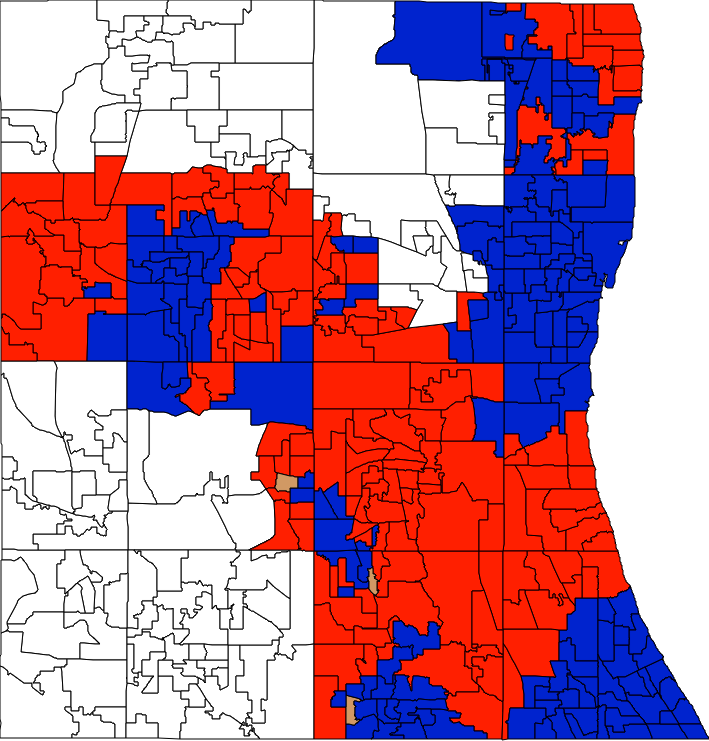 McCain v. Obama '08 districtwide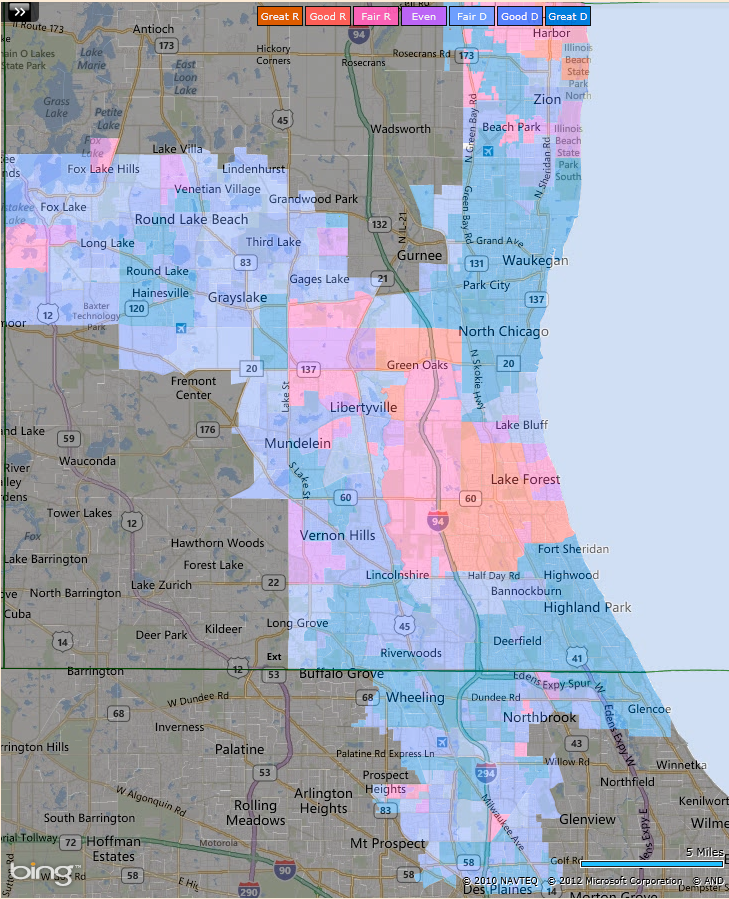 Data table used in writing this article

Election Results Analysis
10th district Republicans did not expect Barack Obama to reach 58+% of the two way vote share. 56%-57%, sure, but not 58+%. Had turnout have been lower, Obama would have surely ran around 56.5% of the vote and Bob Dold would have been reelected.
That being said, Dold managed to run ahead of Romney in every township of the district with at least 4.24 more of the vote than Mitt Romney, and ran an average of 7.71% ahead of Romney Dold's benchmark needed to be 8.34% ahead of Romney, meaning he needed to win .63% more of the vote on average districtwide.
Dold's strongest areas were in the southern flank of the district. Dold ran 8.58% ahead of Romney in Glencoe, the only portion of his home of New Trier Township that remained in the 10th district. Glencoe, heavily Jewish and highly affluent, is where many affluent mixed Jewish/Christian married couples move to raise their kids and is over half Jewish by total population. While Glencoe has as much to do with Highland Park as it does with Winnetka, other than its school district, Dold's being a local likely helped him, as did Glencoe's being a holdover from the old 10th district.
While its most Republican portions were carved out, Northfield Township was also kind to Dold. Northbrook was a very white and somewhat heavily Catholic (with a large Protestant population as well) suburb back in the 1970s, but new construction brought Jews to Northbrook en masse starting in the 80s and it trended Democratic. Regardless, there are still Republican sections of Northbrook and it is more Republican locally than federally. Dold performed about 9.09% ahead of Romney in the 10th district's portion of Northfield Township, well ahead of how well he needed to.
Heavily Hispanic Wheeling was tough on Dold, although he overperformed there, but the rest of the 10th district's portion of Wheeling Township was very kind to Dold and he ran 10+% ahead of Romney in Mount Prospect and Prospect Heights. Mount Prospect is a predominately white middle class suburb and Prospect heights is similar but upper-middle class. Both were settled largely in the 1960s when the Northwest Suburbs of Cook County were developed. These areas, along with Palatine, Inverness, and Arlington Heights, were once overwhelmingly Republican, but still lean Republican federally and are strongly Republican locally.
Dold ran strongly in three of the four townships with a portion of Lake Forest. Lake Forest is like a larger and slightly less affluent version of Kenilworth where land is slightly cheaper. There are no acreage restrictions like the one acre restriction in Kenilworth, so it's full of stately mansions and its predominantly WASP population is very proud of its wealth. An ordinance passed that banned new houses of worship back in the early 1900s after there were already quite a few churches in the town prevented the town from becoming heavily Jewish like neighboring Highland Park had become, and Lake Forest has been heavily Republican to this day. Western Lake Forest is comparative more new money and eastern Lake Forest is comparatively more old money, with older estates often being found east of the train tracks and newer homes being found west of the train tracks.
Shields Township contains most of heavily Republican Lake Forest and Republican leaning and less affluent Lake Bluff, but it also contains the Naval Station Great Lakes in the minority heavy city of North Chicago. Shields Township gave ~58 percent of its two way vote share to Barack Obama in 2008 but Mitt Romney narrowly won it in 2012 thanks to reaching the mid 60% range in Shields' portion of Lake Forest in 2012. Dold underperformed in North Chicago but did very well in Lake Bluff and Lake Forest. Shields Township is also home to Abbott Laboratories, one of Lake County's largest employers. This fact will come in handy later in analyzing Lake County's 2012 voting patterns.
Dold also ran strongly in Vernon Township. Vernon Township is fairly polarized with middle class Buffalo Grove, developed in the 80s and 90s, and exurban, middle class Vernon Hills, largely developed in the 90s. Vernon Hills has an abnormally high minority population, largely Indian, for an exurban area and Buffalo Grove was mainly settled by Jews who grew up in west Wilmette and were priced out of moving back to New Trier Township and by Russian Jewish immigrants. The rest of Vernon Township is fairly affluent and exurban in nature with towns like Long Grove, Mettawa (which has high minimum acreage ordinances), Riverwoods, and Lincolnshire all being friendly to the GOP. Half of Lincolnshire is heavily Jewish but the predominantly Christian eastern half leans GOP on a local and federal level. Riverwoods is a more affluent version of Deerfield, in a way, and has a substantial Jewish population but not as high of one as Deerfield has. Dold performed fairly strongly in all of the parts of the township, but strongest in towns like Mettawa, Long Grove, and Lincolnshire.
GOP leaning Libertyville Township was largely settled in the late 80s and the 90s. As Abbott Labs grew and employed more people, Libertyville became a more attractive exurban living option for it employees. Libertyville, an affluent town (but not affluent like New Trier or Moraine Townships) also is home to a number amount of teachers and other professionals who work in the northern suburbs and do not commute to the city. Neighboring Green Oaks, full of new money and large homes built in the 90s and in the past decade, is also home to many Abbot employees and Chicago Bears football players and team employees who work in neighboring Lake Forest at Halas Hall (the Bears headquarters and the team's practice facility). Democratic Mundelein, which is split between the western portion of Libertyville Township and neighboring Fremont Township, has a large Hispanic population and a more rural feel surrounding it.
In many ways, Libertyville Township and surrounding areas are the heart of Lake County, and they fittingly gave Bob Dold his strongest performance and swung hard towards Romney. Abbott fired 200 of its research and design employees last year and blamed the ACA's medical device tax. Many of these employees were Libertyville residents who took their firing (or their neighbors' firings) out on the President and Democrats and up and down the ticket.
Mark Kirk was extremely popular in Libertyville Township and its surrounding areas for many reasons, but largely because of his work on behalf of Naval Station Great Lakes and his saving of the James A. Lovell (who lives in Lake Forest) VA Clinic, Lake County's main veterans' health center.
Heavily Jewish southeastern Lake County, made up of West Deerfield and Moraine Township, was good, but not good enough for that 8.34% benchmark, to Bob Dold. Each township is predominately Jewish with a few thousand Lake Forest residents thrown into the northern portion of the heavily Democratic township. Deerfield, much like Northbrook, was predominately Christian and Republican leaning into the 80s but the 80s and new construction brought Jews, many of whom wanted a cheaper equivalent to pricey Highland Park, into Deerfield and helped the township trend Democratic. Highland Park has been heavily Jewish and Democratic for over a hundred years.
Mark Kirk ran 3.19% ahead of Bob Dold in the old IL-10, which was about ~2.5 points more Democratic than the new IL-10. However, in Moraine Township, Kirk ran ~5.3% ahead of Dold and in West Deerfield Township, he ran about 3.4% ahead of Dold. This difference was not drastic but Dold performing as strongly could have made up much of the 3,000 vote margin between Dold and Schneider. Kirk built up a reputation over the years as a fierce advocate for Israel and was known as such in Highland Park, Deerfield, and Glencoe, and performed extremely strongly for a Republican in those towns. The fact that Dold performed as well as he did in Schneider's stomping grounds in Deerfield could not have been comforting for Schneider.
Moraine Township is also home to to Fort Sheridan, a former Army fort and neighborhood of Highland Park, Lake Forest, and Highwood that was sold by the Army in 1993 and is home to Senator Mark Kirk along with the small, predominately commercial, town of Highwood. Highwood, along with small parts of Highland Park was once predominately Italian, a testament to its restaurant-based commerce. Two and more decades ago, when most of the North Shore's towns were towns thanks to Evanston's Methodist history and its status as the home of the Woman's Christian Temperance Union, Highwood stayed a wet town and therefore controlled most of the North Shore's restaurant industry. North Shore institutions like Froggy's still exist in Highwood, although the Italian population in Highwood has been largely replaced by Mexicans.
The northwestern portion of the district, making up townships like Warren, Fremont, Avon, Lake Villa, and Grant are largely exurban and middle or working class. These townships have the strongest labor presence of anywhere in the district outside of maybe Des Plaines. There's almost no one who commutes to Chicago from this portion of the 10th district that was one of the earlier parts of Lake County to be settled. Avon Township has a large Hispanic population in Round Lake and Round Lake Beach. Dold narrowly lost Avon Township by a similar amount that he lost the district by, just like Mitt Romney lost Avon Township by a similar margin as he lost the district, making it a decent 10th district bellwether, at least in in 2012. Dold won the rest of these exurban townships, overperforming Romney by around 7.1% on average. While he did not perform quite as well as he needed to, his margins were enough, so long as he didn't underperform greatly in any other parts of the district. All things considered, Dold did quite well for a Kenilworth businessman who probably had never been to Grant Township before 2012. The Dold Campaign canvassed Lake Villa and surrounding areas early and I remember marching in the Lake Villa St. Patrick's Day Parade early on in the campaign.
Dold did well enough in the townships he overperformed in to offset slight underperformances in southeastern Lake County and the areas around Lake Villa Township in the northwestern portion of the district, but his performances in the district's lakefront industrial townships of Zion and Waukegan, Benton Township, and Maine Township (Des Plaines) were what did him in. Waukegan used to be a productive industrial town, but PCB contamination (http://www.ijc.org/...) and other environmental issues, along with organized labor's influence, have caused industry to move out of Waukegan and its once booming harbor. North Chicago still has Abbott Labs, but much of its industry has also died. Waukegan, Zion, and North Chicago were also historically the end of the (now Metra) Chicago Commuter Rail train lines and therefore have had heavily black populations for over a hundred years (although it's worth noting that Waukegan is now predominately Hispanic while Zion is about evenly white, black, and Hispanic).
Dold only performed 4.28 points ahead of Mitt Romney in Zion Township and 6.14 points ahead of Romney in Waukegan Township, which also contains a large portion of North Chicago along with Waukegan. Schneider's margin in Zion was 2/3rds of his districtwide Margin and his Waukegan margin was over 3x his districtwide margin. If turnout had been lower in these cities, along with Round Lake Beach, Dold would have carried the day with ease.
Benton Township, containing Beach Park, Winthrop Harbor (which contains the largest marina on Lake Michigan), and small portions of Waukegan and Zion, was rough on Dold. A great article on the race for IL-10 started out with Dold's elementary school aged daughter finding Benton Harbor on a map and talking about how the Dolds had never been up that way before (not surprising for someone from northern Cook County). Benton Township is about equally Packers Country as it is Bears country, a testament to it being 15 minutes closer to Milwaukee than it is to Chicago. Its white portions are generally middle class (and are a lot like Saint Clair Shores, Michigan). Dold performed poorest compared to Romney of anywhere in the district in Benton Township, only running 4.24% ahead. While that wasn't particularly surprising, as Benton Township is hard to get to quickly from Dold's Highland Park campaign office and is surrounded by hostile territory in Waukegan and Zion Townships, the 14th district, and Wisconsin, Dold's performance there was underwhelming.
Dold's performance in northern Niles and Des Plaines, the Maine Township portion of the district, was also disappointing as he only ran 6.22% ahead of Romney. This area is largely working and middle class and has a fairly large immigrant and first generation Asian population, thanks to its plethora of inexpensive apartments town homes, and is fairly Democratic. Maine Township's margin was about 2/3rds of Schneider's margin.
Conclusion and 2014
Bob Dold generally ran strongly enough in the district's affluent suburbs areas, its affluent exurban areas, and its middle class exurban areas. His performance in the Cook County portion, outside of Maine Township, was extremely strong. However, his performance in the district's cities, Benton Township, and Maine Township were disappointing. High turnout, especially high for the district's minority population, thanks to the presidential election year likely doomed Dold. He would likely have won in a midterm, seeing as Waukegan and surrounding areas, Round Lake Beach and Surrounding areas, and Mundelein and surrounding areas largely stay home in off years, but the presidential turnout was just too strong for him to win a district that President Obama got to 58.33% of the two way vote share in (making the district ~D+6.5 in 2012).
If Bob Dold wants to replace Dick Durbin in 2020 or Mark Kirk in 2016 (if Kirk doesn't run again), he needs to win IL-10 back in 2014. He has a path to victory, but it's a very defined one.
Dold's path to victory is trifold. First and foremost, he needs Schneider to not work the district well. Dold, Kirk, and Porter were all very visible in the 10th district and it remains to be seen if Schneider will be. Schneider needs to boost his popularity in the district's high turnout townships, incidentally its most Republican townships, which Dold did very well in in 2012. Secondly, Schneider needs to have a voting record that is not in line with the fiscally moderately conservative district. Schneider basically needs to make a few unpopular votes. Voting against repealing the medical device tax in the ACA would be such a vote, and a Congressman whose district has a substantial medical device manufacturing industry voting against such a repeal is not unheard of (see Tierney, John). Thirdly, Dold would need to start his campaign fairly early and to fundraise as well as he did so that he can take advantage of a midterm electorate. If Dold maintains his popularity in the district through a robust campaign in a midterm, he can defeat Brad Schneider. Unfortunately, I don't think any other Republican could. Dold probably needed Mark Kirk's help to win with such a strong headwind in 2012 and, unfortunately, Mark was understandably not able to give Dold any help, other than his endorsement, after that awful stroke.