Cross-posted at Immizen.com
Some of my FB friends (or acquaintances) are becoming more openly radical conservatives. They don't seem to mind how they come across as long as they can disseminate a lie that will paint Obama and the Democrats as evil destroyers of all that is dear in America.
This particular lady, my former Tae-kwon-do teacher is getting really rabid. And I don't mind if she "unfriends" me, but before she does that, I want to post my reply to her crazy posts on her wall to give her an incentive to disassociate from me.
I want to ask my fellow Kossacks to help me find the best reply for the following post. I am too upset and short on time to find the right info and answer. Perhaps we should do this as a frequent exercise, share some crazy stuff the right is saying and post the best response that informs and quiets them down.
She writes:
Obama is about to cut spending to our military. This will hurt our military families and make the U.S. weak!
And she posts the following photo (after the fold):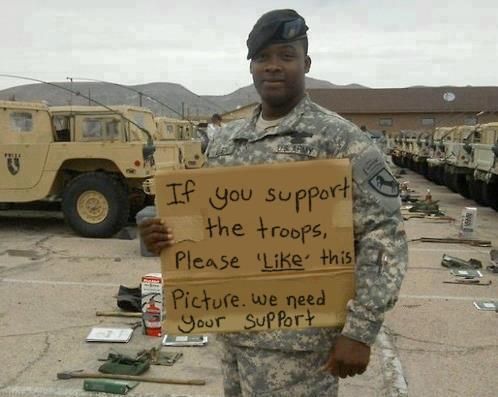 I know of all the efforts by Obama, Michelle and the Dems to help improve services for our veterans and that the defense spending cuts will mostly go to cutting wasteful spending for outdated military equipment, but I am not fact checking. I will do that while I read your posts.
My favorite response is currently my own, courtesy of wikipedia:
It is about time we cut wasteful military spending! Brown University reports that the cost for the wars in Iraq, Afghanistan, and Pakistan started by the Republican Bush administration is at least $3.2-4 trillion. No wonder the US debt is so large. Meanwhile, Obama and Michele have pushed for efforts to provide for veterans when they come back from the wars. On the other hand, the Republicans want to cut veterans benefits to lower the deficit. Isn't that ironic? After they sent thousands to an unnecessary war in Iraq and a botched one in Afghanistan?
I need to make it shorter of course.