---
Good Morning!
Topsail Island. January, 2013. Photo by joanneleon.

Topsail Island. January, 2013. Photo by joanneleon.

Topsail Island. January, 2013. Photo by joanneleon.
---
Pete Seeger - Hallelujah I'm a Bum

---
News and Opinion
Today is day three of the Social Security Defenders blogathon. priceman has a diary coming up at 3pm. The rest of the schedule is below.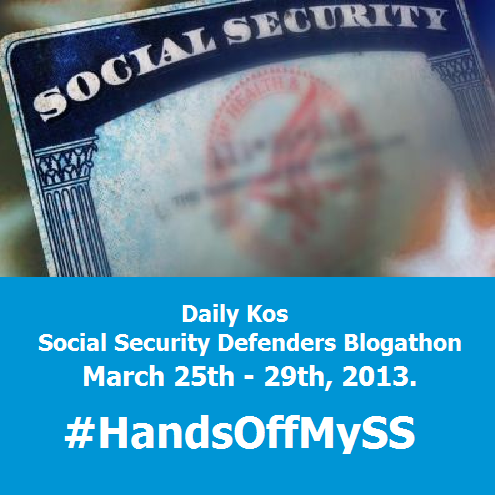 Michael Hudson Explains How Deficit Hysterics Target the Wrong Type of Debt

[...]He has an informative talk with Paul Jay of Real News Network on why the fixation on public debt is wrongheaded, and we should worry about private debt instead.
Report: Cuts to Social Security, Medicare could hurt N.J. small business owners

If the budget battle in Congress results in cuts to Social Security or Medicare, it would undermine small business owners' retirement plans and weaken consumer demand for goods, according to a report by two national advocacy groups.

Social Security Works, a nonprofit based in Washington, and The Main Street Alliance, a network of state-based small business coalitions, teamed up to produce the report.

"Even a 3 percent cut in Social Security benefits would take $638.3 million out of New Jersey's economy. A similar cut to Medicare, meanwhile, would cost New Jersey's economy $465.8 million," the report said. "Such cuts are the last thing struggling small businesses need in the midst of a fragile economic recovery."
Craig Murray. In the video the name is listed as Michael Craig. I don't know if he goes by more than one name or whether it's a mistake. This is an event from a couple of months ago and you might have seen it already. Assange attended by video link and his speech (that follows what is shown in this video below) made it around the news a bit. There are a lot of other good speeches at this YouTube channel for the Oxford Union too. In this set of speeches, I just get a sense that we are listening to the good guys. It gives me some hope that they are out there.
Of This I Am Proud

I am proud of the company I was in of fellow Sam Adams winners; but also because in the circumstances I think this was the best speech I have ever made. If you listen from 15 minutes, the enthusiastic and sustained interruption of applause I received from the Oxford Union for my attack on those demonstrating against Julian Assange is remarkable.

It particularly explodes the appalling lies of the Guardian's shrill hate campaign against Julian Assange, which you will recall covered this event under the headline Julian Assange finds no allies and tough queries in Oxford University talk . It has taken the Oxford Union two months to post this video, and then unlike other newly posted videos it does not appear on the front page of their youtube site.
[...]

Cyprus Crisis Reveals Shadowy World of Tax and Money Laundering

James Henry: Bailout deal includes capital controls and punishing big Russian depositors to pay off European banks -- leaves Cyprus looking for a "new way to make a living"
Look who is up for a top job at the CIA.
CIA director faces a quandary over clandestine service appointment

A week earlier, a woman had been placed in charge of the CIA's clandestine service for the first time in the agency's history. She is a veteran officer with broad support inside the agency. But she also helped run the CIA's detention and interrogation program after the Sept. 11, 2001, attacks and signed off on the 2005 decision to destroy videotapes of prisoners being subjected to treatment critics have called torture.
[...]
In a fateful decision, the CIA set up a video camera at its secret prison in Thailand shortly after it opened in the months after the attacks. The agency recorded more than 90 tapes of often-brutal interrogations, footage that became increasingly worrisome to officials as the legal basis for the program began to crumble.

When the head of the Counterterrorism Center, Jose Rodriguez, was promoted to head of the clandestine service in 2004, he took the female officer along as his chief of staff. According to former officials, the two repeatedly sought permission to have the tapes destroyed but were denied.

In 2005, instructions to get rid of the recordings went out anyway. Former officials said the order carried just two names: Rodriguez and his chief of staff.
---
Blogathon
"HandsOffMySS" Blogathon: March 25th thru March 29th, 2013
Diary Schedule - All Times Eastern Standard
---
IT IS TIME TO TAKE A STAND
Social security is a concept enshrined in Article 22 of the Universal Declaration of Human Rights which states that Everyone, as a member of society, has the right to social security.
A limited form of the Social Security program began, during President Franklin D. Roosevelt's first term, as a measure to implement "social insurance" during the Great Depression of the 1930s, when poverty rates among senior citizens exceeded 50 percent.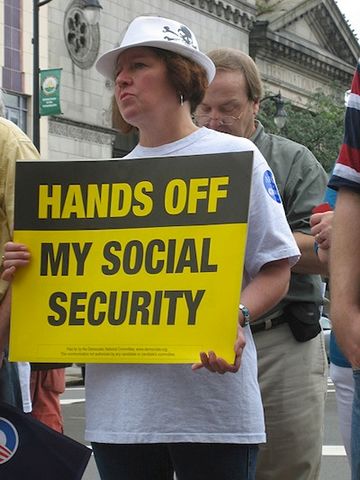 Let your voice be heard.
Members of the Daily Kos group Social Security Defenders have organized this bogathon to promote the truth about the financial condition of the Social Security trust fund, and the impacts of various so called reforms and fixes.
Understanding how benefits are calculated, the History of Social Security, where the Wisconsin Idea came from, and how over the years changes have been made to Social Security, all increase awareness and hopefully improve the discussion.
---
11:00am:Roger Fox
1:00 pm: Joan McCarter
3:00 pm: Roger Fox
5:00 pm: Jamess

10:00 am: Roger Fox
11:00am: joanneleon
1:00 pm: joe shikspack
3:00 pm: Arshad Hasan DFA
5:00 pm: Roger Fox
11:00am: poopdogcomedy
1:00 pm: teacherken
3:00 pm: priceman
5:00 pm: Bruce Webb
11:00am: Jim Dean DFA
1:00 pm: BernardPliers
3:00 pm: One Pissed Off Liberal
5:00 pm: floridagal
11:00 am: Economist Dean Baker
1:00 pm: VCLib
3:00 pm: Armando
5:00 pm: Liberal Thinking
---
Please remember to republish these diaries to your Daily Kos Groups. You can also follow all postings by clicking this link for the Social Security Defenders Blogathon Group. Then, click 'Follow' and that will make all postings show up in 'My Stream' of your Daily Kos page.

---
Blog Posts and Tweets of Interest
Evening Blues
Real wages decline; literally no one notices
All your GDP projections are belong to us
"Strengthening Social Security" and Other Euphemisms
Chained CPI is a stealth tax increase
Why Now is the Time to End the Social Security Tax Loophole
Dick Durbin's new Social Security reform commission
Chained CPI - A Primer from the Center for Economic Policy and Research
Okiciyap Quilt Auction benefit begins Wednesday. Help the people of Cheyenne River
Back from the grave: financial deregulation lives again
Victory! More than 739 miles of US Coastline Protected for Loggerhead Sea Turtles
Where's the Democratic primary challenger to Dick Durbin?
Obama administration pushing privatized Medicaid to Republican governors
Restroom Privileges
Q. At least 2 reports say US has been directly training Syrian rebels. True? State Dept: I don't have anything for you on that.

— Hannah Allam (@HannahAllam) March 26, 2013
#Islamist and secular #Syrian #rebels battle in over Nusra Front's call for Islamic state bit.ly/11K4Dh6

— Jeff Stein (@SpyTalker) March 27, 2013
Less than 20% of drone victims have been named; @tbij's new project: Name the Dead tinyurl.com/c27ee33 -Fund here pressfreedomfoundation.org

— Glenn Greenwald (@ggreenwald) March 27, 2013
@ggreenwald probably none. They claim to be all liberal, yet the loss of lives for those that do not behave like them matters little

— Usaid (M) Siddiqui (@UsaidMuneeb16) March 27, 2013
DOJ spokesman for Eastern District of Virginia confirms grand jury investigation into @wikileaks 'ongoing' bit.ly/16gh1Ih v @carwinb

— Nathan Fuller (@nathanLfuller) March 27, 2013
eep! RT @joshharkinson Drones will be $80b industry in 10 yrs. "We are not darkening the skies yet, but we are poised."--VP of Sierra Lobo.

— Clara Jeffery (@ClaraJeffery) March 26, 2013
Drone programs and targeted killings are not "color-blind." NYPD/CIA/FBI surveillance is not a "multicultural" program.

— Falguni Sheth (@FalguniSheth) March 26, 2013
On progressives, the War on Terror, racism & the ignoring of women and minority critics is.gd/8AGliy - is.gd/EvMlTf

— Glenn Greenwald (@ggreenwald) March 26, 2013
---
George Olsen and his Music, Fran Frey vocal - Big City Blues (1929)