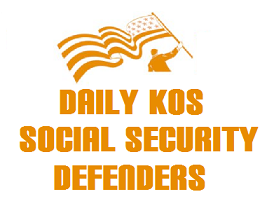 Of the 76 million births in the US between 1946 and 1964, by the end of 1955, half, 38 million Boomers had been born. The Economic Opportunity Institute citing data from 2006 tells us that at age 65, the bottom 50% of income earners will die at age 81.1, the top 50% will die at 86.5. This could be used to suggest that half the Boomers born in 1955 will be dead by 2036, that half the Boomers born in 1964 will be dead by 2045. Though not entirely accurate I think it illustrates my point.
SO lets get a little more accurate:
Rice University professor Justin Denney suggests that mortality rates from 1900 to 1999 aren't going to seen in this century. Obesity, Cancer & suicide are seen at higher rates in Boomers. But yet the Social Security Trustees go ahead and predict nearly straight line improvements in life expectancy at age 65 thru 2100.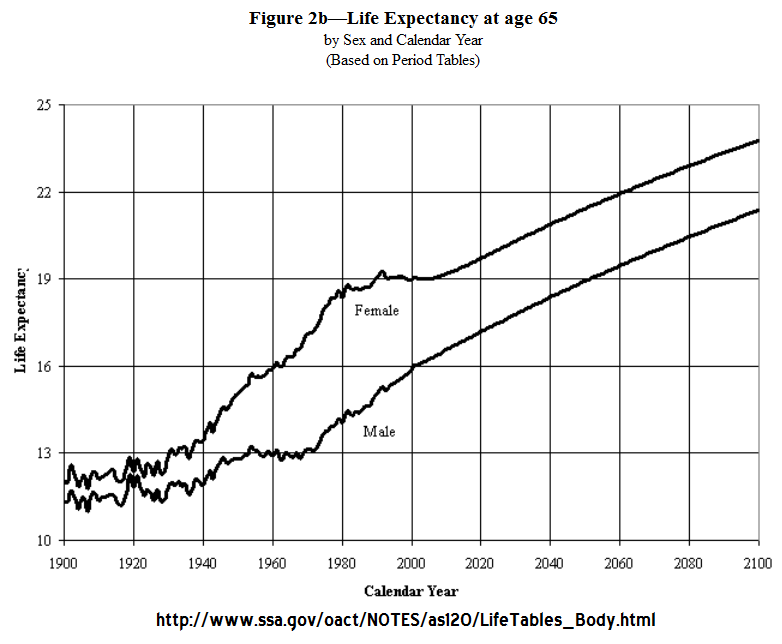 Denney notes a "huge increase" of 30 years in U.S. life expectancy from 1900 to the 2000s. But he and fellow researchers see a mere three-year increase over the next 50 years, with improvements in longevity concentrated among the well-to-do, while poorer people will not share in the same benefits.
http://www.reuters.com/...
"We're simply projecting that improvements will occur at roughly the same... (rate) as in the past," Stephen Goss, chief actuary for the Social Security Administration, told Reuters.
What if the trustees are wrong? If mortality rates stopped improving, and remained constant over the next 75 years, that would cut the OASDI actuarial deficit by about 0.45 percent of payroll, about one sixth of the projected shortfall over the next 75 years,
Just when did the Boomers start to die?
By 2000 4 million Boomers had passed, about 5.3%. By 2045 the vast majority of Boomers will be dead, and as bernardpliers noted in his superb SSD blogathon dairy last week entitled:
"Social Security Won't Be There" - The GOP's Desperate Big Lie
the Boomers, statistically speaking will be dead by 2050.
See? That's the Boomers, fourth line from the left and second line from the right, showing mortality of Social Security recipients at year 2050. At 2050, the youngest Boomers will be 85 years old (2050-1965=85) and, according to the survival curves, half of even the youngest boomers will be dead. The oldest boomers will be 104 years old (2050-1946=104) and the number still living will be statistically insignificant. And I think the projected 5% survival at age 100 for the youngest Boomers is probably overly optimistic.

But the lesson is clear - By 2050, most of the Baby Boom will dead. And people who are under 40 should be in great shape to get Social Security benefits.
If the Social Security Trustees mortality expectations are, lets say, 5 years too generous then its more realistic to think that most of the Boomers will be dead in 2045 not 2050. We do know that males from the bottom 50% of income earners are not seeing a longer life measured from age 65, and many experts think that figure will decline.
Heres the really good news, as Boomers retire, that will tighten the labor market, forcing wages up, as renewable energy grows, this should help improve the economy by offering cheaper and plentiful energy. Job creation and wage growth will improve SSTF revenues and make it more likely that Trust Fund depletion in 2033 is an unrealistic prediction.
In addition, you have been shown that the SST mortality projections for age 65 are somewhat to exceedingly unrealistic.As I wrote last week:

GDP:
When we look at 2 scenarios, Low Cost (2.8%), Intermediate cost 2.1% and compare GDP the low cost should not be thought of as unattainable. Much conventional wisdom say 3% to 3.5% is about the best we can do with Energy and Resource constraints. Once we reach 20% from Solar and 20% from Wind, renewables will dominate the market. And be cheaper. And help the Economy.

..........If GDP grows at 2.6% over 20 years, but inflation is a it less than predicted in the low cost scenario, we can still get to 2090. Or if inflation is worse than expected, but Wage growth and job creation are real good, we still can get to 2090.
Workforce growth:
This one is easy, the Intermediate scenario Assumes .4% to .5% workforce growth from 2021 to 2050. But the Bureau of Labor Statistics says .7% thru 2050. The Low Cost Scenario uses .7% too. Currently workforce growth is about 1.0% to 1.1%. To assume workforce growth will drop by over 50% in 8 years and then stay relatively flat thru 2090 is a bit hard to believe.
6 Political Appointees are the SS Trustees: Executive Summary is a political document.

The Political appointees are the ones who issue the Executive Summary, they have little to do with the actual Actuaries and Economists who assemble the projections, charts and tables. The Executive Summary is a purely political document, and that's all the average person hears about. The Social Security Trust Fund will be depleted by 2030 and can only pay 76% of benefits
Path Out of the Woods
Creating jobs thru infrastructure spending and raising the minimum wage are vital, NOW ! Improving the economy in this manner will push the 2033 date back every year we have a good economy. An economy that is is creating jobs while losing much of its workforce to retirement is going to see more wage growth above inflation (more FICA).
We need to push the 2033 SSTF depletion date past 2045 or so, then benefits being paid out, will start to drop like a stone. By 2050 it very well may be that the SSTF (Social Security Trust Fund) will coast thru 2090 without a hitch.