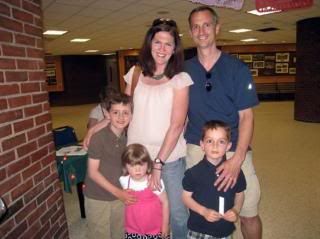 His 6-year-old sister, Jane, lost a leg. His mother, Denise — a librarian at Neighborhood House Charter School where he Martin attended the third grade — suffered a serious brain injury. They are among the 170 injured by the bombs.

"My dear son Martin has died from injuries sustained in the attack on Boston. My wife and daughter are both recovering from serious injuries," dad Bill Richard said in a statement. "We thank our family and friends, those we know and those we have never met, for their thoughts and prayers. I ask that you continue to pray for my family as we remember Martin."

Bill Richard, 42, and the oldest child, Henry, were not seriously injured, but doctors did remove ball bearings from Bill's leg.
NY Daily News
His photo has touched so many hearts – but perhaps none more than those of the parents of Trayvon Martin.

"No more hurting people. Peace," is the message held by Martin Richard in his classroom last April — part of a lesson on the shooting of Trayvon Martin, according to a Facebook post by Richard's teacher Rachel Moo.
NY Daily News
Tonight, Trayvon Martin's parents responded:

Our hearts are broken over the tragedy in Boston yesterday. Our family sends our sincerest condolences to all of those who have been affected by this terrible situation. We especially would like to send a message to the family of eight year old, Martin Richard. We have come to understand that the peace sign that Martin is holding in a photo being circulated throughout the media, was created in response to a lesson by his teacher about the death of our son and the issue of violence. From our family to yours', we are praying for you, thinking about you and will remember your son for the rest of our lives.

~ Sybrina Fulton and Tracy Martin
Global Grind

May we honor both their lives by honoring Martin Richard's wish.
Please also see this lovely diary by Marina Asbury.