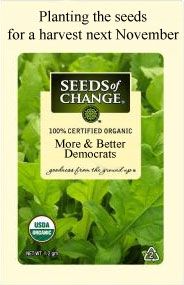 Yesterday kos posted that we should stop obsessing upon Hillary Clinton as the presumptive Democratic nominee in the 2016 presidential election and the inability to affect that outcome and concentrate now, instead, on the down-ticket races in 2016 and how that will affect the redistricting battles of 2020.

Redistricting? But, you protest, redistricting doesn't happen until after the 2020 elections! And we're currently talking about 2016! Yup. You are right. But spreading the effort over several cycles allows us to incrementally reach our goals. We don't want to put all our eggs on one election day. Furthermore, we want Democratic incumbents up for reelection in 2020 because, well, incumbents are far more likely to win than challengers. So yes, the battle for the next reapportionment and redistricting will be hard-fought in 2016.

So you Hillary naysayers have two options: You can bitch and moan about her and work yourself up in a lather about this or that, and then lose (because you will), or you can do what I do when I come across a candidate I don't like: I ignore them and focus on the tons of other great candidates who need my help.

Me, I won't ignore Hillary, but I won't worry about her either. She'll have all the money and boots she'll need. Instead, I'll focus down ballot, on those Senate, House and state-level races what will determine the partisan composition of our government the coming decade.

My approach is constructive, rather than destructive. The more people adopt that approach, the more success we will have as a movement.
But kos is wrong. We need to
stop thinking about 2016
when we have midterm elections in November of
this
year, and primary battles occurring
right now
upon which we can have an effect.
Which is why on Saturday, for the 9th Anniversary of Saturday Morning Garden Blogging, we are having the Seeds of Change Local Election Fundraising Opportunity.
Here's our standard blurb:

It is a mid-term election year and now — during the subdued primary process — is our chance to get not just Democrats, but more progressive Democrats, into our state, county or municipal offices.

Call it planting the seeds for a harvest next November.

Many times newcomers to dKos can't quite figure out why we have all these groups for gardening and home repair and crafting and painting and books: this is a site for politics!

Let's show them why community matters: at the most basic level without community there is no purpose to politics and it becomes nothing more than a scrim behind which factions scramble in a zero-sum game for short-lived political advantage.
What we need from you:
• Candidate name and position sought for a municipal, county or state office.
• Some background on the candidate and why you support them (and/or a statement from the candidate);
• Link to website for donations;
• Embed information for any graphic or photo you want included;
• Submission of information by Thursday, February 20, 2014

If you are able, please use ready-to-plug-in formatting so I or another editor can just cut and paste into the diary.
Kosmail your information to the group,
Saturday Morning Garden Blogging
.