Today's my day for Thanks giving!
I woke up this morning at three ayem, well rested after having gone to bed quite early. "It's Thanksgiving," I thought and the word "Thanks" just formed on my lips. Today I have a lot to be thankful for, many to be thankful toward. I'd like, I need, to say my Thanks publicly.
Since each and every recipient of my gratitude isn't available to me personally today I got out of bed and headed for the keyboard. So let me begin by thanking you, the Daily Kos community, for being here when I need you. You've stood me through times of thick and thin, weeks of thirty or more comments a day, months of not a peep yet lurking, always there - passionate voices on the issues of the day, people who care about things I care about, communities of folks who're into stuff I didn't know, or had forgotten, I cared about, good writers, brave thinkers, progressives of every stripe. Thank you, you're a real port in a storm.
2012 hasn't just been any year for me. It hasn't been a year of progress, it's been a year of revolution. Transformation, really. My entire life has been turned inside out, exceedingly for the better. In my giving thanks here to some of the key players along that journey hopefully you'll be able to get some glimpse of how total that transformation has been.
January 2012 found me sixty five years old, long stuck in a worse than dead relationship, habitually drowning my unhappiness in some potent potable or other, rarely going out of the house except for a resupply. Make no mistake, I'm the one who'd allowed my life to degenerate into that - no life, no love, no hope - so there's nothing snarky or backhanded about my expression of genuine gratitude toward my partner of twenty years who finally added that straw and I became so angry that I wanted to beat her to death. In sparking my anger, by focusing everything that was wrong with me, with the way I was existing, nobody could call that living, she gave me a tremendous gift - opportunity. I'm thankful I took it.
Rather than lay a hand on her, rather, even, than say a cross word (in truth I was far too angry to go there, to start something everyone would regret) I recognized what I was feeling, rejected the only way I knew how to actualize that feeling, and instead called 911 to report myself as a danger to others. I'm thankful the 911 operator took me seriously and sent a police car.
I'm thankful the Tucson PD took it seriously enough they sent two cars, one to back up the female officer who handled the call, As soon as she determined I presented no danger to her she sent the back up on his way and listened to my plaint. "Take me to the VA," I asked. "Get in," she replied. On route we chatted as amiably as the situation allowed. Thank you, Officer Whoever-you-are. Your humane police work turned a could-have-been disaster into the best of all possible outcomes.
From this point forward I cannot express enough gratitude to the VA, for being there, for having the right stuff, for providing me the tools to lift myself out of the chasm of body and mind I'd leapt into. I read and hear more than a little about all that's wrong with the VA, and FSM knows they're not perfect, but the Southern Arizona Veterans Administration Health Care System (SAVAHCS), more commonly known as the Tucson VA hospital, has more than met my needs. I brought the motive, they provided the means and opportunity for personal transformation.
It began inauspiciously on ward 1 West, the locked psychiatric/detox unit pictured below, where I shook off the worst of the ill effects of the years long bender I'd been on while they satisfied themselves I wasn't really a danger to anyone other than perhaps myself. The unit "team" on 1 West was literally the model of what they could be, should be, as they helped me wean myself from a lot more than my habitual inebriation. So much so that when I got out of there after only four days I went "up front" at the VA and filed an official attaboy for the social worker. My sincerest thanks to her and every one of the dedicated, hard working, truly caring staff of 1 West.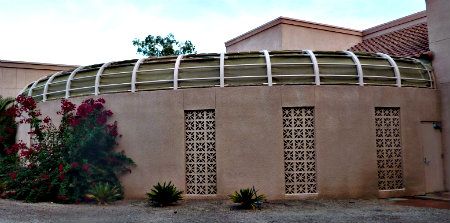 Since going back to the home I'd exited with such dramatic style hardly seemed like a good idea I was referred to the VA's homeless program. There I was assigned to a winter time only program called One Step Beyond (OSB - the bureaucracy has an acronym for everything!), reporting to the Salvation Army "hospitality house" every evening for transportation to a local church to spend the night. Usually seven or eight of us, sometimes more, were provided with a bountiful home cooked meal, really good food and lots of it, by the members of the church. The church that really stands out in my mind is St. Pius X, commonly known as the "Pius Hilton" for the excellence of the accommodations. A recovering Catholic myself, it's too easy to bash the Catholic Church and no doubt many of the bishops earn their low regard, but the folks who showed up at St. Pius to share a meal with the homeless vets genuinely walked the walk and soft pedaled the talk. The folks at Christ Presbyterian Church are no slouches either. It's inspiring to see how Christianity could be.
Thank you, Christians, the food was wonderful and nourished the body, but it is your humanity, your genuine caring and sharing, your walking in the footsteps of your Jesus, that saves mens souls. Your love had a lot to do with my redemption.
The sleeping accommodations weren't fancy, some cots we spread out in the sanctuary, and I even went without the cot, preferring the floor. Somehow my regular spot came to be at the foot of the altar, where I laid my pallet every night and wrapped myself in the warmth and love of my Daily Kos community quilt. My theology is rather on the slim side, but there was a strong, undeniable mojo there for me when I needed it most. Thank you "the one on the far left" who nominated me for the quilt, thank you those of you who contributed squares, thank you Sara and Ann for all the love you stitched into that beautiful quilt. Even should you read these words you'll never fully appreciate what a wonderful thing you did.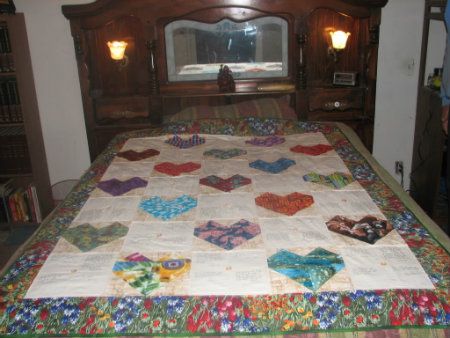 I signed up for the VA's Substance Abuse Treatment Program (SATP) and began attending daily classes. The first phase of the program is a class called Early Recovery Skills, taught at SAVAHCS by Robert Whiting, or Bob W as I think of him. He's the most aggressively no bullshit person I've ever encountered. Which, given the parade of denial experts and habitual bull shitters who come through his classroom, he has to be. "Go ahead, spin it any way you want, just don't expect me to co-sign your b.s." is a near daily refrain. An in your face jolt of reality for those of us who'd been seeking refuge from it in whatever substance we chose.
Bob W's program runs for thirty class days. It took me about sixty five classes before I finally put myself in for completion, in part because I'd missed some classes and had to wait until they rolled around again to attend them all, in part because sitting in Bob W's room every day, watching him write exactly the same thing across the board every day, grokking the thirty different lessons through the daily class interaction, the sum and total provided exactly the framework I needed. When I "bridged" out of Early Recovery Skills Bob W shook my hand, looked me in the eye, and placed a coin in the other hand. On the one side it simply says "Veterans In Recovery", on the other
I came with hope, worked and learned.
I have a new life, one that I've earned.
They say that every drunk has his next drink planned. I certainly know how mine works. Before I take that next drink I'm going to go find Bob W, shake his hand as I place that coin back in his other hand, and tell him that I don't need it any more. That'll be easy.
Thank you, Bob W.
The VA put me in a transitional housing program called Grant Per Diem (GPD) and sent me to a facility called Comin' Home. Because I had a small income it wasn't the economic boon for me it is for the "no dough, no 'ho, and no place to go" set, but the structure of living in a sober community, attending mandatory recovery classes, and sharing my plight with an interesting variety of veterans provided exactly the opportunity I needed to continue on the path I'd begun. I stayed there for five months, and the depth of my gratitude can probably best be measured by the fact that now, more than five months after making a planned, orderly transition I'm still there, often every day, as a volunteer.
It hasn't been all fun and games, but taken as a whole there is nothing I can say but Thank You, Comin' Home, thank you Sarah and staff, thank you fellow residents. Thank you VA for the financial support, thank you citizens of America for having a program that can really work. Thank you to everyone for the opportunity.
The VA makes a veritable alphabet soup of programs available, and I was fortunate enough to get to take advantage of several. Among the more notable are Self Management And Recovery Training (S.M.A.R.T.), Cognitive Behavioral Therapy (CBT), and another which I'll get to below. Dr. Gallagher, Dr. Michael Moore (no, really), and Dr. Sarah Heath earned my sincere thanks in a fairly short stint. Dr. Julie Ewing and "Dilly" Ramos earn their wings every day, and I can't thank them enough either.
Along the way I happened to see an announcement for a seminar by something called the Nonviolence Legacy Project. I went to the two day training and was captivated by the work being done by Dr. Bernard LaFayette and his wonderful local representative, Dr. Ann Yellott, in preserving and passing on to young people the history and ideals of the Civil Rights Movement as taught by Rev. Martin Luther King, Jr. So much so that I'm now volunteering with NVLP and assisting with their trainings. Thanks, Ann, you're an inspiration and a model.
Unquestionably the most important step on this journey began the day I picked up a flyer at the VA for something called Mindfulness Based Stress Reduction (MBSR). My application for service connected compensation for PTSD and Agent Orange related heart disease had just come through, as well as full Social Security, so I'm now economically comfortable, if not well off. The flyer said that "MBSR is highly participatory and deeply engaging experiential learning" which explores "the interplay of mind and body to mobilize inner resources for learning, growing, and healing." Best of all, the program was being offered FREE to veterans! What did I have to lose? How little did I know!
The eight weeks program of MBSR was the best time I've ever invested. Rather than pitiful attempts to describe how life changing this program has been for me, all I can write is that upon completing the eight week program through the Purple Mountain Institute's Mindful Veterans Project(MVP) I immediately signed up to do MBSR again at the VA. Same program, different teachers, like listening to the same song by two different artists. And artists the MBSR teachers are. Today I have to give special thanks to Drs. Teri Davis and Dana Ferris, my gratitude to Chris Fox, Angela, and Aemilia of the VA as well.
So taken with MBSR that I'm now the Outreach Co-ordinator for MVP, I've repeated the program twice more in the last few months. No day of thanks giving would be complete if I didn't include my gratitude to Jon Kabat-Zinn, author of the quote which is my sig line and creator of MBSR, not only for the work of his lifetime but the warm and gracious welcome and encouragement he extended me when we got to meet at a recent conference.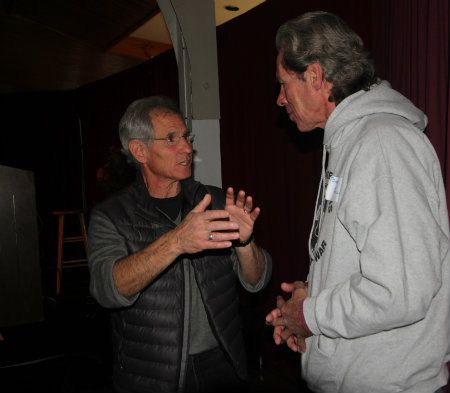 Opportunities keep jumping up in my path. Mike Kuntzleman and his wife Dani Gilbert have graciously accepted me into the family of Escalante Springs Equine Rescue & Rehabilitation, where working for the horses has been doing me more good than them. Just this past weekend Drs. Allan and Jane Hamilton put on an incredible Equine Assited Therapy clinic for veterans with PTSD at their magnificent Rancho Bosque. A beautiful lady known only to me as Karen made it all possible at no cost through her financial support. Thanks Mike and Dani, thanks Allan and Jane, thanks Karen. The kind and loving spirit which inhabits each of you is a gift beyond value.
There's a few Kossacks who I've kept in touch with while on this journey, folks who sustained me even through my self imposed year of lurking. Angelajean, Vetwife, and llbear are among those who continuously offered me loving support by phone, e- and kosmail. Thank you all so much. I can only hope you know what strong allies you've been.
There's no doubt that without the help of all the folks mentioned above I would not have been the right guy for the best thing that's happened to me on this journey. In the unlikeliest place, at the unlikeliest time of my life, after decades of wandering emotionally alone, I've met the love of my life, my true life partner. Thank you, young lady, thank you, thank you, thank you!
And, of course, Thank You for taking the time to read this.