Greetings and welcome to the end of a grim week. Ready for a grim diary? Me either. I thought I'd kick off this week's Fuzzy Friday open thread with a few thoughts and photos from my week. I see small hopeful signs all over the place ...
Care to join me beyond the curiously symmetrical, orange hairball?
I didn't realize that the town of West, Texas was such a center of Czech immigration to the United States. If you haven't read northsylvania's diary ""Kolaches" I'd recommend it as a lovely tribute to West and a tasty pastry that made the town famous long before the explosions. I let loose my verbiage in the comments. I may be the closest thing to an expert on the Czech Republic in my own fuzzy head. The newspapers here in Prague are carrying stories about the explosions today with headlines like "Czech West nearly reduced to ash" there's a sweet proprietary sense to the news about all things Czech related from the USA. The Czech Ambassador to the US has been sent to the disaster by the Foreign Minister, Karel Schwarzenberg.
There was a movement to elect Madeline Albright to be President of the Czech Republic a few years ago. She was flattered but refused to run. Obama drew huge crowds during his visit. The jazz club, where Bill Clinton played his sax, still prominently displays his photo on a board out front. Despite a general opinion from an unscientific sampling the general opinion is that Americans are insane-- but a certain fondness shines through.
I may not be helping sway the opinion of American sanity but I do try to be helpful.
On Thursday I attended the start of a symbolic occupation of an art gallery downtown.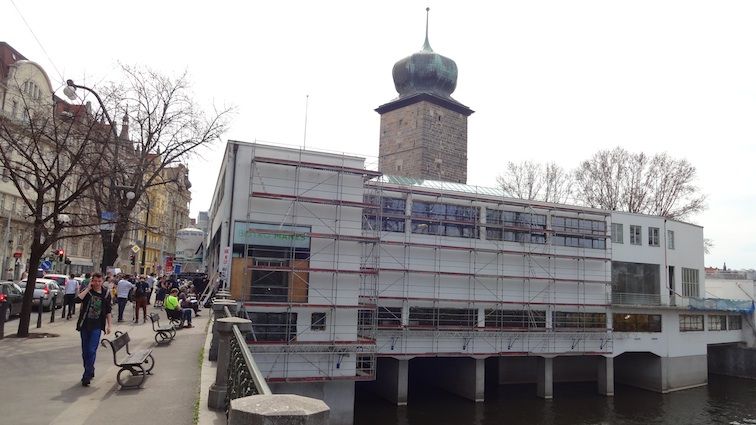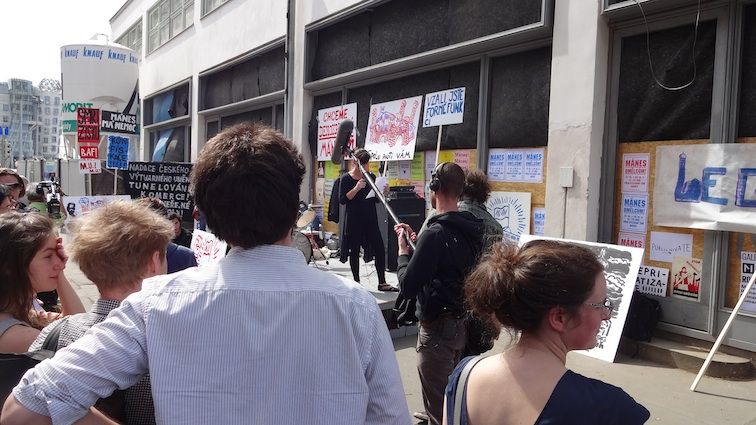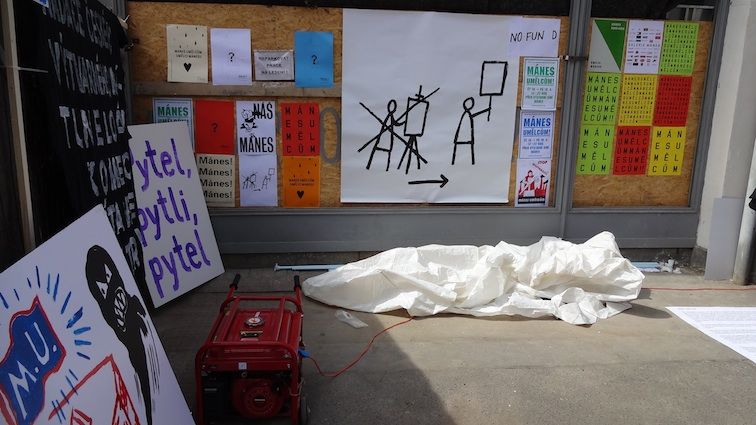 The gallery is named for one of my favorite Czech artists, Josef Mánes and it was originally owned by an artist's collective but it has since become an embarrassment. A series of incompetent or corrupt managers have managed to reduce Gallery Mánes to a seemingly never-ending construction site, with the running of the galley left to corporate entities that abandoned the long tradition of the gallery of promoting and displaying the works of local artists. And truly, there has been nothing worth seeing at the gallery for many years. I added my name to a petition to return the oversight of the gallery to a democratically elected board and kick out the political bribery team currently ensconced. The gallery is just one of the countless victims of the mismanagement of privatization after the Velvet Revolution. But the protest, despite the small crowd so early in the afternoon, has been drawing a fair amount of attention in the local media. When I went past this morning, a couple of hours before today's protest was due to start, things were a bit messy:


But I take this active involvement by local artists and students, and the media attention as positive signs. I'm hopeful that this movement will continue to grow. The crowd grew as the day went on. I'll have to look and see if I can't find some photos online from the evening.
Spring is a grand time for growth and renewal.
Speaking of renewal, earlier on Thursday I finally made good a promise to renew the lettering on my mother-in-law's family gravestone:


The work in progress, and then the final result seen from a distance. It's a very common style of Czech grave. Cremation is pretty much the norm so one plot will contain several urns. It took me almost two hours to restore a layer of enamel paint to these weather-beaten letters. Extra observant Kossarians will notice a cloud of dust in the second photo. Those of you able to decipher the pixelation on low-res photos may enjoy a bit of beefcake. Just a little something of added service from me. I was a bit worried about what I would say if someone confronted me while I was bent over the headstone painting it. Vandalism! But when two men pulled up in a white van and approached me I merely greeted them with my cheeriest, "dobrý den" (actually, the local Prague dialect version-- "dobrej den") and they returned my smile and greeting and proceeded past me to the row of graves behind (not accessible by van) where one of the men began resetting the blocks of the edges of the grave and patching a few joins. As I was finishing he lugged a power generator past me and asked if I or my work would be bothered if he raised some dust (so polite!) and I assured him that I was practically finished and besides, the wind would be blowing the dust away from me. I love little interactions like that.
I love all the seasons equally but Spring brings another brave attempt at gardening. In closing today I thought I'd share a few pictures taken moments ago on my balcony of my seedlings. I'll provide them with a bit of info that you can see if you "hover" or rollover the pictures. Marko, Marko, quite confarko, how does your garden grow?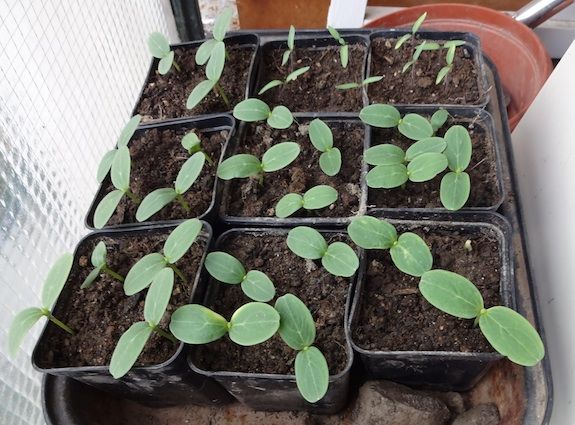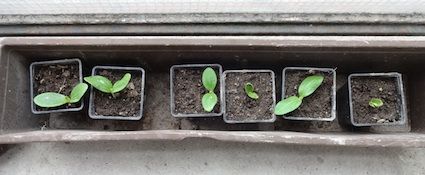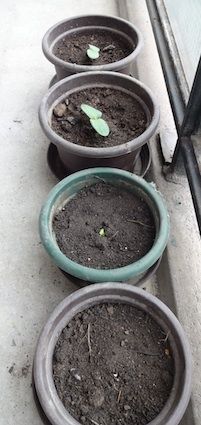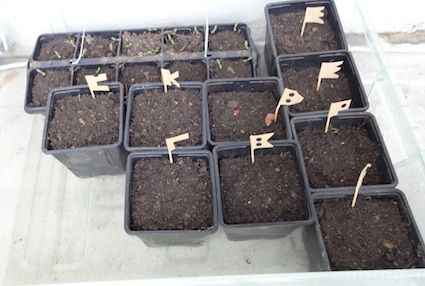 More about my attempts at gardening as the weeks progress.
Thanks for stopping by to share a bit of my week.